Where else should you go for the holidays to find the big man himself?  Santa Claus, IN of course.  Experience Santa Claus, Indiana, during the three-weekend Santa Claus Christmas Celebration each December. Special events and holiday traditions take over the town and provide a very merry getaway during one of the most wonderful times of the year. Festive shopping experiences, holiday events, and Christmassy lodging—the town of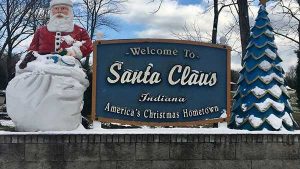 Santa Claus is the place to be during the holidays. Explore the grounds at the Santa Claus Museum & Village and pose for a family photo in front of the 22-foot-tall Santa statue. Treat yourself to delectable homemade confections from the historic Santa's Candy Castle. See how many Santa statues you can spot throughout the town. HINT: there are more than 15! Share your holiday spirit through the mail! Hand-cancel holiday mail with the one-and-only Santa Claus Postmark from the only post office with the Santa Claus name. For a complete list of Christmas events, see https://santaclausind.org/events
Bloomington – Indiana University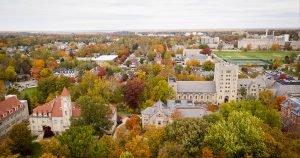 Morning: Our adventure begins in Bloomington, the quintessential college town and home to Indiana University (IU). Kickstart your day with a hearty breakfast at a local favorite, "The Village Deli," known for its delicious omelets and signature pancakes. Fuel up because we've got a lot to see!
Mid-Morning: Stroll through the beautiful IU campus, taking in the impressive architecture and lush greenery. Don't miss the iconic Sample Gates, a popular spot for photos. Visit the IU Eskenazi Museum of Art to admire its impressive collection of American, European, and Asian art.
Afternoon: For lunch, head to "Mother Bear's Pizza," an IU institution serving mouthwatering pizzas and calzones loved by students and locals alike. Afterward, let's explore the nearby Leonard Springs Nature Park, where you can hike the trails and discover picturesque waterfalls.
Evening: As the sun sets, make your way to the lively Kirkwood Avenue, filled with a wide array of dining options. Try "Nick's English Hut," a famous sports bar, for their classic breaded tenderloin sandwich. For a sweet treat, visit "Hartzell's Ice Cream," offering a variety of delectable flavors.
West Lafayette – Purdue University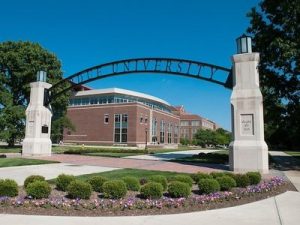 Morning: On day two, we venture to West Lafayette, home to Purdue University, a renowned engineering and agricultural institution. Start your day with a quick breakfast at "Greyhouse Coffee," a popular spot known for its artisanal coffee and pastries.
Mid-Morning: Explore the Purdue campus, known for its impressive engineering facilities and iconic Bell Tower. If you're interested in aviation, visit the Purdue University Airport, where you can witness flight training and maybe catch a glimpse of some unique aircraft.
Afternoon: For lunch, try "Triple XXX Family Restaurant," a quirky diner featured on Food Network's Diners, Drive-Ins, and Dives. They're famous for their Duane Purvis All-American burger and hand-dipped root beer.
Evening: Spend the evening at "Prophetstown State Park," just a short drive from campus. Enjoy hiking, birdwatching, and immerse yourself in the natural beauty of the area. Alternatively, you can explore the vibrant downtown area for unique shops and boutiques. See more on West Lafayette here.
South Bend – University of Notre Dame
Morning: Our final destination is South Bend, home to the prestigious University of Notre Dame. Start your day with breakfast at "Peggy Sue's Diner," a nostalgic '50s-style diner offering a variety of breakfast classics.
Mid-Morning: Explore the awe-inspiring campus of Notre Dame, featuring the iconic "Golden Dome" and the "Basilica of the Sacred Heart." Take a walk around the serene Grotto of Our Lady of Lourdes for a moment of peace and reflection.
Afternoon: For lunch, head to "Corndance Tavern," a local favorite known for its upscale American cuisine and craft beers. Afterward, visit the "Studebaker National Museum," showcasing vintage automobiles and celebrating the region's automotive heritage.
Evening: Wrap up your weekend getaway with a visit to the "East Race Waterway," where you can experience thrilling white-water rafting or simply relax by the riverside. End your trip with a sunset picnic at "Howard Park," a charming urban park featuring beautiful gardens and recreational areas.
Indianapolis – UPUI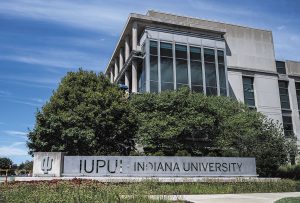 No exploration of active college towns in Indiana would be complete without mentioning Indianapolis, the state's capital and home to one of the most prominent universities in the region – Indiana University-Purdue University Indianapolis (IUPUI). Situated in the heart of downtown Indianapolis, IUPUI offers a unique urban college experience. With its diverse student body and numerous academic programs, IUPUI adds a dynamic and vibrant atmosphere to the city. While in Indianapolis, take a tour of the campus and witness the seamless integration of academia with the bustling cityscape. Additionally, immerse yourself in the city's vibrant arts and cultural scene, visit the world-class Indianapolis Museum of Art, catch an NBA game at Bankers Life Fieldhouse, or explore the charming neighborhoods and thriving culinary scene. Indianapolis truly exemplifies the perfect blend of urban sophistication and college-town charm. More on Indianapolis here.
Indiana's active college towns offer a delightful blend of cultural experiences, natural beauty, and youthful exuberance. From the vibrant streets of Bloomington to the engineering hub of West Lafayette, the historic charm of South Bend, and bustling capitol city of Indianapolis, each town provides a unique adventure. So, whether you're a college student looking for a change of scenery or a traveler seeking an enriching escape, these Indiana college towns are sure to leave you with lasting memories. Pack your bags, grab your friends, and embark on an unforgettable weekend getaway!