By Kandy Derden
Things to Do Editor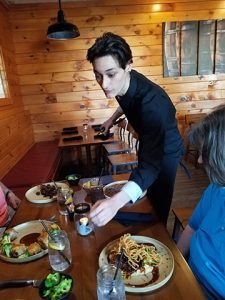 "I'm going to Indiana and I'm going to take my list of Pete Dye golf courses."
"I'm going to Indiana and I'm going to take my list of Pete Dye golf courses and my golf clubs."
"I'm going to Indiana and I'm going to take my list of Pete Dye golf courses, my golf clubs and my lucky golf hat."
"I'm going to Indiana and I'm going to take my list of Pete Dy golf courses, my golf clubs, my lucky golf hat and a camera to take picture of us on a Pete Dye golf course, with our golf clubs, wearing our lucky golf hats."
"I'm going to Indiana and I'm going to take my copy of the Tenderloin Trail."
"Wait.  What?  No golf?"
That's correct.  I went to Indiana but I didn't play golf.  What else is Indiana known for?  Tenderloins!  MMmmmmm, one of my favorites!  Besides, while everyone else was on the golf course, someone had to stay behind to make important decisions about where to eat dinner.
I can safely say, none of us ever went hungry.  
Oak and Barrel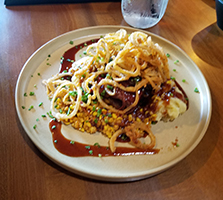 MONTICELLO – After a full day of working, or shopping, or playing sports, or anything else for that matter, nothing satisfies quite like a good meal.
Monticello, Indiana is home to Oak and Barrel, a steak house of culinary delights.  Members of our party all selected different entrées: filet mignon, tenderloin, ribeye, brisket and prime rib.  The variety of side dishes include sauteed mushrooms, fire roasted corn, garlic mashed potatoes, oven roasted Yukon potatoes, onion straws and steamed broccoli, just to name a few.  The sauces were unfamiliar to me so I was a bit skeptical at first, but the chef's choices of sauces to accompany each side and entrée created some wonderful combinations of aroma and flavor.
According to owners, Chantz and Kylie Ledyard, this location was selected because it is in the heart of agricultural country, enabling the business to procure local meat and produce, thus establishing them as a 'farm to table' restaurant choice.  Although discouraged from selecting an area where there aren't many such restaurants, Chantz recognized it as an opportunity simply because there weren't any other places like it in the area.
Cecil Johnson is co-chef with owner Chantz who had a basic New York style cheesecake recipe.  He shared it with Cecil who has developed several variations and continues to add new creative combinations.  As a result, they have built a reputation for producing irresistible cheesecake.  Sales have increased by 400 % since their opening in February 2021.  It only took one bite to understand why.  It was delicious!
There are plenty of epicurean delights available for even the most discerning foodie.  However, make no mistake:  this is still a steakhouse where purists can sink their teeth into a delicious slab of meat.  In my opinion, this is the best combination since baked potatoes were introduced to dead cow.
www.oakandbarrelmonticello.com/
Triple X Diner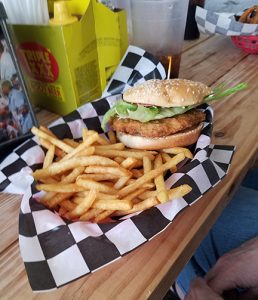 Triple X Diner is known for making their own root beer the same way it has been done since 1929.  Naturally, we all had to try some.  It was delicious!  This caffeine-free beverage had a smooth flavor with the slightest hint of a bite to it.  Not everyone agrees, but I like mine with very little foam because the root beer becomes too warm by the time all the foamy bubbles eventually pop.  This was perfect!  The carbonation was exactly right without having to wait for a head of foam to disappear.
Indiana is known for their tenderloin trail.  Now that's my kind of trail.  We have not been traveling from restaurant to restaurant specifically for that purpose, but as we have traveled on the Pete Dye golf trail, I've had my eye out for places which serve good tenderloins.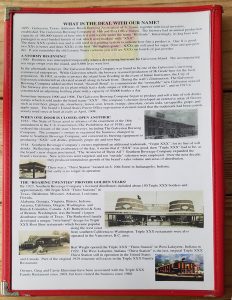 Triple X was my first so I didn't have any Indiana experience for reference.  The only thing I do know is that my home town in Missouri has one of the best, worthy of any state tenderloin trail.  I do have a tendency to compare any and all such sandwiches to theirs.  Triple X had a good flavor, but in appearance, it didn't make the grade.  At first glance, it looked like the type which are pre-cooked and frozen, ready to warm up and serve.  It was also a bit smaller than most, which in this case, was good thing because I was looking for a light meal.  Delish!  www.triplexxxfamilyrestaurant.com/
Gatsby's Pub & Grill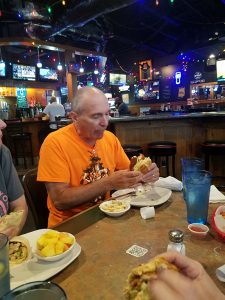 The tenderloin sandwich at Gatsby's was pounded thin which made it tender and easy to eat.  The breading appeared and tasted as though as it had been prepared in house.  It was well worth the few extra minutes of waiting for this delicious sandwich.
Duane, our sports editor, selected the Romanoff sandwich which is a chicken breast breaded in a specialized seasoning and fried.  He declared it to be 'excellent.'
Remodeling is in progress as the owners are expanding and making the transition from a sports bar and grill to a family restaurant.
Reme's  Restaurant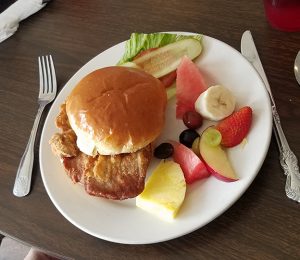 PLAINFIELD – Continuing in my pursuit of the perfect tenderloin sandwich, this one was different than any other I have ever had.
Instead of being tenderized, pounded or ground meat, this one was a hand-cut piece of tenderloin, battered and fried much like a pork chop.  One would think it might be tough, but not so.  It was very lightly breaded so the flavor of the meat was predominant.
Served on a bun with choice of condiments, it was tender and flavorful (but a teeny bit dry).  Pairing it with a cup of soup and a side of mixed fresh fruit quickly bumped this one to the top of my own personal Indiana tenderloin trail.