By Kathy A. Barnett
Managing Editor
I was introduced to West Baden Springs and French Lick at least five years ago or more on a travel media marketplace where I visit participating Convention and Visitors Centers that offer information about their destination. It was one of the first ones I had been to and the beautiful French Lick Resort caught my attention. Home to two AAA Four-Diamond nationally historic hotels, three golf courses, two world-class spas, a casino and multiple onsite dining establishments, it immediately went to the top of my bucket list.
So plans began, a schedule was set, and health issues got in the way. We postponed. Weather problems came along. Again we postponed. Family, work, holidays, unscheduled detours, major moves and more health issues got calendar dates postponed. I did not give up and finally succeeded in visiting this beautiful resort. It was honestly worth the wait and I'm so very glad I did not give up on reschedules.
The delay for me was an actual blessing because I was able to visit along with my Places-to-Go editor and Sports editor and family. For me it was much more fun to travel with loved ones rather than alone.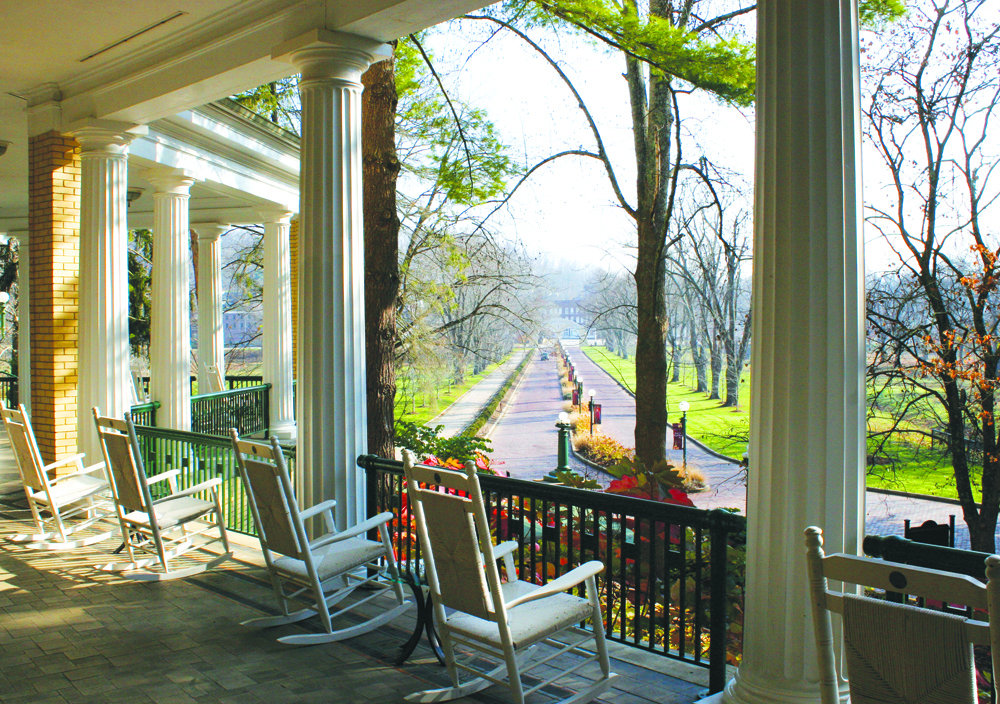 Upon arriving at West Baden Springs Hotel, we noticed a circular shaded porch lined with welcoming rocking chairs.
Note to self #1: Be sure to take time to relax and simply enjoy the scenery.
Since this area is a bit hilly for Indiana, the driveway guided us around to the back of the resort for checking in. Valet service was readily available to help with luggage and parked our car for us. Checking in was a very smooth and efficient process. It was immediately evident that friendly service is a key ingredient for employees. They treated us like family and the conversation made me feel like we had known them for years. No uncaring staff at this destination.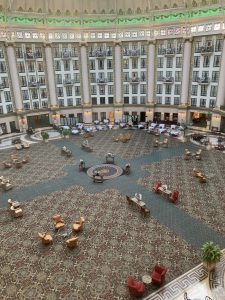 Note to self #2: Remember this is a large hotel. So take advantage of luggage service. While there are convenient elevators, the hallway can be an extra step or two or 10 than one may be accustomed to.
The guys were already on the Pete Dye Golf course, one of three available. So there was time to get settled in our luxurious room and explore. Once called the "Eighth Wonder of the World," the focal point of West Baden Springs Hotel is an awe-inspiring atrium that spans 200 feet. It lights up at night for a relaxing and peaceful (or even a romantic) experience. Learn more about its history by clicking on the photo above.
Mixing comfortable ambiance with modern amenities, I learned the hotel was built more than century ago and is listed on the national register of historic places.

On to the golf course
by Duane Duchesne
Sports Editor
Originally conceived as a sketch on a napkin at a nearby restaurant, the Pete Dye Course Golf Course at French Lick has received accolades from many prestigious entities including Golfweek and Golf Digest.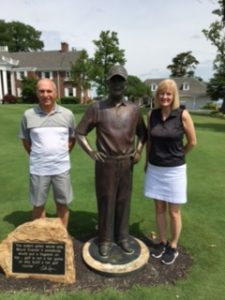 While the course stretches to over 8,100 yards from the back tees (you may need your passport to play from there), it features six other sets of tees making it playable by golfers of every skill level. And skill is the operative word here.
I've got good news and bad news. The good news is the course is fairly open; there aren't many trees for Mr. Dimples (nickname for golf ball) to rest in the shade of or to hide behind. And there are no double dogleg par 5s to try to steer through. What a relief, right?
Wrong! You see, this course is built on the hilltop of the highest point in Indiana (I think you can actually see Kentucky from there). Because of this, not only are the greens undulating, the fairways are too. And it's intense; up, down, right, left; if you were navigating water instead of land, you'd need something for sea sickness. And these wave-tossed fairways are narrow; so narrow that I saw the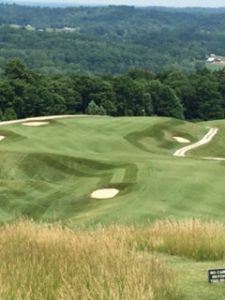 right rough and the left rough holding hands on one hole (I may be exaggerating). And, if that weren't enough, there are these sinister-looking sand traps called "volcano" bunkers. You see, on some of the more elevated hills, they've chopped off the top, dug a deep hole, and filled it with sand. But, unlike a true volcano, it doesn't erupt. You do with an "Oh no. What do I do now?"
But I don't say all of these things to discourage you. In fact, it's quite the opposite. All of these things make it the most exciting and wondrous golfing adventure I've ever experienced. It's something that I will never forget and always treasure.
For more information or to make reservations, visit https://www.frenchlick.com/