The Annual 500 Festival has shown commitment and excellence for more than 60 years with its wide range of programs and events created to unite the community in celebration of the Indianapolis 500. The parade was the first event scheduled in 1957 and is continued today as one of the most popular and well-attended attractions. The kickoff is May 4 on Monument Circle with the arrival of the Chevy #FestivalCars, led by the Indianapolis 500 Pace Car. At the Kickoff to May, you can also enjoy food from some of Indy's favorite food trucks, pick up prizes from exhibitors, get photos with the #FestivalCars, and more. This event is free and open to the public. For more information on the 400 Festival, visit https://www.500festival.com/
"TRADITIONS" at the Motor Speedway Museum


In the first new exhibition of 2022, the Indianapolis Motor Speedway Museum invites you to relive your favorite traditions through iconic photography, inspiring videos, and some of your favorite traditions on display. Highlights include tailgating, concerts, The Command, and "Back Home Again in Indiana." This exhibition about the entire month of traditions during The Greatest Spectacle in Racing debuted last week, and is on display until June 30th.
FUN brings laughter and laughter brings healing.

Located in the heart of Mass Ave, ComedySportz Indianapolis is team competitive improvisation. No, it's not comedy about sports, it's a comedy played as a sport! Think "Whose Line Is It, Anyway?"…but with teams…two teams of improvisational "actletes" that compete against each other for points by playing improv games based on audience suggestions. It's all about helping people defeat boredom, escape seriousness, and connect with your crew through improv. Early shows are geared toward all ages and are great for families. Late shows are typically for 17-and-older crowds. All shows run Thursdays through Sundays.
There's Fun For Kids of All Ages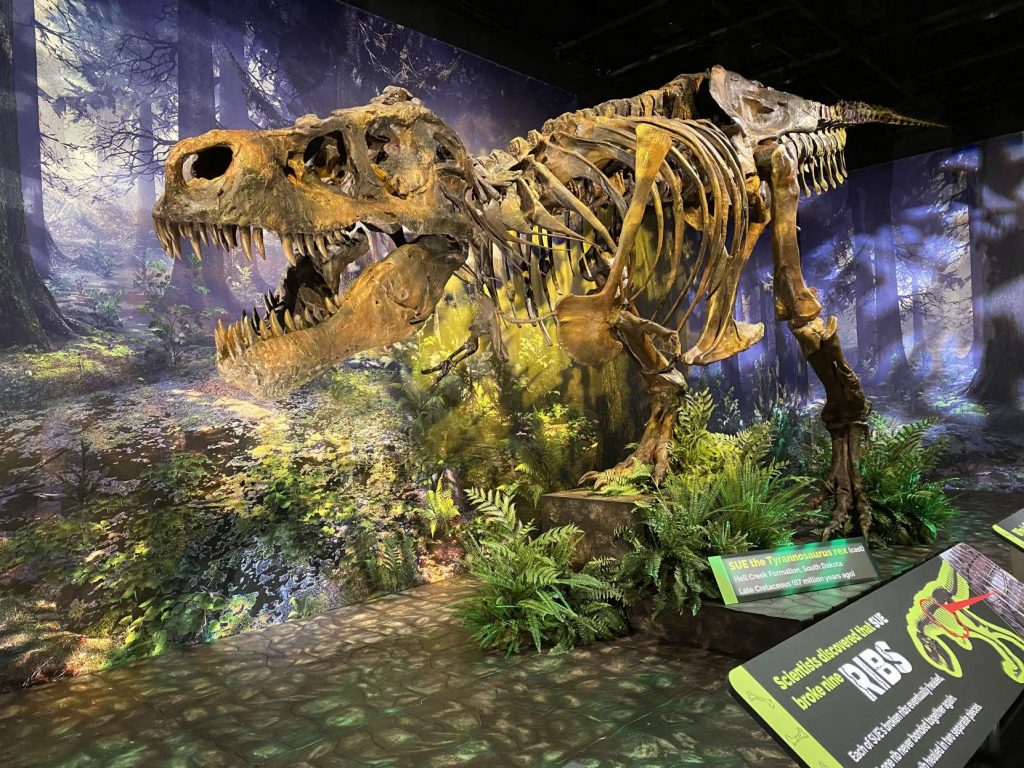 The new long-awaited Dinosphere®  is now open with five different sections to explore at The Children's Museum. This is the result of an international dinosaur dig in Wyoming called Mission Jurassic™ and brought home the fossil remains of some of the biggest beasts to ever roam the land. See the display of massive footprints that are as large as an average human is tall. Continue undersea to meet a dolphin-like creature with eye sockets the size of dinner plates! Talk to real scientists who are doing real science on our real fossils in the R.B. Annis Mission Jurassic Paleo Lab and the Polly H. Hix Paleo Prep Lab!
The largest children's museum in the world, and named one of the best by Child magazine, offers interactive exhibits exploring art, science, history and culture, the Dinosphere, and planetarium. More than one million visitors each year enjoy this five-level playground with a 43-foot brightly colored Dale Chihuly 'Fireworks of Glass' sculpture hanging in the middle and a fully rideable antique carousel on the top floor. For more information, visit  https://www.childrensmuseum.org/exhibits/dinosphere#
INDY ELEVEN IS BACK IN 2022
Indy Eleven Professional Soccer is ready for its 2022 season Back Downtown at IUPUI Carroll Stadium – and you can be too with a special holiday season package! See the full range of 2022 Indy Eleven tickets – including discounts and experiences for groups of 10+ and expanded hospitality options perfect for any occasion. >MORE
Music Moves
Conducted by Music Director Matthew Kraemer, a collaborative celebration with Dance Kaleidoscope returns showcasing Bernstein, Brahms, Handel, and Kilar will be presented at the Schrott Center for the Arts on May 20-22. Winner of the 2017 American Pianist Awards, Drew Petersen, joins the ICO and DK dancers with Ravel's Piano Concerto in G Major. Musical performances are set to David Hochoy's choreography for a vibrant artistic experience. For more information, visit https://www.icomusic.org/music-moves/
Music & Arts Festival
The ultimate end of summer party is coming to Indy! This coming Labor Day weekend, head to the All IN Music and Arts Festival here at the Indiana State Fairgrounds for incredible music and an array of great food and arts experiences. September 3 and 4 with performances from Daryl Hall & John Oates, Cage The Elephant, John Forgerty, Portugal. The Man, and so many more artists and special guests.