COUNTING DOWN TO CIRCLE OF LIGHTS®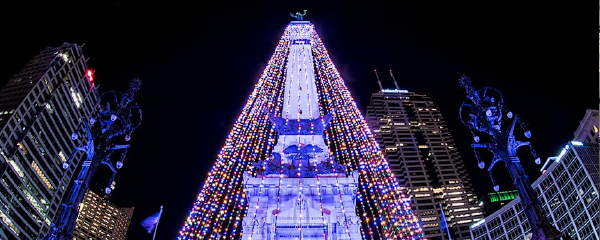 We are gearing up for the 61st annual Downtown Indy, Inc. Circle of Lights® presented by IBEW Local 481 next Friday, November 24. You can win a front-row experience to the show in our "Holiday Hype Zone!" To enter, submit a photo of your party (family, couple, friend group, etc.) on Instagram and tell us why you have the most holiday spirit with the hashtag #HolidayHypeZone. Festive outfits, ugly sweaters, and accessories encouraged! Children under 16 must be accompanied by a parent or guardian. For more information, visit https://downtownindy.org/events/circle-of-lights
BUNDLE YOUR HOLIDAYS DOWNTOWN 
Downtown Indy's "Winter Wanderland" is in full-swing with multiple openings this Saturday, November 18. Charles Dickens's A Christmas Carol returns to the Indiana Repertory Theatre following the nostalgic tale of Ebenezer Scrooge. The Eiteljorg Museum showcases its model train installation Jingle Rails with iconic landmarks including the Indianapolis Motor Speedway, Circle of Lights®, and Mt. Rushmore. Finally, Christmas at the Zoo opens with holiday lights, Santa's Village, animal sightings, a mirror maze, and more. Our Holiday Happenings page has your Downtown holiday experience planned out for you – with everything from a date night under the mistletoe to a festive family outing. https://downtownindy.org/events/circle-of-lights/holiday-happenings
SKATE THROUGH THE HOLIDAYS

The ultimate holiday activity is coming to Downtown Indy! Bicentennial Unity Plaza is opening its brand-new Elevance Health Rink this Sunday, November 19 for holi-days and nights full of ice skating, delicious food, warm beverages, and gazing upon a new signature holiday tree. Bring your family and friends and experience Indy's most eagerly awaited wintertime attraction! Now's your chance to skate upon the NHL-sized ice rink, open until January 21. To reserve your place on the ice, visit the link below. https://downtownindy.org/do/ice-skating-at-elevance-health-rink
GET READY FOR SANTA HUSTLE

This year's Santa Hustle Half Marathon, 5K, and Kids Dash is taking place on Sunday, December 3 and you can book your spot in the race now! Starting at White River State Park, make Santa's nice list and participate in the races to support Little Red Door Cancer Agency. All participants of the half marathon and 5K will receive a full-zip hoodie, a Santa Hustle embroidered headband, and a finisher medal (to help you jingle all the way). You can add-on fun, festive goodies like a Full Santa Suit when you register! Take part in making memories and making a difference at Santa Hustle. https://downtownindy.org/do/santa-hustle-indianapolis-half-marathon-5k-and-kids-dash
JINGLE RAILS
An annual favorite holiday attraction, Fifth Third Bank Jingle Rails: The Great Western Adventure is a magical model train wonderland consisting of nine G-Scale trains winding through stunning landscapes and past iconic landmarks of Indianapolis and the West. It's all creatively crafted out of natural materials and decorated with holiday trimmings and lighting. Jingle Rails features miniature versions of local treasures of Downtown Indianapolis along with legendary sites through out the American West.  Open Saturday, Nov. 18 through Jan. 15, 2024  https://eiteljorg.org/exhibitions/jingle-rails/
WINTER WANDER @ FESTIVAL OF TREES

Brighten your family's holiday season by taking them to see beautiful, festively decorated trees! The Indiana Historical Society's Festival of Trees begins on Friday, November 10 and will be open from 10 a.m. to 5 p.m. DAILY through January 6. Celebrate its 10th anniversary by viewing 77 elaborately decorated trees representing iconic individuals, organizations, and companies from around Indiana. Eli Lilly Hall also features a massive, 30-foot centerpiece tree that is viewable throughout most of the building. Afterwards, enjoy a warm beverage and festive treat at the Stardust Terrace Café downstairs.
COLOR YOUR WAY FOR THE HOLIDAY

Know a young coloring extraordinaire? Children ages 3-12 can create their own festive masterpiece for a chance to "flip the switch" at The Downtown Indy, Inc. Circle of Lights® presented by IBEW 481 on November 24! The AES Indiana Coloring Contest will run today, November 1 through November 14. To enter, download and print this year's coloring sheet, complete it with bright and dazzling colors, and drop it off at either IBEW 481, AES Indiana, or one of seven Indianapolis area MCL Restaurant and Bakery locations. Finalists will be notified by November 16. We can't wait to see your creative designs! Details at https://downtownindy.org/events/circle-of-lights/coloring-contest
ENJOY ONYXFEST 2023
'TIS THE SEASON TO VOLUNTEER

We can't wait for The 61st annual Downtown Indy, Inc. Circle of Lights® presented by IBEW 481 on November 24! As we prepare to welcome tens of thousands Downtown for the holidays, we need your help to keep spirits bright and promote Hoosier Hospitality! Join us in maintaining a clean, green, and beautiful Downtown during our Community Clean-Up on Tuesday, November 21 from 9-11 a.m. Looking to help the day of Circle of Lights®? We are in search of enthusiastic volunteers who can help with directing traffic, guiding entertainers, and answering questions for our attendees. Volunteers will be provided with parking, an evening meal, and some holiday swag. Join us and make this holiday season even more memorable!
Bike Trail Expansion

The Indianapolis Cultural Trail debuted back in 2013 as an 8-mile urban pedestrian and bicycling trail punctuated with public art installations. 10 years later, in May of 2023, a $30 million, 2-mile expansion was completed, improving access to the city's historical African American cultural district and the new 16 Tech Innovation District, which will be opening an incubator for Black chefs.
Bicentennial Unity Plaza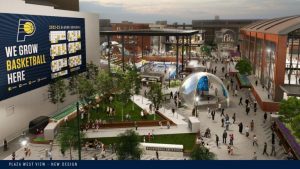 While most of Fieldhouse of the Future construction has been interior up until now, Phase 3's exterior work on Bicentennial Unity Plaza has begun to take shape! The plaza will be home to a community basketball court that will be converted to a seasonal ice rink, community-based public programming, and new public art thanks to a $28.47 million grant from Lilly Endowment Inc.
In addition to serving as a destination and key connector across downtown's cultural assets, Bicentennial Unity Plaza will provide a flexible space for diverse community programs, civic conversations, and artistic performances.
Luxe Shipping Container Accommodations
Indy will welcome Tiny Urban Escapes, luxe shipping container accommodations with a garden oasis. Minority business owner, Robin Staten, is bringing a tranquil and relaxing setting to our urban core. And, in a downtown underserved neighborhood along the River.
Massive Building Repurpose
The historic Stutz Building, a 110-year-old former auto manufacturing site in downtown Indy, is primed for a rebirth. Restaurant and retail tenants are moving in, including an additional outpost for Indy's best bakery, a Martha Hoover (6x James Beard Outstanding Restaurateur Semifinalist) restaurant concept, plant shops, artist galleries, a retail incubator, and more.
Madam Walker Legacy Center
2023 will mark the first full year that the Legacy Center will open their doors to the public for spoken word, events, comedy shows, theatrical performances, etc., after a $15 million renovation. Madam Walker is America's first self-made female millionaire who made her fortune from selling her hair care product in 1910. Her factory stood where the historic legacy center now stands. This is the anchor of Indy's historical African American cultural district. And, Mattel recently rolled out a Barbie doll with Madam Walker's name and likeness. And, Indy just announced a new downtown massive mural will be painted in her honor.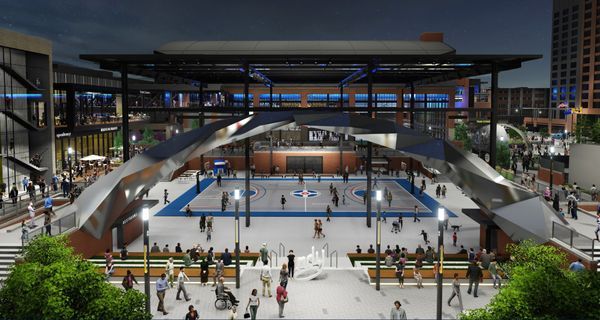 River Activation Implementation
Indy is also amidst one of the country's largest river redevelopment projects, with 58-miles of the White River, which runs through the heart of the city. 2023 will kickstart some tangible amenities that provide greater access and enjoyment of the river.