New Harmony features a plethora of yearly activities, public art and architecture, gardens, shopping, fine dining, a wonderful inn, live music, museums, a brewery, coffee shops, nature places, and an abundance of history kept visible by the good stewardship of New Harmony's residents.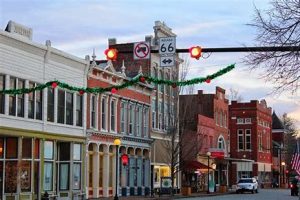 was originally settled by a communal German religious group known as the Harmonists (or Rappites) in 1814. Sitting conveniently on the Wabash river a mere twelve miles away from the Ohio river, the original settlement allowed the Harmonists strategic access to trade and transportation. History, of course, is one of the greatest aspects of New Harmony for any visitor. Along with several structures listed in the National Register of Historic Places, visitors should be sure to stop at the Roofless Church, the Atheneum, Tillich Park, and the Harmonist Labyrinth. A full list of all public art, spiritualist sites, architecture, and outdoor recreation options is available on the Visit New Harmony website.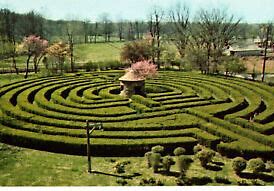 When visiting New Harmony take time to walk a labyrinth. It's free. It doesn't take long and it can help you put life in perspective. If you're lucky enough to be in town on an evening with a full moon, stop by the Cathedral Labyrinth, kick off your shoes, and walk your journey while enjoying the warmth of sun-baked granite under your feet.
For those wishing for a great place to spend the weekend, or even a week – the place to stay is the New Harmony Inn Resort and Conference Center.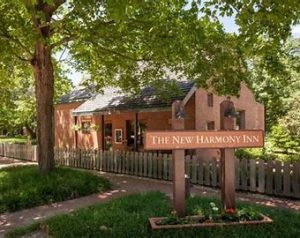 The motto reaffirms the conviction of this author that the New Harmony Inn is an "oasis of tranquility and true relaxation."  Prices are extremely reasonable given the value of the place and the inn has fantastic ratings on Expedia and Trip Advisor. Just be mindful when booking that the Inn fills up frequently during wedding season. New Harmony also has several bed and breakfasts including Cooks on Brewery, Leather Leaf Inn, and the Old Rooming House.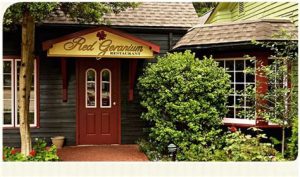 A special dining establishment to relax from exploring is at the Red Geranium. Open seven days a week for breakfast, lunch, and dinner (brunch on the weekends) – the Red Geranium offers everything from seafood, to lamb and steak, pasta, and salad all paired with excellent wine selection. David Mayer, Red Geranium's manager, reiterated the family atmosphere at the restaurant, "People come here when they want to relax and slow down. We know the customers by name and make sure they not only have a great dining experience, but that the spirit of the place is present as well." While New Harmony is an excellent place to bring your entire family, the village isn't without a vibrant, albeit relaxing nightlife. Attached to the Red Geranium Restaurant, the Grapevine Bar is a great place to start or end your night.
No matter what, take a weekend this year and make the trip to New Harmony. The community is great for families, couples, or if you just need a weekend away yourself – you won't be disappointed.
For a full list of places to stay along with food and drink options > Click here.