They're big. They're fierce. They're back. Real prehistoric giants unearthed. The new Dinosphere® is Now Open  -You're in Their World.
There are five new areas to explore and seven different programs to experience.
1.Giants Jurassic – Meet our two towering new sauropods—enormous four-legged, long-necked creatures that only ate plants. Learn how they grew to be so huge, and be amazed!
2. Creatures Cretaceous – The dinosaurs you've come to know and love in Dinosphere® are back! Return to the watering hole and see a world of prehistoric activity with Bucky the T. rex, Kelsey the Triceratops, and other Cretaceous creatures!
3. Monsters of the Mesozoic Seas – Dive deep into the sights and sounds of the ancient aquatic world! Immerse yourself in a shimmering, undersea experience, and encounter fearsome fossils from this mysterious world.
4. Art Lab -Let real life inspire your imagination. Through different forms of art, you can bring dinosaur fossils to life in the Dinosphere Art Lab! Pair real science with your creativity to draw, sculpt, and design a day in the life of a dinosaur.
5. Paleo Lab – Talk to real scientists who are doing real science on our real fossils in the R.B. Annis Mission Jurassic Paleo Lab and the Polly H. Hix Paleo Prep Lab!
_ _ _ _ _ _ _ _ _
By Kathy Barnett/Managing Editor
Riley Children's Health Sports Legends Experience

I had the pleasure of getting a hosted sneak peek of the new Riley Health Sports Legends Experience at the Children's Museum of Indianapolis before it opened to the public. This $38.5 million expansion on an added seven and one-half acres is located at the north end of the museum's campus. There are 12 outdoor experiences featured including a football, baseball, basketball, and soccer field. There is a tennis and hockey court, two golf courses, a drag strip, a speedway, and a fitness pathway. All are built on a smaller than normal scale. Each is designed specifically to allow its visitors to practice skills that will help them play a better game later in real life. For example, the two golf courses designed by Pete and Alice Dye are not your regular put-put attraction with cute little windmills or animated characters to cheer on the game. The two signature 9-hole putting courses replicate some of the Dyes' most famous course and hole designs. There is also green for the younger children to practice their beginning skills.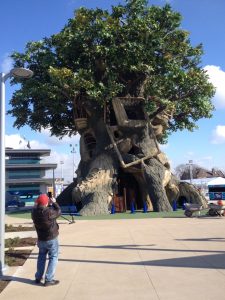 Then overlooking the entire outdoor attraction sits a 60 feet tall Fantasy Tree House of Sports. Inside the trunk is a spiral staircase leading to different platforms to look out over the entire attraction. Once you've explored inside, exiting down one of three slides is an added thrill.
"Our goal was to have an immersive outdoor and indoor family health, fitness, and sports experience that will inspire visitors to be active together in a non-competitive way while creating healthy habits that will last a lifetime," said Dr. Jeffrey H. Patchen, president and CEO of the Children's Museum.
What was Dr. Patchen's dream and goal for the past ten years became a reality with the help of "All-Star Partner," Riley Children's at Indiana University Health. Their main goal in common was to develop a place for promoting family health and fitness. After many surveys and extensive studies, the sports theme pulled everything together. Here is a beautiful place where families can play together as they learn, connect and practice safe and healthy habits.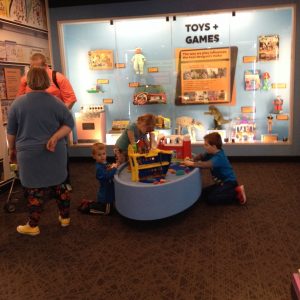 Inside, the Efroymson Pavilion houses the National Art Museum of Sport (NAMOS) featuring paintings, prints, sculptures and photographs – all celebrating the world of sports. There are mini-studios for visitors to sit and try their hand at sculpting or drawing a masterpiece of their own to take home as a souvenir.
Another indoor exhibit is the History of Hoops. This area shows artifacts and the history of basketball as it pertains to Indiana. Discover its importance of basketball through this temporary exhibit of the professional teams and comparing height, shoe size and hand size to the greatest players. Practice your own shot with arcade basketball. play interactive games, showing skills and talents needed for this sport.
Now the best part of all is a general admission ticket to the Sports Legends Experience, NAMOS and museum is available online at a discount when purchased in advance. Hours are 10 a.m. to 5 p.m. with extended hours to the Sports Legends Experience until 8 p.m. There are Sports Legends Evenings also available for the hours of 5-8 p.m. only. For more information, call 800-820-6214 or visit online at www.childrensmuseum.org/visit/buy-tickets
With all this activity, hunger pains are sure to remind us that it's time to eat. The food court within the museum is a convenient source for quick snacks, a refreshing break or a hearty lunch with several stations for a wide selection. There is coffee station, soup and salad choices from the deli, pizza, or build a burger at the grill. There are healthy options and sweet treats for final dessert with the choice of frozen yogurt at a self-serve station.