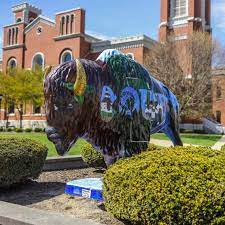 If you are looking for a peaceful, relaxing weekend getaway, Greensburg easily fits the description. This small city also has a friendly and sociable reputation eagerly waiting to welcome you to their community. Murals displayed throughout help tell their artistic story. A huge buffalo statue on the courthouse lawn is another piece of particular interest.
Over the last two years, Streetscape has redeveloped Broadway Street, which has led to major growth downtown. Mayor Gary L Herbert credits the rebirth to a "strong partnership between city and county government, business leaders merchants and nonprofit boards working together to promote and develop downtown."
   Be sure to visit the Picker's Paradise and It's Your Dime while downtown: Picker's Paradise, It's Your Dime, and Magnolia's Mercantile. Each shopping destination has something unique to offer. You will find a collection of antiques, vintage, primitives and shabby chic home décor, along with treasures from days gone by.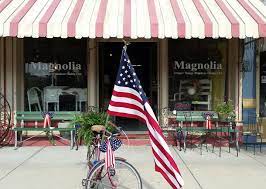 Bonnie Holaday, owner of Magnolia's, says "I love being part of a downtown community that works together to bring visitors to the square while supporting each others businesses."
 Want an amazing dining experience, downtown? Greensburg has a lot to offer! Did you know that Greensburg boasts the only Indonesian Grill in the state of Indiana? Mayasari's Grill, located on N. Broadway right next to Denim and Honey, is a culinary delight serving both traditional Indonesian dishes and American cuisine with an Indonesian twist. The restaurant won two categories in the 2014 Tenderloin Throwdown: Most Creative and People's Choice. Maya's gluten-free tenderloin has become a staple on the menu. Mayasari's also makes their own sauces.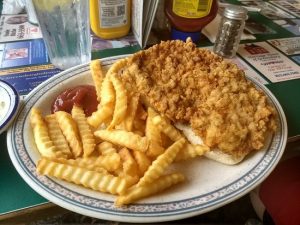 The story at Storie's Restaurant is all about delicious food and even better desert. Famous for their made-from-scratch pies, several flavors are baked daily. This family-operated business has been a staple in the community since 1977 and is a popular gathering place for the locals. You are sure to feel comfortable and right at home. Try the huge pork tenderloin sandwich, but make sure to save room for that pie.
Located on the south side of the downtown square and steps away from the famous courthouse tower tree, they are open for breakfast, lunch, and dinner six days a week.
For the sports-minded visitors, many activities and programs are designed to meet the needs of all ages. Volleyball leagues, softball leagues, youth baseball, youth tackle football, youth soccer, the Tiger Sharks Swim Team, Greensburg Power of the Past, and open gym times are all a part of what the Decatur County Parks & Recreation offers and hosts throughout their parks for Decatur County. There is a beautiful skateboard, bike, and rollerblade area at the Decatur County Skate Park.
History Buffs should take time to visit the Historical Society of Decatur County Museum. It is housed in the Lathrop-Shannon home built around 1850.There is a gift shop to pick up souvenirs and county-related gift items.
While visiting the museum, another story of interest is of Carl G.Fisher, born in Greensburg in 1874. It was his vision that inspired the Indianapolis Motor Speedway, The Lincoln and Dixie Highways, and Miami Beach. His visions did not always receive universal approval. However, he succeeded in making these milestones happen.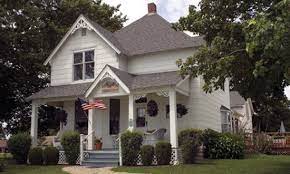 To continue your relaxed atmosphere, make lodging reservations at Nana's House B and B. Current owners, Ed and Joann Burkhart, are such a lovely couple that you may just want to linger and visit with them.
"Visiting over breakfast is my favorite part of the day," says Ed. "That's when we can sit and really get to know each other."
The dining room is beautifully decorated and breakfast is served on fine china and crystal. Homemade preserves accompanied freshly baked muffins to start the morning. Next came sausage links with a delicious French toasted cinnamon roll smothered in syrup.
They purchased the home, barn, and 11 acres in 1974 as their family home where they raised their three children. Then they opened up their home as the Bed and Breakfast in 1998.
"We have planted lots of trees and made a walking path so our guests can enjoy nature and walk down to the small creek," explains Ed. "There are lots of different birds and you might even see a deer or wild turkey."
Nana's House was built in 1906 in Washington Township, on the 160 acre farm, owned by Henry Chris Bowman and his wife Bridget. Native lumber from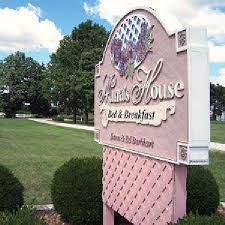 the farm was used to build the two-story Victorian farm house. The oak woodwork, oak staircase, and built-in courting bench in the front hall are all original to the home.
Genial and hospitable by nature, Henry Chris and Bridget were popular in the community of Greensburg. And now, the Burkharts carry on that friendly tradition.
A private bath conveniently accompanies each of the inn's bedrooms. Tv and wifi are included. We invite everyone to step back into the past and enjoy the simple pleasures of life at Nana's House.
For more information, visit online at www.nanashousebb.com.