Article and photos by Julie Diebolt Price
Photographer & Travel Writer 
Famous for Football and Car Manufacturing
You've undoubtedly heard of the mighty Fighting Irish football team at Notre Dame University in South Bend, Indiana. This world-famous private Catholic research school attracts thousands of visitors every year. I was one of them in September, 2022. This story isn't about football, though. It's about the vibrant town of about 100,000 residents with a diverse culture and rich history in Middle America. My lifelong friend, Jan, made South Bend her home early in her career. During my visit last fall, Jan shared so much about South Bend as a local who cares deeply for her community and proudly showed me around.
How to Get to There
Depending on your starting point, there are several ways to get to South Bend, Indiana. If you travel by car, you can take Indiana Toll Road (I-80/90) or US-31. If you are coming from Chicago, take the South Shore Line train or drive on I-90/94. If you are flying, South Bend International Airport is just a few miles from the city center and offers direct flights to several major cities. Because I was on a road trip through Illinois, Wisconsin, and Michigan, I crossed the border from Michigan, less than ten miles away.
History In South Bend
The Studebaker Museum
The Studebaker National Museum showcases the history of the Studebaker company, which produced automobiles, wagons, and military vehicles. The museum features a collection of over 120 vehicles, including presidential carriages, vintage cars, and military vehicles. In addition to the vehicles, the museum also has exhibits on the history of the Studebaker company, including its impact on the economy and culture of South Bend. Visitors can also take guided museum tours and participate in educational programs.
Tippecanoe Place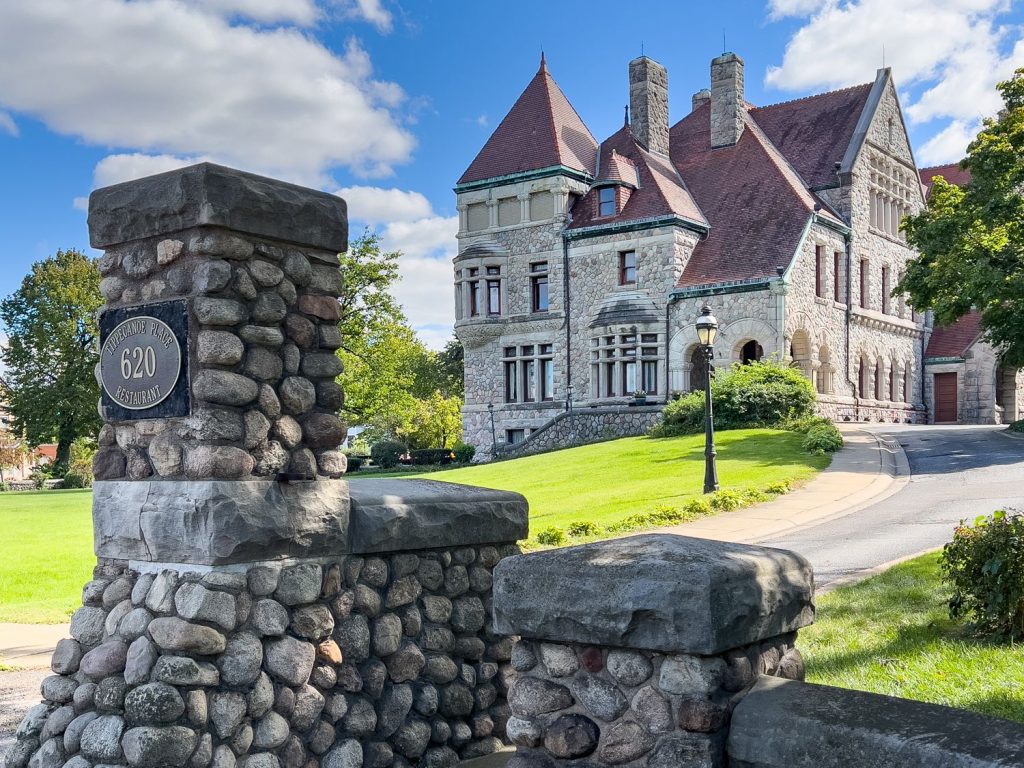 Tippecanoe Place, the Clement Studebaker House, has been designated a National Historic Landmark. The estate was completed in 1889 and was home to the Studebaker family until 1933. In the following years, tenants included the American Red Cross and a school for handicapped children. In the late 1970s, the mansion became the Tippecanoe Place Restaurant and event venue, attracting tourists and locals alike. It is an integral part of the city's history and reminds us of South Bend's industrial past. The mansion's architecture is significant, as it is a beautiful example of the Richardsonian Romanesque style.
Traveler Tip: Take the inside self-guided tour. You can get a brochure at the front desk.
Great Places to Eat and Drink in South Bend
These are my favorite places to eat and drink in South Bend, although there are many more with varying price ranges.
Howard Park Public House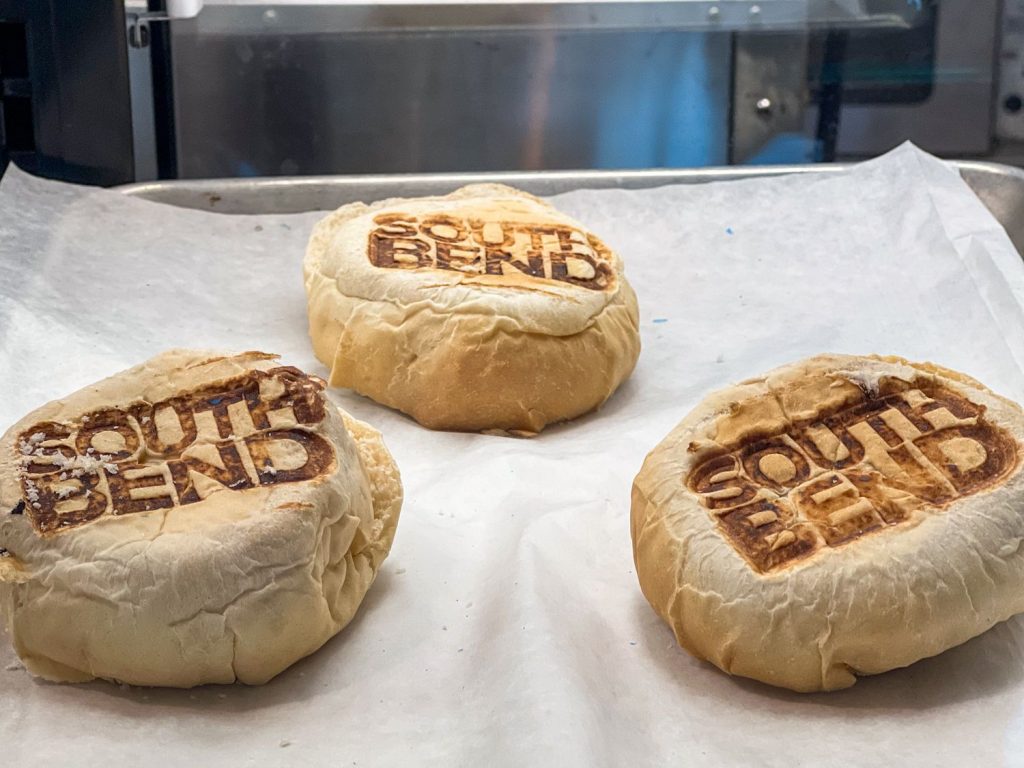 Howard Park Public House is a full-service restaurant offering year-round breakfast, lunch, and dinner. They offer locally produced beer and wine, and branded buns with "South Bend" emblazoned on the top. Howard Park Public House has a diverse menu, including beef, pork, mushroom, and turkey burgers. Vegetarians can also enjoy a Grilled Vegetable Wrap or Roasted Red Pepper Hummus.
Pups have various menu options, including grilled unseasoned chicken breast, fresh seared Atlantic Salmon, and whipped cream topped with a dog treat. I wish I had brought one of Jan's dogs so that we could treat them.
Ironhand Wine Bar
Ironhand Wine Bar, near The Armory Event Venue has a historic winemaking vibe.
Ironhand Vineyard pays tribute to Henri de Tonti, a French explorer who journeyed through the St. Joseph River Valley with LaSalle in the late 1600s. During the third Anglo-Dutch War, a grenade took off de Tonti's right hand, and he replaced it with an iron hook. Native Americans called him 'Iron Hand' because they were amazed at his skill with the hook.
Ironhand Vineyard is a farm winery–a working, local vineyard that offers wine for sale by glass, bottle, or case. They only produce about 300 cases per year. Most of their offerings are estate bottled, meaning the grapes are grown, processed, and bottled at the Brick Road winery. We enjoyed the Baked Brie small plate and paired it with a delicious red wine.
LaSalle Grill
Enjoy refined dining at LaSalle Grill in Downtown South Bend, with crisp tablecloths and perfectly aligned silverware.
LaSalle Grill is in South Bend's oldest commercial building, originally the Saint Joseph Hotel, built in 1868. It's conveniently located next to the Morris Performing Arts Center and offers pre-theater dining and post-performance drinks. Don't miss the murals in Ernie's Alley depicting theatrical scenes.
I spoke with LaSalle Grill's Founder and Proprietor, Mark McDonnell, during my visit. He shared insights into his successful career in the food industry and his staff development methods. Better yet, I learned how the chefs make the perfectly grill-marked Filet Mignon on their signature entrée.
LaSalle Grill recently earned the Best of Award of Excellence 2023 by Wine Spectator.
Roselily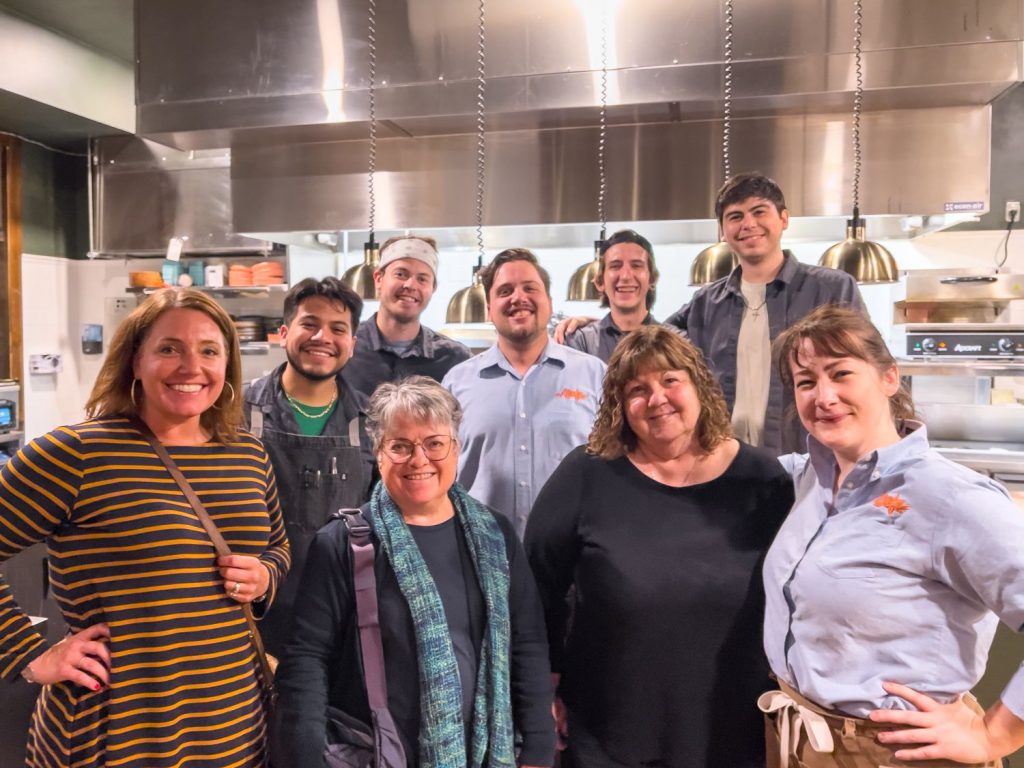 Specializing in American cuisine focused on locally-sourced ingredients, Roselily offers an intimate and elegant atmosphere. Housed on the grounds of the old Studebaker factory complex, Roselily is part of the Renaissance to bring the area back to life.
One of the features we enjoyed was the open kitchen, where guests could watch the young chefs prepare meals in real-time. The quality and care that went into the dishes and presented at the table were exceptional. The unique pottery vessels used for serving the food made our dining experience unforgettable. We liked that the service was not rushed–our meal lasted three hours.
Eamonn McParland, the Executive Chef and Owner, introduced Chef's Tasting Experiences in South Bend. To please him, we enjoyed the seven-course Chef's Tasting, and I also ordered the Reserve Wine Pairing, featuring their finest wines.
South Bend Chocolate Company
The chocolate factory in South Bend is known as the South Bend Chocolate Company. It was founded in 1991 by Mark Tarner and has since expanded to multiple locations throughout Indiana and Michigan. The company is known for its handmade chocolates and other treats, such as fudge and popcorn. They also offer tours of their factory and museum, where visitors can learn about the chocolate-making process and sample some of their products.
The Chocolate Museum
houses a vast collection of chocolate memorabilia worldwide, including a 1,300-year-old Mayan chocolate pot and numerous tins, containers, and chocolate boxes of various shapes and sizes. The collection particularly highlights American chocolate companies. My introduction to the South Bend Chocolate Company was chocolate candy delivered with our bill at Howard Park Public House. Of course, we were compelled to visit the chocolate store while we were downtown.
At the Chocolate Café inside the store, boasting the best hot chocolate in America, I was overwhelmed by the variety of chocolates in the display cases and decided on the Sea Salt Turtle with a green swirl on top.
South Bend Farmer's Market
Whenever I visit a new destination, I make it a point to check out the farmer's market. The markets not only offer fresh, local produce but also provide a glimpse into the life of the locals and support small businesses.
The South Bend Farmer's Market, a landmark since 1911 (although it's been in different locations because of growth), is open Tuesday, Thursday, and Saturday. The Market is also open on Fridays from May through the Friday before Christmas. The vendors sell fresh produce, meat, dairy, jams and jellies, homemade crafts and jewelry, baked goods, and more.
Theater in South Bend
South Bend's theater community offers a range of productions for its audiences. The Morris Performing Arts Center is a popular venue for touring Broadway shows and other large-scale productions. The South Bend Civic Theatre is a community theater offering plays and musicals yearly. The University of Notre Dame's DeBartolo Performing Arts Center also hosts a range of theatrical performances, including student productions and professional touring companies.
Additionally, the downtown area has several smaller theater companies that produce more experimental and avant-garde works. When I was in town, the Morris Performing Arts Center was preparing for the Morris 100 Fest–celebrating its 100 years. Stepping into the lobby, we saw workers touching up the paint on the ornate Grand Lobby walls.
Built in 1921, the building was slated for demolition in 1959 but was rescued by Ella L. Morris, who then presented it to the City of South Bend. The building was placed on the National Register of Historic Places.
Public Art and Murals
South Bend Venues Parks and Arts was a 2022 finalist in the National Gold Medal Awards for public art. Following are some of my favorites.
Howard Park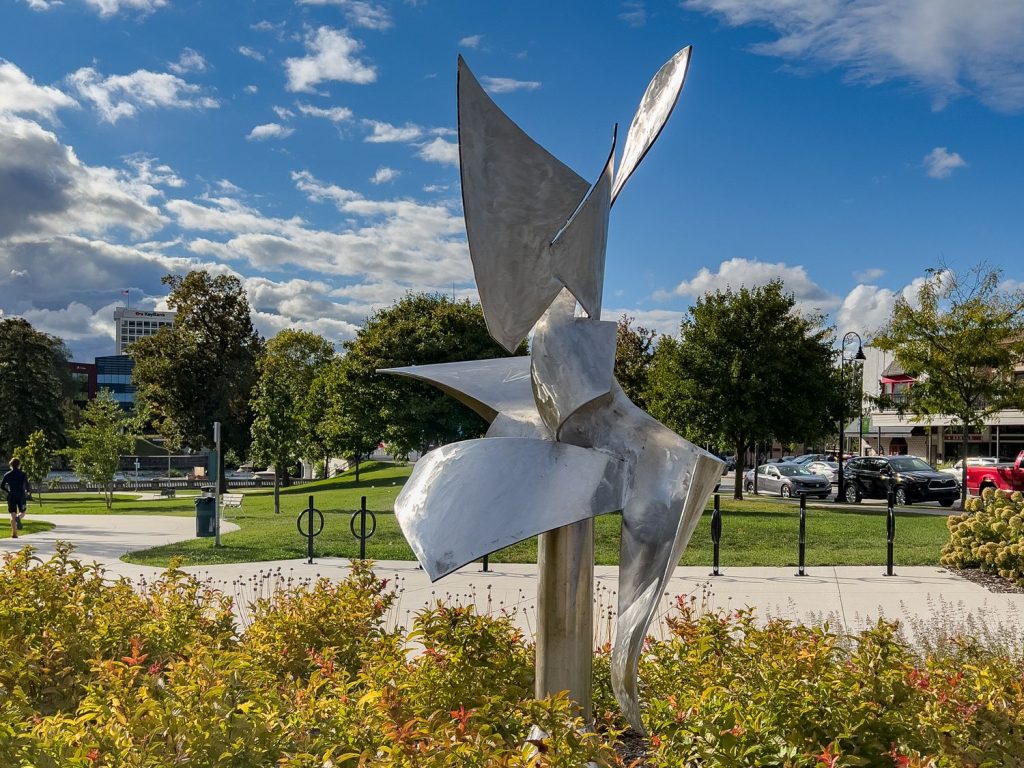 Howard Park, located on the east side of the St. Joseph River, is popular throughout the year. The park features a variety of recreational activities, such as a bocce court, splash pad, concession stand, and playground during the summer. In the winter, the splash pad transforms into an ice-skating rink and light display. A pavilion is available for events, and a delightful scenic riverwalk is just steps away.
Outdoor sculptures in a manicured and attractive landscape, a historic lodge, a Vietnam Veteran's Memorial, and the Worker's Memorial are additional features of Howard Park.
Murals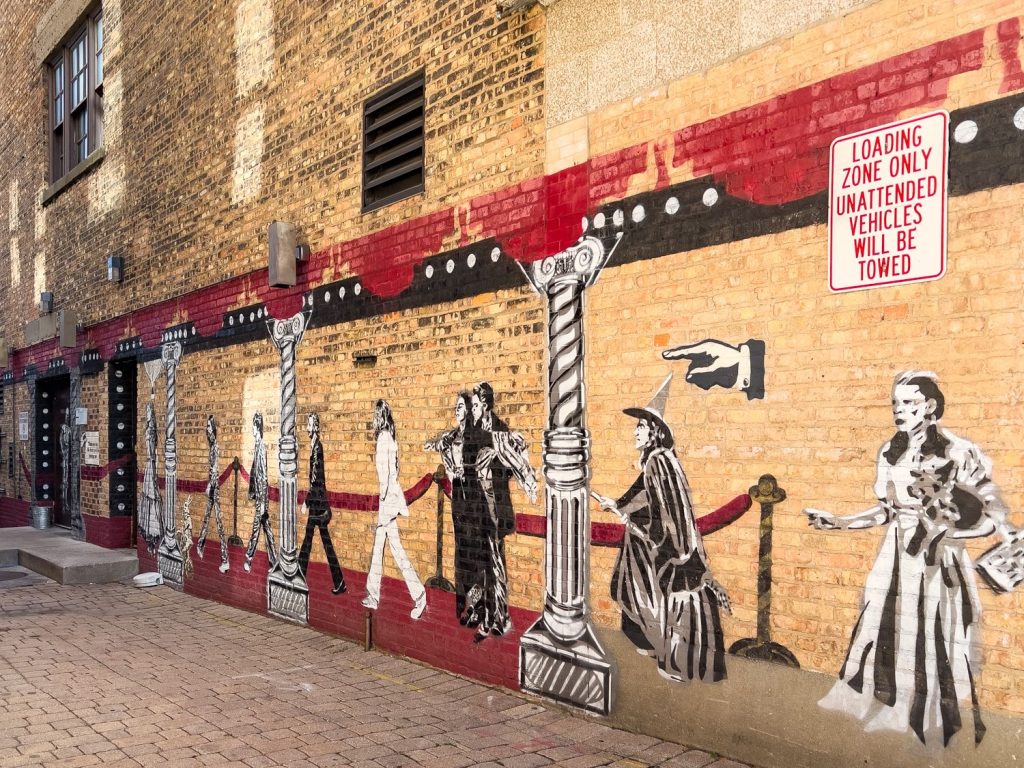 Ernie's Alley, nestled between LaSalle Grill and Morris Performing Arts Center, is one of many locations throughout South Bend with incredibly detailed and artistically executed murals.
South Bend is hosting Mural Mania this summer, with renowned artists creating their art over five days. Visitors are encouraged to come, watch and interact with the artists.
South Bend River Lights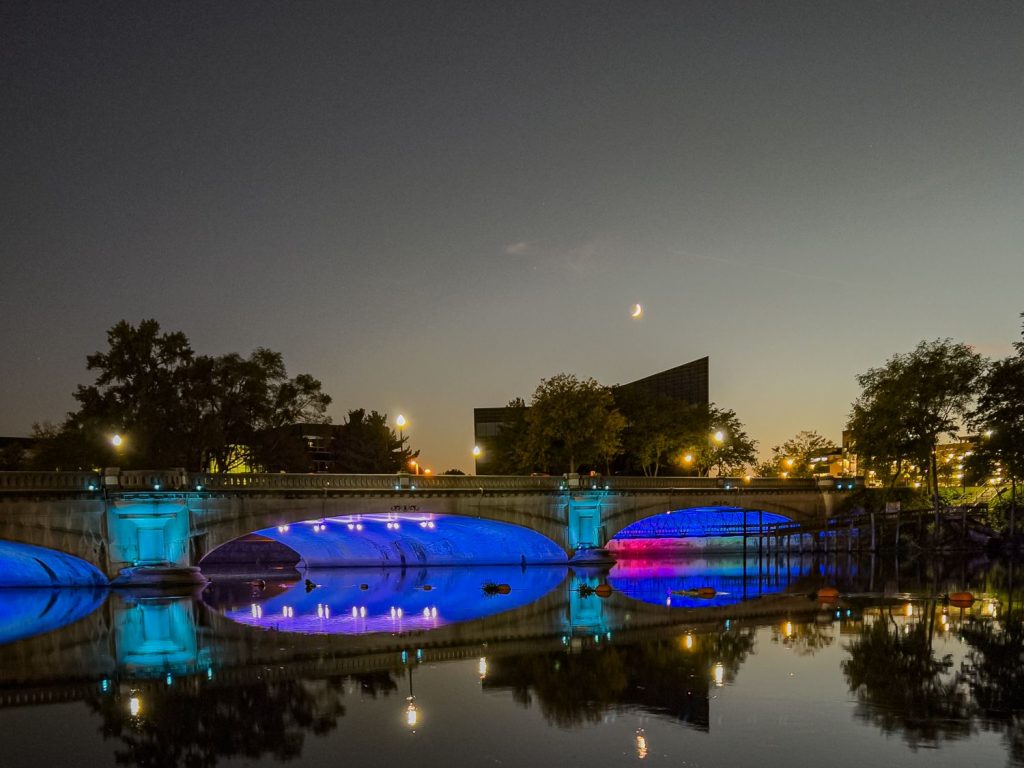 A walk along the St. Joseph River, Colfax Bridge, or Jefferson Bridge after dark is a treat. The South Bend River Lights were unveiled in 2015 as a part of the city's 150th-anniversary celebration and have become a permanent fixture of the downtown skyline. The lights turn on a half hour before sundown and stay on until daybreak, 365 days a year.
Traveler Tip: Downtown South Bend parking is free after 5 pm on weekdays and all day on weekends.