First on the List is Shopping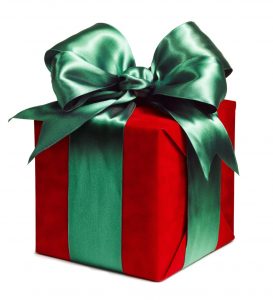 The We Care Store is open at a new location this year – at the NEW We are Building from 9 a.m. – 6 p.m. Mon. – Sat. The We Care store is a wonderful reminder of just how much this community cares.  It is a great tradition that the people of this community look forward to every year! The We Care store opens every year during the We Care season of their Trim-A-Tree Festival and 48-hour radio/telethon broadcast auction event.  It has been a long-time part of the community and a very special part of Kokomo's Christmas spirit. The auction is always the first weekend of December while the tree festival is at Markland Mall in November. Nearly eighty trees with unique and inspiring themes are decorated each year by around 1,000 volunteers.
Cross America will hold a Christmas Open House Nov. 17-18 where their gift shop area will be stocked with unique, inspirational gifts, door prizes, live
music, and yummy treats to put you in the Christmas spirit. Stop in between 10 a.m. – 4 p.m. on either day; Visit www.crossamerica.net.
On Nov. 19, a Holiday Pop-Up Shop will be held as a fundraiser to support the local Douglass School from 10 a.m. – 3 p.m. On the same day is the Jingle Mingle Market at Kokomo First Church of the Nazarene from 9 a.m. – 1 p.m. You will find homemade crafts, holiday treats, jewelry, and home décor items for sale. Enjoy live Christmas music. Don't miss their bake sale and more; Tickets are $3 for adults in advance or $5 at the door; Children ages 3-11 are $1 in advance or $2 at the door and must be accompanied by an adult; First 200 customers (adults) will receive a free swag bag; Lunch will also be available to purchase. Call 453-7078 for more information.
Second is see the Light Displays and Holiday Decor
The City of Lights Display in Highland Park is Open nightly at dusk from Nov. 25 through Dec. 24; Santa will be there from 6-10 p.m. Admission is free. Call 456-7275.
Lights in the Airpark at the  Grissom Air Museum is a walk-thru winter event in the airpark. Admission is $5 per person and includes admission into the indoor museum; Children 5 & under are free; Open Thursday-Sundays 4:30-9:00 p.m.;
Visit www.grissomairmuseum.com.
Christmas at the Seiberling Opening Night & Lighting Ceremony is Nov. 26 from 6-9 p.m. Admission is$10; Tickets are available online. The continued from Nov 27-Dec 31 Christmas at the Seiberling walk through tours are held at Seiberling Mansion Tuesday-Sunday from1-4 p.m. and select evenings; Admission is $10 for adults, $5 K-12 students, children under age 5 are free; Tickets are available online or at the door; Closed Mondays, Christmas Eve and Christmas Day; Call 452-4314 or visit www.howardcountymuseum.org.
Don't Forget to Enjoy the Outdoors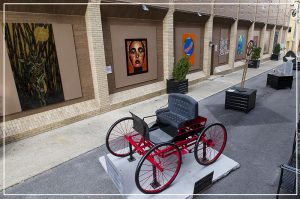 Get up close and personal with the crisp fall air and beautiful scenery outdoors by exploring the various trails available. You can hike or ride. Koko-Go Free Ride is a local and free bike share program in downtown Kokomo, which is open seasonally. Learn about the history of this fair city on the Industrial Heritage Trail which links the downtown and historic industrial sites. The Wildcat Creek Walk of Excellence is ideal for walking, hiking, running, bicycling and even rollerblading. Watch for local wildlife, native plants, and colorful murals painted by local artists along Wildcat Creek. There is even an artist alley which is home to Kokomo's first 24/7 outdoor art gallery. Take in a concert at the Kokomo Arts Pavilion located in beautiful Foster Park.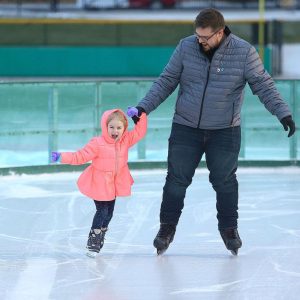 In partnership with the City of Kokomo, Bridges Outreach is thrilled to have the opportunity to host and manage The Frozen Sandlot. For the first time in over 20 years, ice skating will be back in Kokomo and we hope you will come visit us at KMS and create some great traditions and memories with your family and loved ones. The Frozen Sandlot offers Ice skating at Kokomo Municipal Stadium and is open select days for public skate through Jan. 8. All tickets may be purchased at the rink. Visit their website to find a full schedule of public skating times, ticket prices, online waiver form and more at https://www.frozensandlot.com.
Dining Out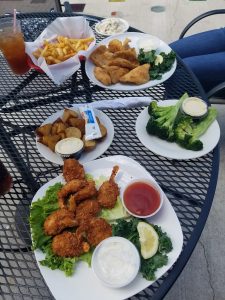 Just remember, though; all that fresh air and walking can make a person hungry. So my recommendation is to again enjoy more of the sunshine and dine outdoors if weather permits at The Foxes Trails Restaurant & Pub overlooking Wildcat Creek and paved walk of Excellence Riverwalk. The menu offers a lengthy choice of steak, seafood, salads, pasta, and more. There is a children's menu as well, for those ages 10 and younger.
Stay for an Extended Weekend
For a peaceful adventure down on the farm, choose accommodations at Heritage Farms located about a half-hour west of Kokomo. Tim and Beth Sheets, the owners and operators of Heritage Farm, which has been in the family for over 70 years, will welcome you with stone oven pizza in a private 3-bedroom ranch-style guest house. All the comforts of "home" are supplied, complete with a well-stocked kitchen, laundry room, and flat-screen TVs in the living room and master bedroom. Warning: Once there, you may not want to leave. Or you may prefer to stay in their vintage log cabin for a more rustic atmosphere. Heritage Farm is a working alpaca farm with over 50 alpacas you can watch and interact with. Also residing on the farm are a flock of chickens and a few goats.
So let the holiday activities begin with your next extended weekend getaway in Kokomo. For more options, visit https://visitkokomo.org/