Don't Forget to Enjoy the Outdoors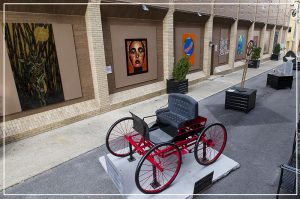 If you are craving some
outside fun during your next weekend getaway, look no further than this
beautiful city. There are plenty of opportunities to walk or bike along the
many trails, go skateboarding, ice skating, or rollerblading. Shop 'til you
drop while enjoying creative art along the way.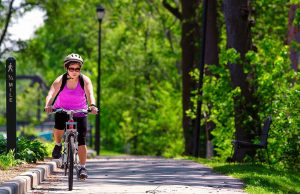 Koko-Go Free Ride is a local and free bike share program in downtown
Kokomo, which is open seasonally. Learn about the history of this fair city on the Industrial Heritage Trail which links the downtown and historic industrial sites.
The Wildcat Creek Walk of Excellence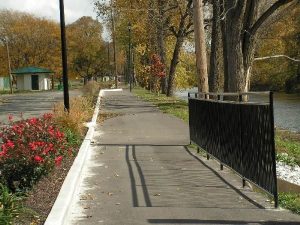 Ideal for walking, hiking, running, bicycling and even rollerblading. Watch for local wildlife, native plants, and colorful murals painted by local artists along Wildcat Creek. There is even an artist alley which is home to Kokomo's first 24/7 outdoor art gallery. You can enjoy the colorful art murals painted by local artists here.
Enjoy the great outdoors in this park, spanning 30 acres with open-air
shelters, playgrounds, fishing (pier and bank fishing access), nature trail,
and boat launch ramps. A 1.3-mile hiking path stretches from the park to the
Kokomo Reservoir Park Dam on 400 East. The park features a natural wetland
on the south side of the property. From there, you can see all types of
birds and other wildlife. There is also a handicap accessible fishing pier.
This world-class facility for advanced skaters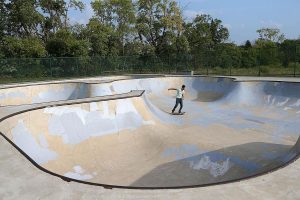 and BMX bike riders has 9,800 square feet of concrete, with a 90 degree bent full pipe and bowls of varying sizes. Open for boards, bikes & blades. Also, check out Foster Park Skate Park and Studebaker Skate Park in Kokomo for more boarding fun.
Schedule a tee time! Enjoy a day of golf at a local course, such as Wildcat Creek Golf Course or Chippendale Golf Club. Go to Recreation to see the full list! 18-hole disc golf course is located at Highland Park.
Dining Out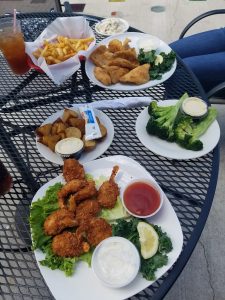 Just remember, though; all that fresh air and walking can make a person hungry. So my recommendation is to again enjoy more of the sunshine and dine outdoors if weather permits at The Foxes Trails Restaurant & Pub overlooking Wildcat Creek and paved walk of Excellence Riverwalk. The menu offers a lengthy choice of steak, seafood, salads, pasta, and more. There is a children's menu as well, for those ages 10 and younger.
Stay for an Extended Weekend
For a peaceful adventure down on the farm, choose accommodations at Heritage Farms located about a half-hour west of Kokomo. Tim and Beth Sheets, the owners and operators of Heritage Farm, which has been in the family for over 70 years, will welcome you with stone oven pizza in a private 3-bedroom ranch-style guest house. All the comforts of "home" are supplied, complete with a well-stocked kitchen, laundry room, and flat-screen TVs in the living room and master bedroom. Warning: Once there, you may not want to leave. Or you may prefer to stay in their vintage log cabin for a more rustic atmosphere. Heritage Farm is a working alpaca farm with over 50 alpacas you can watch and interact with. Also residing on the farm are a flock of chickens and a few goats.
So let the holiday activities begin with your next extended weekend getaway in Kokomo. For more options, visit https://visitkokomo.org/