RIDE THE TRAM
Welcome to Katy Trail State Park, the longest-developed rail-trail in the country. Katy Trail State Park attracts people of all ages and interests. Whether you are a bicyclist, walker, equestrian, nature lover or history buff, the trail offers opportunities for recreation, a place to enjoy nature and an avenue to discover the past. Tuesdays on the Trail offers a series of eight tours at various locations along the trail. Tours are planned for two Tuesdays in the months of May, June, September and October for a total of eight tour dates. July and August are not scheduled due to extremely warm temperatures and dusty trail conditions. Tours will be offered at 10 a.m. and 1:30 p.m. and will last two hours. An interpretive guide will present information about the history of the Katy Trail and commentary on local natural and cultural history along the trail. Snacks and bottled water will be provided. Each tour will host approximately 25 people. Tours are free, but space is limited. To reserve your spot, call the park office at 573-449-7402 or visit the reservation page at https://icampmo1.usedirect.com/MSPWeb/Activities/Search.aspx. To plan your next adventure or for more information, visit mostateparks.com/park/katy-trail-state-park.
ZIPLINING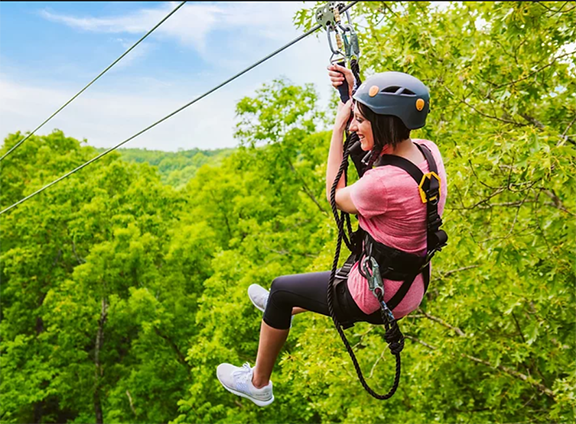 BRANSON – At Ozark Explorer, trek across swinging suspension bridges, cross walkways covered in the canopy and literally soar into an adventure along numerous zip lines for a one-of-a-kind outdoor adventure in the heart of the Ozarks! You are led by your experienced guides that add fun and safety to the countless thrills experienced along the journey. After becoming acquainted with your tour guide, you will be transported from Wolfe Creek Station to the top of Wolfe Mountain to step up and take flight! You'll trek across swinging suspension bridges, cross walkways covered in the canopy and literally soar into adventure along numerous zip lines for a one-of-a-kind outdoor adventure in the heart of the Ozarks!
 Launch from the top of Inspiration Tower and zip above the treetops as you speed across the 160-acre historic homestead at Vigilante Extreme ZipRider. Launch from 170 feet in the air and reach speeds of up to 50 miles per house. The ride itself is more than a half-mile long with four riders going at a time. There is no harness fitting. Instead just sit down in the seat. Brakes are all automatic.  800-653-6288
FLORENCE – Eco Zipline Tours features three options. The Easy Rider Tour (ages 5 and older) uses four ziplines, spanning more than 1,000 feet of cables. The Super Six Tour (ages 5 and older) has six ziplines, for a total of 1,800 feet, at heights up to 50 feet.The High Flyer Tour (ages 12 and older) includes 10 ziplines, with more than a mile of cables. Our longest zipline on the High Flyer tour is more than 1,200 feet, and more than 200 feet high. This is a high-flying adventure through the forest, at speeds up to 40 miles an hour. Open Mon, Thur. & Fri. 11 a.m. – 3 p.m. / Sat. & Sun. 9-5. 314-456-1444.
KANSAS CITY – GO APE TREETOP ADVENTURE COURSE is a giant obstacle course up in the trees (heights of 40-50 feet) using ladders, walkways, bridges and tunnels made of wood, rope and super-strong wire and top it all off with five super ziplines. This outdoor experience provides participants 2-3 hours of fun and exercise; it is much more than just a zipline. 7331 Oakwood Drive, 800-971-8271 : Hours vary by day and season.
HIKING AND BIKING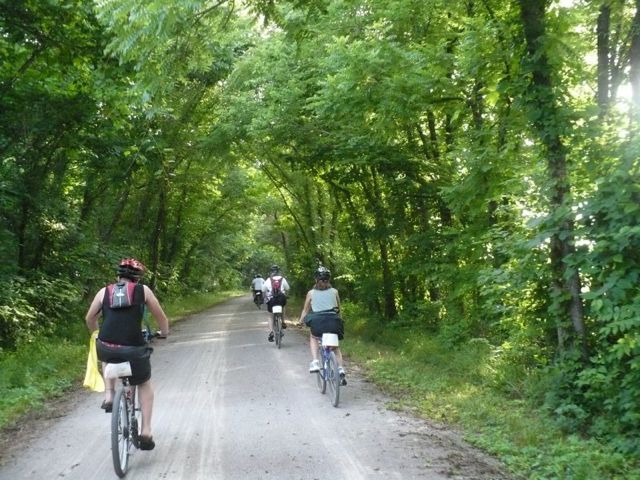 KATY TRAIL STATE PARK –
 is the longest rails-to-trails conversion in the U.S. The flat, 240-mile trail is open for hiking, running, walking and bicycling through Missouri countryside. There are many cities located along the trail, offering convenient access to shops, restaurants and lodging. For more information, call 573-449-7402
SPRINGFIELD – Ozark Greenways is a trail network throughout the Springfield area, for bicycling, running, walking and alternative transportation. There are a variety of trails in the network, ranging from two miles to the 35-mile Frisco Highline Trail. Please note, the address and map point shown are for one of the trailheads on the Frisco Highline Trail. 3639 W. Kearney St. 417-864-2015. Hours: Dawn to dusk.
TRUMAN LAKE MOUNTAIN BIKE AND HIKING PARK/WARSAW – Escape for a day or weekend. For all levels of off-road riding that includes a single track and beautiful scenic views.The system offers several trails, including: a 1.3-mile beginners loop; a more challenging 3.1-mile loop; a 5-mile moderate section; and a 14-mile loop that has it all: demanding climbs, impressive downhills and first-rate single track. Hiking is allowed.  660-438-2312. Hours: Daily: dawn-dusk.
CANOEING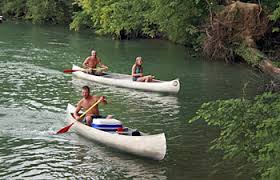 ELEVEN POINT RIVER CANOE RENTAL/ALTON – Float trips; canoes and kayaks for rent; tackle and supplies; camping; hunting and fishing licenses; guided fishing and fly-fishing. The Eleven Point is floatable year-round, with excellent fishing for rainbow trout, smallmouth bass, goggle-eye, pickerel and walleye. Office is open 8-5. Call 417-778-6497.
KC'S ON THE CURRENT/DONAPHAN offers family-friendly float trips on the crystal clear waters of the lower Current River. Discounts are available for large groups. Float trips range from three-hours to a full day. Pack a picnic lunch and stop along the way at one of the many gravel-bars.The free shuttle takes you up river; you float back down to the campground. The campground is open April-October. Floating season is Memorial Day to Labor Day.
FISHING
Lake of the Ozarks
– Missouri's most popular lake destination features more than 1,100 miles of shoreline, access to public beaches, great fishing and plenty of room for fun and recreation on the water.
The Mark Twain Lake –This 18,600-acre lake is ideal for a day on the water. Also, enjoy equestrian trails, walking trails and sleeping under the stars. Offers great fishing; known for crappie and bass tournaments. Camping is available in four Corps of Engineers developed recreation areas.
Mozingo Lake Recreation Park – Located beside a 1,000-acre recreational lake. The lake is stocked with bass, walleye, bluegill, crappie and catfish. Mozingo golf course (18 holes) is one-half mile from the campgrounds.
Table Rock State Park  – Table Rock Lake, located inside the State Park, is one of Missouri's prettiest lakes and is open for all types of recreation, from boating and fishing to swimming and skiing. You also can access the Lake at various marinas or from Moonshine Beach.