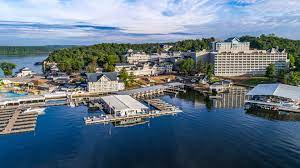 OSAGE BEACH – Unwind and find your own corner of calm in the middle of it all, surrounded by the beauty and seclusion of the Lake of the Ozarks. After enjoying a day exploring all the outdoor activities available at the Lake of the Ozarks, retire to one of the 494 laid-back, easy-going guest rooms and suites that allows you to rest and relax in true Margaritaville fashion. All guest rooms and suites are cleaned, sanitized, and non-smoking. Guests can choose to chill in two different styles of accommodations: the Margaritaville Resort or the Tan-Tar-A Estates.
At the Lake Resort, standard rooms with two queen beds, two king beds, or one king bed listed. However, there is nothing standard about this sanctuary that features unparalleled resort amenities. outfitted with contemporary furnishings, this room has two queen size beds, sleeps four people, and features soft plush all-white linens, premium bedding and paradise pillows. A full bathroom is ide-ally appointed with a clean, fresh shower or shower/tub combination, top-of-the-line bath amenities and plush towels. Many of these spacious rooms include balconies with views of the lake and have elevator access.
If you prefer a one or two-bedroom suite, a living room with contemporary furnishings and a full-size sofa bed plus kitchenette are available.
For added luxury, reserve the "Perfectly Pampered Spa Packages. Relax and rejuvenate with an overnight escape to the ultimate retreat to Driftwood Spa at Margaritaville Lake Resort Lake of the Ozarks. This package is perfect for a Girlfriends Getaway or Mother-Daughter Retreat. The package includes overnight accommodations, breakfast for two guests, and either a 45-minute massage or one-hour deep-cleanse facial for two guests.
For an afternoon of adventure and entertainment, dive into the Jolly Mon Indoor Water Park. It's the only indoor waterpark at the lake and features four water slides, an activity pool, a three-story treehouse, a 700-gallon tipping bucket, whirlpool, and a lazy river.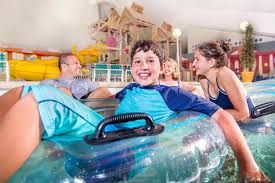 Enjoy a taste of the good life by starting off the morning at JB's Boathouse Grill with a hearty breakfast, then head over to the pool to enjoy our namesake margarita at the Tiki Hut, our poolside bar. Enjoy the entertaining atmosphere at LandShark Bar & Grill where you can unwind with a cool concoction, classic American beach food and scenic views of the Lake of the Ozarks. After a long day in the sun, refresh while sipping on handcrafted cocktails at our License to Chill lobby bar before heading over to our signature restaurant, Windrose Marker 26 for an unforgettable dining experience