Home of the first and Largest Bass Pro Shop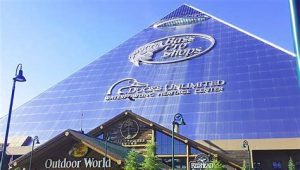 Dozens of taxidermy mounts on the walls and massive wooden support poles greet upon entering. Witness the huge handcrafted metal light fixtures featuring antlers and wildlife and the bronze statue of a buck that is 20 times bigger than the real thing. The amazement doesn't stop at the entrance. Throughout the nearly 500,000-square-foot outdoor megastore are displays, aquariums, art, a four-story waterfall, an alligator pit and more that will enthrall any outdoor enthusiast or interior decorator.
Be sure to look up as you walk by the cash registers. You'll discover a spectacular ceiling mural and diorama that makes it appear as if you're underwater. You'll get a fish-eye's view of the bottom of a boat, fish, tree limbs, duck feet and even human feet hanging down from the riverbank above.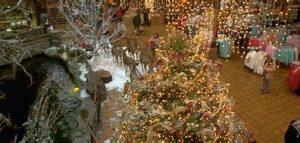 Now, there is even more reason to visit because Johnny Morris, founder of Bass Pro Shops and leading conservationist, recently opened Wonders of Wildlife adjacent to Bass Pro. It is reputed as one of the largest, most immersive conservation attractions in the world. The attraction consists of an all-new 1.5-million-gallon aquarium adventure showcasing thousands of live fish, mammals, reptiles and birds in a tour through the world's underwater habitats; completely immersive wildlife galleries that bring visitors eye-to-eye with the greatest collection of record-setting big game animals ever assembled from North America, Africa and the Arctic; and a conservation education center for youth programs, conservation groups and events. Primarily funded and operated by the Johnny Morris Foundation and located on the campus of Bass Pro Shops' iconic flagship store in Springfield, Mo., Wonders of Wildlife is poised to become America's Conservation Capital and a must-see destination for everyone who loves the outdoors.
Museums at Bass Pro
While Bass Pro Shops Outdoor World is known for its large selection of outdoor gear, it's also gaining notoriety as the home of two fascinating museums – The NRA National Sporting Arms Museum and the adjoining Archery Hall of Fame. The NRA National Sporting Arms Museum showcases the progression of sporting arms throughout history along with displays of arms once owned by famous people, such as Jesse James' revolver and holster, Teddy Roosevelt's hunting rifle and Annie Oakley's gun.