However, due to the devastation caused by the recent tornado outbreak we recommend you call ahead before traveling to western and central Kentucky.
Patti's 1880's Settlement continues to serve some of the best homemade meals in the area. Her fresh warm homemade bread is uniquely served in a flower pot along with creamy strawberry butter. Holiday lights at Patti's Settlement will continue to shine evenings until the end of January. Plan to stay awhile and shop or leisurely stroll through the beautifully-decorated walkways. Be sure to make reservations ahead of time for a meal at the restaurant. Tables fill fast.  Hotel, bed and breakfast or campground overnight lodging is available only minutes away.
In response to the nation's ongoing battle with the COVID-19, this year's highlights lean toward Kentucky's immense landscape of outdoor recreation as part of a continued effort to promote safe travel opportunities that allow for social distancing. Following the advice of federal and state public health officials, the COVID-19 pandemic has limited leisure travel throughout the nation. Kentucky has been proactive by promoting outdoor recreation in an effort to sustain the travel industry and offer safe travel opportunities. For instance, at Kentucky State Parks, the state's iconic racetracks, themed trails and more. Road trips to discover and view the various murals are now another popular pastime.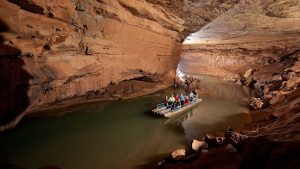 Kentucky is home to 45 state parks, including 17 resort parks that span more than 48,000 acres. State parks offer 300 miles of hiking trails and a variety of outdoor recreational activities, including golf, biking, horseback riding and more.
"Cumberland Falls State Resort Park is one of our outstanding 45 state parks that offer visitors with direct access to safe family friendly outdoor experiences. Lost River Cave's historic underground boat tour is a great eco-adventure for all ages. Offering hiking trails, activities, and a charming gift shop. Lost River Cave invites you to participate in the 9th Annual Snow Flurry Scurry 5K on January 28, 2023.  Each year the Snow Flurry Scurry runners race to restore wildlife habitat at Lost River Cave and this year, this mission will be accomplished virtually and in person! So grab your friends and family, near and far, and join in on this winter fun run. Participate in the virtual run during the entire week, January 22-27. Run 3.1 miles and submit your times online to receive a T-shirt and medal.