By Kathy Condon
Journalist and Travel Writer
Located on the Ohio River, Louisville is the last large City before the river joins the mighty Mississippi. In 1780 the town was chartered and named Louisville to honor King Louis XVI of France, and from then on, settlers flocked to the area. The state borders seven states: Indiana, Ohio, West Virginia, Virginia, Tennessee, Missouri, and Illinois.
Two organizations hosted my trip: Chilled 100 Elevate and Visit Louisville; thus, I had two different experiences following my obligations and their suggestions.
Explore the Countryside on the Bourbon Trail
If you like bourbon, you have come to the state where huge bourbon signs welcome you at the airport. It is not unusual to see empty bourbon bottles holding flowers or strategically filled with colorful rocks on café tables or displayed on bookshelves.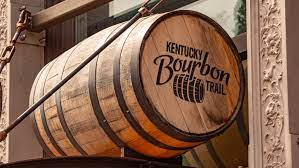 I was surprised to learn that there are 42 stops on the Bourbon Trail and covers 250 miles in six Kentucky cities. If you want to go to all of them, plan for a minimum of a week.
I learned how you are supposed to drink bourbon. Take a tiny taste to wake up your taste buds. Then take another small sip and swish it around in your mouth (No, not like you do with mouthwash), and finally, take a larger sip and sit back and let your taste buds dance, picking up the essence of that particular bourbon.
Maps are available at various locations, but I suggest you head down to Frazier History Museum on Main Street to get your copy. It is one of the finest museums I have seen displaying a state's history. Seeing the room with bourbon bottle brands lit from behind is worth the trek there. I had no idea there were so many different brands of bourbon.
Downtown Louisville Hotels
Abundant History
You cannot often find two hotels within walking distance of each other that have been operating for over 100 years. However, when I needed to change hotels, all I did was walk about four blocks and find myself steeped in still more history of Louisville.
The iconic Seelbach Hilton Hotel location on 4th street is the perfect place to experience the atmosphere of old Louisville. Its halls have seen the likes of US Presidents and even the infamous Al Capone. F Scott Fitzgerald stayed here often and worked on the Great Gatsby when staying here. Thus, the grand ballroom has found its way into the book.
Be sure to head down to the Rathskellar. The arches immediately catch your attention then you start to notice the pottery murals covering the walls. This room is believed to display the world's most extensive collection of Rookwood Pottery. The winding dark wood staircase leading up to the meeting rooms is the perfect Instagram photo backdrop.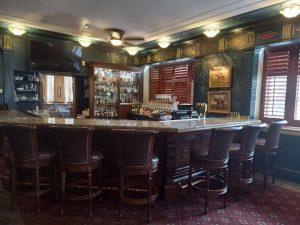 An easy walk brings you to the grand Brown Hotel. The doorman welcomes you and directs you to the elevator that takes you to the second-floor registration area. As you get off the elevator, you see the linen-draped tables and comfy lounge chairs in the salon, which is an excellent restful respite for a midafternoon snack.
The curved dark mahogany bar on the second floor was the perfect place to order a late-night Old Fashion. Of course, the bartender claimed he made the best one in Louisville. I can't attest to that, but it was excellent. The conversation with a flight attendant and surgent was more than fascinating because it brought three people with such diverse occupations together in an atmosphere of elegance without any stuffiness.
The décor in the entire hotel makes one feel like you have walked into an elegant European hotel. The heavy gold drapes and dark furniture in the spacious rooms with all the amenities you can require resulted in me regretting I had to leave after a two-day stay in this magnificent hotel.
Food in Louisville Offers Some Special Treats
First, if you love bacon, you will be in hog heaven. Sorry, I couldn't resist that old cliché. But seriously, I am in bourbon country, so I would expect to find food enhanced with bourbon, but I wasn't expecting to find bacon in so many appetizers and entrees.
Immediately upon my arrival, I started hearing about the Hot Brown. People would say, "Oh, make sure you have a Hot Brown." Finally, after about four times, I realized I had to have one and started asking where I would find the best one. Well, it originated in the Brown Hotel, where I was staying.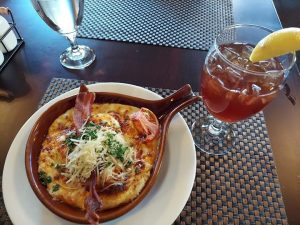 Sure enough, prominently featured on the menu at the Lobby Bar & Grill was the Hot Brown. The story goes that in the 1920s, after dancing in the grand ballroom, people were hungry and tired of the late-night eggs and bacon fare. The chef made a new dish with an open-face sandwich, turkey, and bacon covered with Mornay sauce. It was a hit, and it is now a staple on the menu of the Brown Hotel. Other versions, including a vegetarian one made out of macaroni, can be found throughout Louisville.
A district of independently owned retail stores is the Nulu District. Located on Market Street are galleries, restaurants, and a delightful find was a 100-year-owned family shop called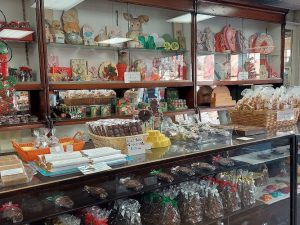 Muth's Candies. No pretenses going on here—just glass display counters filled with an array of chocolates. Walking into Muth's makes one feel like you have stepped back in time.
Upon asking questions, I discovered the young woman I was talking to was the granddaughter of the founder of the candy shop. She said, "My mother brought me here when I was three days old. Thus, I know of no other career but making candy which we handmake in the backroom on the premises."
Oh my, the bourbon chocolate was so good. I forgot to ask if they had one with bacon. I bet they did. A candy-covered apple was the perfect treat in my hotel later that night.
Belle of Louisville
The Ohio River Waterfront, the home of the Belle of Louisville, is still making history. In operation since 1914, this boat has traveled down more river routes than any other steamboat in the history of the United States. This magnificent vessel's is now owned by the City of Louisville, which saw the wisdom of restoring and maintaining this part of the river's and Louisville's history.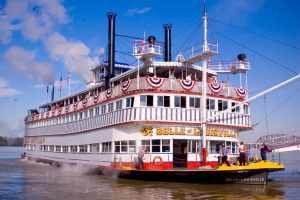 Imagine taking a ride down the Ohio River at sunset, having a corporate retreat or a wedding on this beautiful double-decker paddle boat. Steam provides its energy as it travels along the edges of the shore, just like Mark Twain did in the early 1900s.
Thanks to the captain, for he is training the younger people to repair the steam valves, exterior, and paddles so future generations can experience this once vibrant way of life on the Ohio and the Mississippi Rivers.
Stoneware & Company
What a wonderful experience going on a tour through Stoneware & Company, a 100-plus-year-old pottery factory! The factory was established to make vessels to carry cargo down the Mississippi in the late 1800s.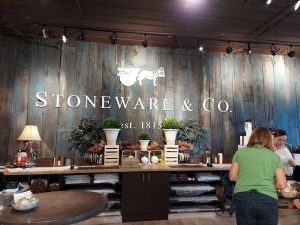 Even more impressive is that the clay they use from the beginning makes the original pots microwavable.
Modern machinery has been brought in to help with some of the steps. However, processes such as attaching the handles to cups, painting vessels, and glazing are done by hand by highly trained craftspeople.
You will want to be sure to save time on your schedule to browse the extensive gift shop with a large variety of pottery items. Don't miss the chocolate company that makes delicious Derby Balls in various flavors.
Speaking of the Derby, Churchill Downs is magnificent, and I highly suggest you take a historical tour. It will bring the 100-year-plus history of this internationally recognized grand space history alive as you walk the grounds with an historian.
As you can tell, this is one grateful travel writer who was allowed to explore Louisville, Kentucky. Let's say Louisville may not have been on my list to visit but given the chance I would go back there in a minute, because there is still so much to explore. I didn't even have time to tell you about the bourbon distilleries I visited or some of the other great restaurants I enjoyed. On the other hand, I trust I have piqued your curiosity, and now, perhaps, Louisville, Kentucky is on your list for future visits.