Some destinations just don't take kindly to bringing pets along for vacation. But not so in Henderson County. In fact, they welcome them. Looking for new adventures to explore with your four-legged friend? Henderson has plenty of ways to keep you and your pet active. Read now and start planning your dog's summer bucket-list!
Community Park and Dog Park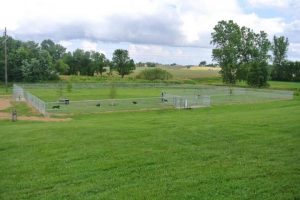 This is a hot spot for dog activity, especially on the weekends. The dog park in Henderson is about one acre of fenced in grassy area for dogs to roam and run off-leash. There is a separate smaller fenced area for small dogs and pups. Want to teach your dog a few tricks? This park features three agility obstacles for those dogs that like to show off their skills. Afterwards your pet can cool off with a drink from the dog water fountain. Picnic table seating and mutt mitt dispenser is also available. The Dog Park is located at Community Park at 1776 Madison Street in Henderson.
Overnight Stays
Since not all hotels are pet friendly, traveling with dogs can be stressful. Henderson has two lodging accommodations that are accepting to pets. Ramada Inn at 2044 US 41 N and Economy Inn & Suites at 2030 US 41 N are both pet-friendly and both locations are very close to our next reason why dogs love Henderson.
Audubon State Park Pet Trail
There are over 12 miles of marked trails at Audubon State Park (and more in the works!) that range from beginner to advanced. The Eagle Glenn Pet Trail is about a mile long and a little on the advanced scale. With some sharp inclines and rugged footing, this trail is sure to give you a workout and let your pet burn off a lot of energy! Both of you will enjoy the sights, smells and serenity of nature on this hike. And afterwards, a jaunt down to the lake for scenic view is a great way to relax after dominating this trail. Audubon State Park is located at 3100 US 41 N. The New Pet Trail to Put on Your Radar: Want to feel completely removed from nature without feeling completely lost? At Canoe Creek Nature Trail, this trail features a paved walkway that are great for gentle walks (or even a stroller). Extending from the main paved walkway are several networks of trails. Most of the trails are a moderate difficulty at most. The most difficult incline is still less intense than the Eagle Glenn Pet Trail at Audubon State Park, and if you visit during the wet weather seasons (late spring or summer) the view of the creek on this trail will definitely be worth the effort! Another fun fact, this nature trail is also mountain-bike friendly! To access the Canoe Creek Nature Trail, enter Newman Park Recreational Complex located on Sand Lane. Signage marks the entrance of the trail, which is located at the very back of the parking lot beside the soccer fields.
Best Places to Go For a Walk With the Dog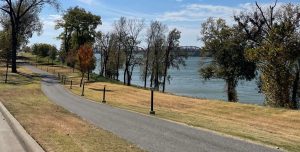 There are a few other parks that are pet-friendly (as long as your pet stays on a leash). Central Park is equal parts peaceful and lively. In warm months the Central Park fountain is a sight in itself. Gazebo, park bench swings, playground, picnic tables, and a mutt mitt dispenser (for those unavoidable doggy accidents) are all available here. Just around the block, is the Henderson River Walk a very scenic view that stretches about 3 miles in total. This wide-paved walkway is an active spot for joggers and dog walkers (mutt mitts also along this walk too) and a new drinking water fountain for dogs was recently installed on the River Walk where 12th Street meets Merritt Drive. The gentle sloping hills that border the river are always a great sight to see, even at night! The River Walk is lit up during night hours if you want to do some exploring with the dog after work or dinner. The River Walk spans from Atkinson Park to Audubon Mill Park, which is right beside the Henderson Welcome Center. While you pick up local and state travel info at the Welcome Center, meet Diggy the friendly dog, the official tourist greeter of the Henderson County Tourist Commission at 101 N Water Street in the Depot building.
Gabbi's Pet Boutique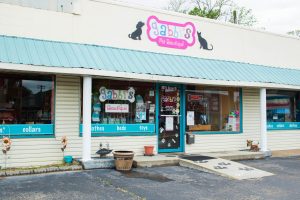 After a long day of traveling, maybe you'd like to pamper the pooch a little bit. At Gabbi's Pet Boutique you can shop with your pooch for collars, dog clothes and accessories, food, treats, and so much more. Gabbi's offers more than just shelf products for small and large dogs, they occasionally hosts dog socials and seasonal pet photo-op sessions. If you would like to shop here, or maybe just visit some fur-friends, Gabbi's is located at 801 N. Green Street in Henderson, Kentucky.
Country Store Shopping With Fur-Friends
Not a boutique shopper? You can still shop with your dog at Rural King in Henderson. They have some household goods and groceries, tons of outdoor and hunting gear, and of course a robust selection of pet food and items. Pick up a complimentary bag of freshly popped popcorn for you, and a treat at checkout for your pup. Rural King is located at 1700 S Green Street.
Shaggy Chic – Just for pets!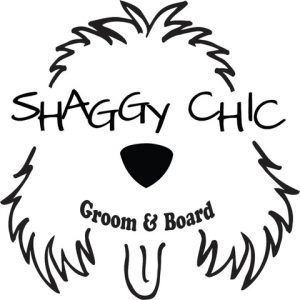 If you want a little time out with friends and family without leaving your best fur-friend alone, call Shaggy Chic. It is a pet-spa, groom, board and daycare center for dogs. This playful atmosphere boards more than just dogs, cats, pigs, ferrets, you name it! But be sure to contact about booking an appointment in advance, 270-830-7387, or visit them at 509 Barrett Blvd, Henderson, Kentucky.