History:
Elizabethtown boasts a fascinating history that dates back to the late 18th century. Named after the wife of Colonel Andrew Hynes, one of the city's founders, the town played a crucial role in the development of Kentucky. A must-visit for history enthusiasts is the Hardin County History Museum, which showcases artifacts and exhibits detailing the region's past. Another notable site is the Brown-Pusey House, an elegant mansion built in 1825 that now serves as a museum. Strolling through the streets, you'll encounter beautifully preserved historic buildings that give the town its distinctive character.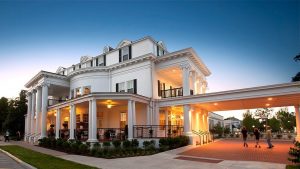 Attractions:
Elizabethtown offers a range of attractions that cater to various interests. For nature lovers, the Freeman Lake Park is a picturesque spot for boating, fishing, and picnicking. The park also features walking trails and offers stunning views of the lake. Meanwhile, the Elizabethtown Nature Park provides opportunities for hiking, bird-watching, and wildlife spotting. Sports enthusiasts will appreciate the Elizabethtown Sports Park, a state-of-the-art complex hosting various tournaments and events throughout the year.
To immerse yourself in local culture, visit the Hardin County Playhouse, a community theater known for its lively performances. The Heartland Fillies Art Gallery showcases the works of local artists and is a great place to pick up unique souvenirs. For family fun, the Swope's Cars of Yesteryear Museum displays an impressive collection of vintage automobiles that will transport you back in time. Speaking of cars, since 2009, Cruisin' the Heartland has been a hit with local Etownians and visitors. The event is split into two days and two locations. It kicks off the with the car show on July 28 at Freeman Lake with a free concert, games, food trucks, and music. At 8PM the evening of the 28, cars from the show cruise into downtown Etown to launch the next day's event! The cruise-in on July 29  is a day full of family fun, giveaways, food trucks and time to admire all the cool cruisers in town!
Shopping: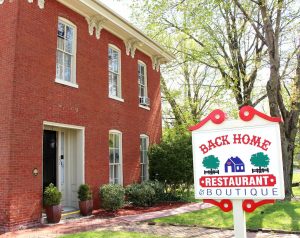 Elizabethtown boasts a variety of shopping options to cater to all tastes. The Towne Mall is a one-stop destination for fashion, accessories, and home decor, featuring a range of popular brands. For a more unique shopping experience, explore the downtown area, where you'll find charming boutiques, antique shops, and specialty stores. Don't miss the Elizabethtown Peddlers Mall, a treasure trove of vintage items and collectibles that's perfect for avid antiquers.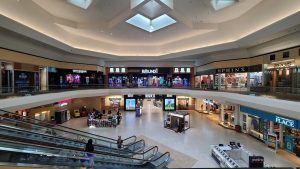 Dining:
Food lovers will relish the culinary scene in Elizabethtown. From Southern comfort food to international cuisine, the city offers a diverse range of dining options. For a taste of authentic Kentucky flavors, visit local favorites like the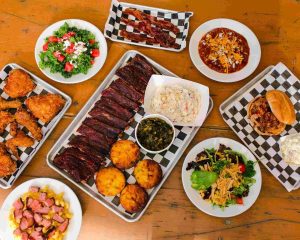 Back Home Restaurant, known for its homemade biscuits and mouthwatering country-style dishes. For a fusion of flavors, Bourbon Barrel Tavern offers a modern twist on traditional Southern cuisine, with a delightful selection of bourbon-infused dishes. Don't forget to savor some mouthwatering BBQ at Rikishi or indulge in delectable pastries at the Sugar Fashion Cakes bakery.
Lodging:
Elizabethtown provides a variety of comfortable accommodations to suit every traveler's needs. Whether you prefer luxury hotels or cozy bed and breakfasts, the city has you covered. There are numerous national brand hotels throughout. If you prefer more privacy for an extended weekend vacation,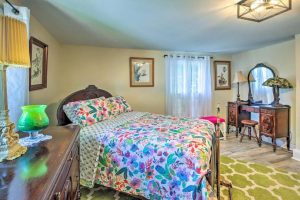 Lucys Place, Elizabethtown Home with Fire Pit, offers accommodations less than two miles from Elizabethtown City Park and a 3-minute walk from Hardin County History Museum. With garden views, this accommodation features a patio. With free Wifi, this 3-bedroom vacation home offers a cable flat-screen TV and a kitchen with a dishwasher and oven. Towels and bed linen are featured in the vacation home. The accommodation has a fireplace. Guests can also relax in the garden. Schmidt s Museum of Coca Cola Memorabilia is 2.1 miles from the vacation home, while University Park is 2.1 miles away. The nearest airport is Louisville International Airport, 38 miles from Lucys Place Elizabethtown Home with Fire Pit.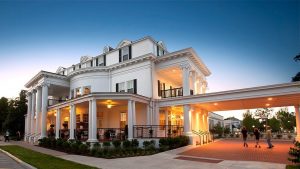 With its rich heritage, cultural offerings, and warm hospitality, this charming city provides an unforgettable experience for visitors. Whether you're exploring its historic landmarks, indulging in local cuisine, or embarking on retail therapy, Elizabethtown is a destination that will captivate and charm you at every turn. So, pack your bags and embark on a journey to discover the hidden treasures of Elizabethtown, Kentucky.