Colorado offers unparalleled adventure and recreational pursuits, a thriving arts scene, a rich cultural heritage, flavorful cuisine and 28 renowned ski areas and resorts for a wonderful extended weekend getaway. The state's breathtaking scenic landscape boasts natural hot springs, the headwaters of seven major rivers, many peaceful lakes and reservoirs, 12 national parks and monuments, 26 scenic and historic byways and 58 mountain peaks that top 14,000 feet. So let's go explore.
Find Luxury in Grand County
Pamper yourself with the pleasures of the Rockies. Soak up some serenity at one of Grand County's water sports; enjoy a little retail therapy in one of our historic towns; or pass the day with one of our off-the-beaten-path activities. Granby, Grand Lake, Hot Sulphur Springs, Kremmling, and Winter Park/Fraser make up Grand County, Colorado. Boasting a variety of activities, attractions, shopping, dining, and lodging possibilities, Grand County invites you to explore the real Colorado. >MORE
You Can Enjoy Denver – Even If on a Limited Budget
Denver is not ready to let go of this year's season of festivals and fun – especially after a year without any of it – so The Mile High City has planned a summer finale to remember. Through the rest of the late summer months and early fall, visitors can enjoy extended weekend getaway vibes at a number of culinary and arts festivals, outdoor concerts, blockbuster exhibitions, professional sports games, and >MORE
Black Canyon of the Gunnison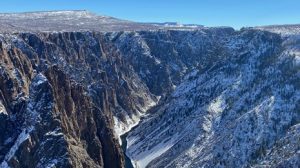 Big enough to be overwhelming, still intimate enough to feel the pulse of time, Black Canyon of the Gunnison exposes you to some of the steepest cliffs, oldest rock, and craggiest spires in North America. With two million years to work, the Gunnison River, along with the forces of weathering, has sculpted this vertical wilderness of rock, water, and sky. In many areas, roads are closed to vehicles. The upper part of the Oak Flat Loop and Rim Rock Trail are excellent treks for snowshoeing. MORE
Della Terra Mountain Chateau
ESTES PARK – Della Terra allows guests to break away and find themselves above Estes Park at the Fall River entrance to Rocky Mountain National Park. With the booking of any suite, couples can opt for a romantic setup that includes champagne, rose petals and flameless candles upon arrival. To experience Estes Park in true extravagance, a two-hour road trip in a 1939 Rolls Royce rental from Boulder Denver Limousines comes complete with chauffeur, red carpet service and more.
Zapata Ranch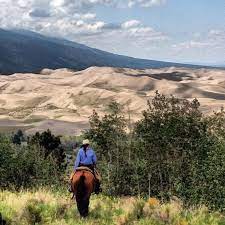 MOSCA– Zapata Ranch a working guest ranch near Great Sand Dunes National Park and Preserve, is a romantic getaway for outdoor adventurers. Zapata offers excellent cuisine and features ranch-raised bison meat along with other local and fresh meats and produce. Breakfast is made-to-order while dinners are expertly prepared each evening and presented with a flair for guests to enjoy in the lodge-style dining room. For spring, Zapata has horseback rides, guided hikes, time with a naturalist, incredible fireside dining and dune-sledding. Summer activities include rock climbing, photography tours, and fly-fishing. >MORE