Submitted by Robin O'Neal Smith 
Https://instagram.com/atourchofluxurytravel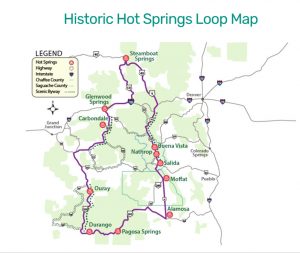 Hot springs are rich in elements and minerals with scientifically proven therapeutic benefits. Various destinations and CVBs hosted for the following article. All opinions are my own.
Pagosa Springs
We live in Pennsylvania and flew to Denver to start our trip. From Denver, we rented a car and drove to Pagosa Springs, Colorado. The Mother Spring in Pagosa Springs is the world's deepest geothermal hot spring. It provides the water to all three spas offering hot spring soaks in the town.
We stayed at The Springs Resort in Pagosa Springs. We arrived around 2 AM, and once we checked in, we hit the springs. Guests at The Springs Resort have access to the hot springs 24 hours per day. They also provide day passes to those staying off property. The day passes provide access from 9 AM till 9:30 PM when they go around clearing the pools of non-guests.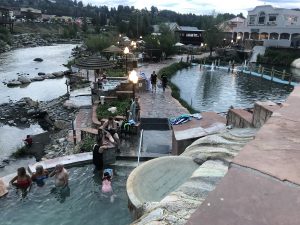 The Springs Resort has a large cool swimming pool, 25 hot spring pools with five for adults only, and river access to guests. The therapeutic water hot spring pools offer a range of temperatures and sizes, with a pool to suit every person.
The resort provides enrichment to guests with daily wellness activities like Aqua Yoga and Forest Bathing Hikes. I enjoyed Aqua Yoga, and my husband joined me for an Aqua Sound Bath. My son and his girlfriend enjoyed a yoga class.
The resort also offers spa services. I was treated to a Magnesium Muscle Melt at the spa.
Two other spas offer soaks in the same mineral waters. The Overlook Mineral Springs Spa is a short walk from The Resort on the town's main street. It is adult only and provides soak tubs both indoors and outdoors. Some are for a private soak for a single person or tubs that multiple people can enjoy.
Healing Waters Resort and Spa is the third spa in town, offering a swimming pool and soaks in the same mineral water used at the other spas.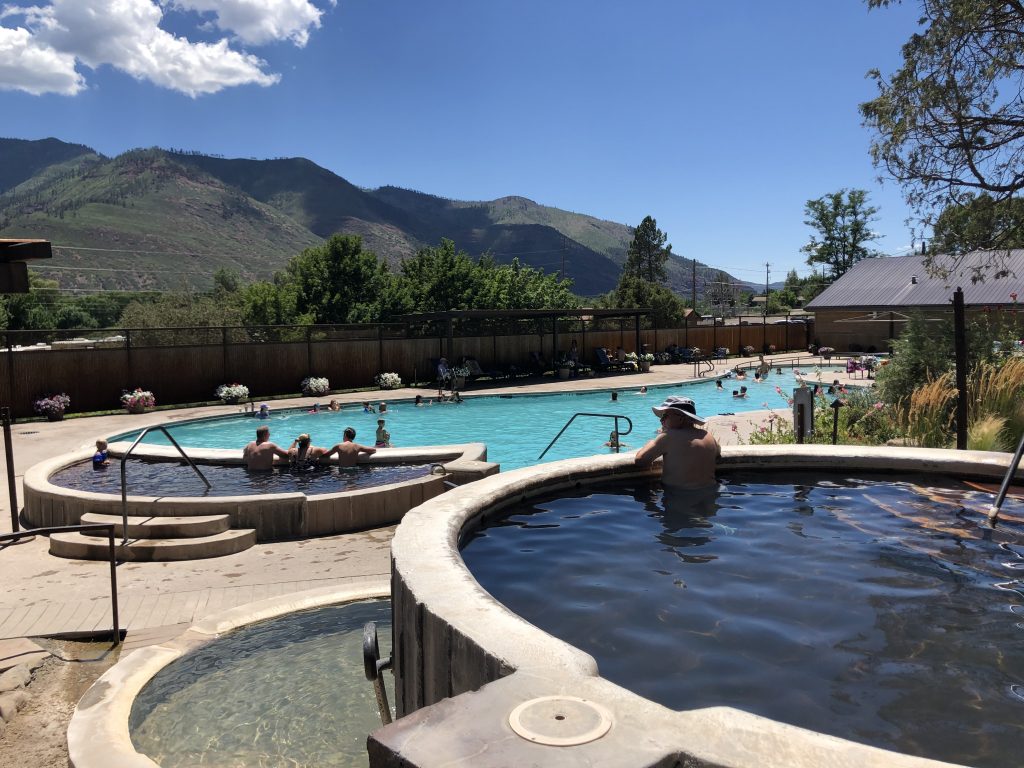 Durango
Our next stop on the Loop was the town of Durango. There is one hot spring about 15 minutes from town. The Durango Hot Springs Resort and Spa was recently redesigned and is still expanding. Sitting back against the forest with mountain views, the thermal waters are infused with nano-meter and micro-meter oxygen bubbles to increase the health benefits and purity of the waters. Nature lovers will enjoy the natural setting.
The Durango Hot Springs includes a large resort-style family swimming pool and several family hot spring soaking pools. There is a splash area where a large mining bucket fills with water and dumps on those standing under the bucket. A large lawn separates the family area and the adult-only pools. Eight private Japanese-inspired cedar soaking tubs, a reflexology walking path, and sixteen natural mineral hot springs are available for 26 unique thermal mineral water features. Reservations are required.
Ouray
Our third stop on the Historic Hot Spring Loop was Ouray. Located in the San Juan Mountains and known as the "Switzerland of America," Ouray is home to the historic Ouray Hot Springs. Nestled into a valley surrounded by mountain peaks with snow on top, the Ouray Hot Springs Pool and Fitness Center is home to five pools; three are geothermally heated.
Temperatures range from 75 to 104 degrees Fahrenheit in the pools. It is a family-friendly facility with waterslides and eight lap lanes in cool water, a climbing wall, and other activities, as well as an adults-only area for those wishing to soak and relax.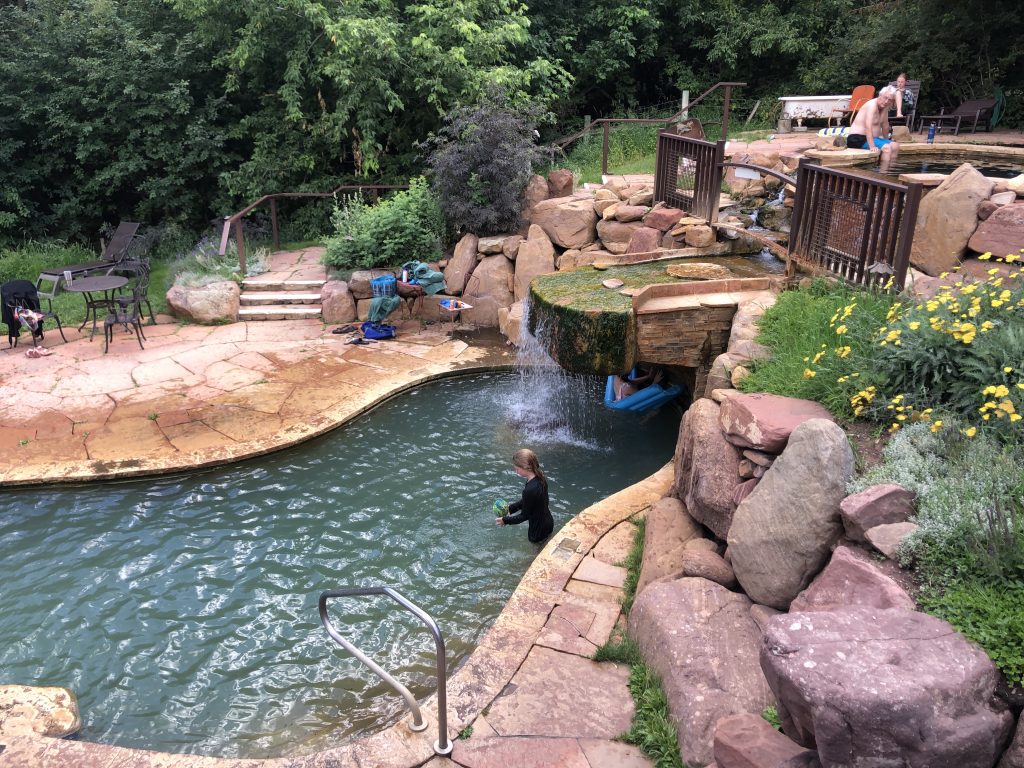 Carbondale
The fourth stop was in the town of Carbondale. The Avalanche Ranch hot springs are about 11 miles from Carbondale. The Avalanche Ranch Hot Springs are designed around the Crystal River Valley's natural landscape and rock formations. It features three natural hot springs pools in a tiered layout. Cascading down from one to the next, each hot spring pool is a bit cooler. The largest pool is fed by a waterfall in front of a rock grotto. The three Colorado hot springs on the property provide 24-hour availability to cabin guests and limited paid public access. Reservations are required.
Glenwood Springs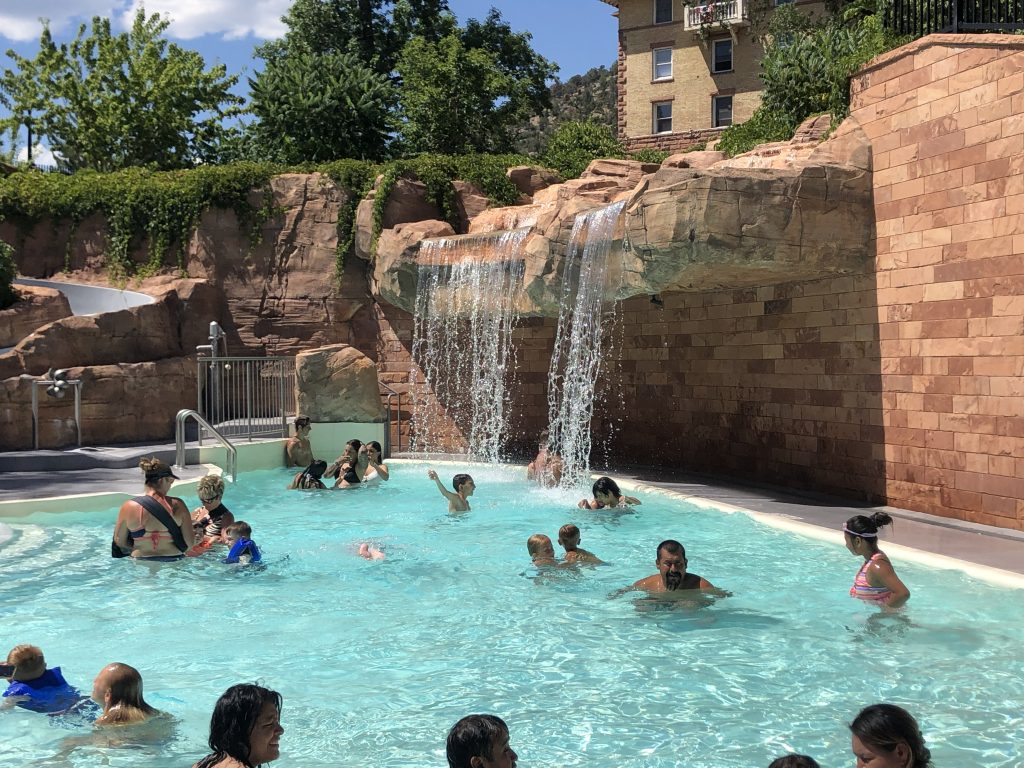 Glenwood Springs is the town that got us hooked on hot springs. It was our fifth stop and boasts two different Hot Spring Experiences, plus Vapor Caves that use the hot springs to heat the caves.
Glenwood Hot Springs Pool is the world's largest mineral hot spring pool. The size of a football field and the temperature is in the mid-90s. Lap lanes and a diving area in the pool's deep end are available. There is also a large soaking pool with temperatures of 104 degrees F.
This is an excellent destination for families because there is much to do for all ages. The Sopris Splash Zone includes a splash pad, a pool for children, and two children's water slides. Teens, tweens, and adults will enjoy the Shoshone Chutes, a tube ride that resembles white water rafting.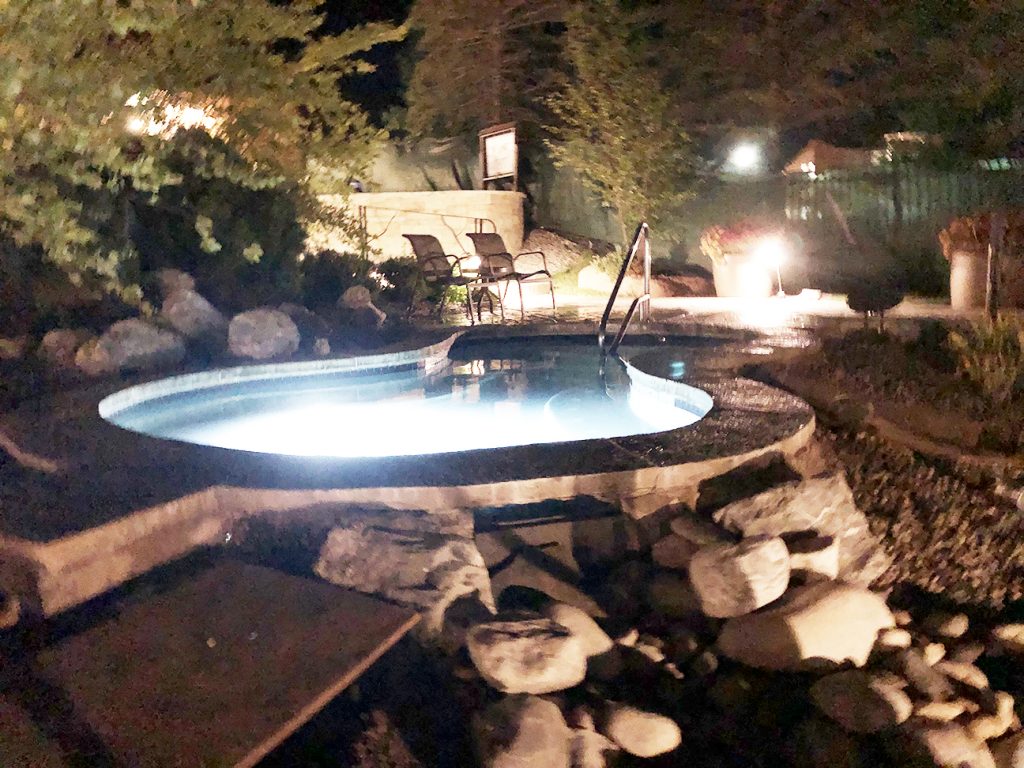 Iron Mountain Hot Springs has 25 soaking pools ranging from 98 to 108 degrees tucked into the Colorado River bank. You can relax, restore and rejuvenate in these pools in the quiet zone as you listen to soft music and view the surrounding mountains and river. Each pool is filled with pure, untreated thermal mineral water. Some have smooth stones on the bottom to enjoy reflexology as you soak.
They currently have an Experimental Pool where they match the chemical composition of the water to a hot spring elsewhere in the world. The spring they matched when we visited was the Blue Lagoon in Iceland. It was a fun experience.
There is also a Family Pool with fresh water that is approximately 93 degrees with a jetted spa nearby. The Iron Mountain Hot Springs requires reservations and is currently offering three-hour time slots for soaking. A vast expansion is underway and will add additional adult-only soaking pools, plus ten more Experimental Pools.
The Yampah Vapor Spa & Vapor Caves were a unique experience we had never tried before. You descend 22 stairs into a cave area with several rooms, each at a slightly different temperature. These are the only known natural vapor caves in North America.
While we were there, we also enjoyed a Mineral Bath. The hot spring bubbles through the cave at 125 degrees, creating geothermal steam. The moist heat makes you sweat out the impurities in your system to purify both body and mind.
Steamboat Springs
Steamboat Springs was our sixth town on the Historic Hot Spring Loop.
Our ninth hot spring was about 20 minutes from Steamboat. It requires you to travel several miles on a dirt road, but it is worth it. Strawberry Park Hot Springs is nestled in the forest among the mountains. It is a very natural setting with nature and chipmunks everywhere.
There are numerous pools at varying temperatures. You can see where the hot spring bubbles out of the ground on the hill and runs down into the pools mixing with river water, creating the soaking pools.
Reservations are required for day visitors. You can also make reservations to stay on the premises and receive access to the soaking pools from opening to closing.
The tenth hot spring we visited was the Old Town Hot Springs in downtown Steamboat Springs. It is a family destination, much like a mini water park with hot springs and lots of activities for all family members. There is a children's splash area, family soak areas, a climbing wall that falls into a warm pool, cold water lap lanes and diving area, waterslides, and adult-only soaking pools.
There are chairs, tables, and umbrellas on the deck area and various grassy areas around the soaking pools.