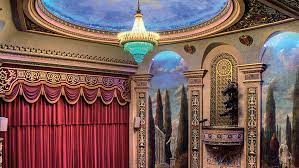 When it opened December 20, 1928, over 1,500 patrons packed the theatre to listen to the Ritz Quality Orchestra and greet this modern marvel. Completed in only nine months The Ritz Theatre was instantly dubbed "Tiffin's quarter-million-dollar-movie-palace."
Throughout the theatre, The Ritz boasts an Italian Renaissance design. The inner lobby quietly mimics the outside of an Italian villa, complete with stucco walls and subtle accents of teal and red. Two marble staircases lead the audience to the balcony where hand painted stencils of red, teal and yellow create the feeling of a trellis in an outdoor garden. The mammoth 1,200 pound chandelier, made of 20,000 Czechoslovakian crystal pieces, hangs impressively from a dome of sky blue Renovated in 1998 to its almost original condition The Ritz Theatre allows us to look back to a time when the theaters themselves often stole the show.
The 1260-seat theatre has hosted a number of artists that were promoted by other organizations. The theatre is also used annually by the Fraternal Order of Police, local dance schools, high schools and colleges and many more…even a couple of weddings and a rehearsal dinner have graced the stage!
The Ritz is one of Northwest Ohio's most affordable venues for your performance, meeting or special event. For rental information, availability and rates, please call Michael Strong at 419.448.8544 ext 114.
To see the theatre's technical specifications, please click here** .
To see a seating chart of the orchestra section, please click here** .
To see a seating chart of the balcony section, please click here** .
Coming this July… "TITANIC, the Musical." Music and Lyrics by Maury Teston. Book by Peter Stone
To view our Upcoming Event Schedule please CLICK HERE or see us at the following links. Website – Facebook – Twitter –  – YouTube