TOLEDO – Welcome to the heart-pounding world of ice hockey, where skill, passion, and the roar of the crowd collide on the frozen battleground. This adrenaline-fueled spectacle takes center stage courtesy of the Toledo Walleye at the Huntington Center Arena. Prepare to enter into an exciting 2023 – 24 season of a team that has become a symbol of pride for the city of Toledo. Get your tickets now to be part of the action!
A Shopping Weekend
COSHOCTON –  Filled to the brim with locally-made artisan goods, antiques, and rustic shops, this makes it the perfect destination for holiday shopping. A gift from a Coshocton shop has meaning, character, and depth. Give the gift of supporting local businesses, restaurants, and craftspeople! The Downtown Coshocton's Holiday Open Houses kick off the holiday shopping season on November 4. This festive day is filled with shopping, Santa, make-and-take crafts, baked goods, and more! It's also easy to find special gifts at the locally owned Shops of Roscoe Village. Specialty food stores include bakeries for people and dogs, an old-fashioned candy shop, and a market featuring Ohio-made food and wines. Other shops feature home decor, Vera Bradley, and locally made art, and ladies' clothing. Coshocton's Historic Downtown District is also filled with quality shops with another shopping event for the whole area planned for December 2.
A Treasure Hunt Weekend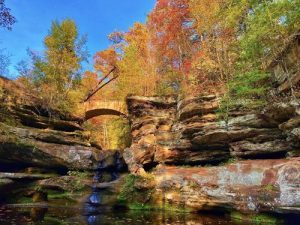 HOCKING HILLS – The Holiday Treasure Hunt typically runs from November to December. Get your holiday shopping done early by heading out to the wonderful local shops in the Hocking Hills. When you fill out your treasure map and get stamps at the local shops, you get entered for wonderful prizes you can keep for yourself, give to a loved one or share. The top prize is a Grand Prize Package, including a 2-night stay in a cabin for four people, a canopy tour for four people, a Canoe tour for four people, adventure golf for four, candle making for four, lunch for four, and dinner for four.  For more information see our Hocking Hills page.
A Christmas Story Weekend
CLEVELAND – A Christmas Story House & Museum officials are pleased to announce that a deal for a change of ownership has been reached. They expect to have the agreement finalized by the end of November, at which time the new owner will be introduced to the public. According to Facebook posts, operations will continue as usual during and after the transition. Make someone's Christmas special!!! You can still give loved ones the major award they deserve now on sale at the Gift Shop across the street from the house. Be sure to dine at the Chop Suey Palace which still has the same distinctive front still intact as it was in the movie. Want to see Santa and make your Christmas wish before sliding down the slide? You can do so at Castle Noel in Medina, only a 40 minute side trip. You can also view other holiday movie props used in classic movies. It's worth the drive!