The Ohio State Fair located in Columbus begins it's 167th season July 27. See more details in the list of activities and attractions here… 
Edgewater Park is a serene oasis sitting just west of Downtown Cleveland. Featuring 9000 feet of shoreline, activities abound here with a swimming beach, dog beach, fishing pier and a brand new accessible, interactive play space for kids. Walk, bike or skate the perimeter of the park on a paved path that can lead you east or west out of the park on a large trail system.
Covering over 175 acres of parkland, Columbus' Scioto Mile stretches from the riverfront to the Arena District. You can find adventure around every corner at this Central Ohio spot by checking out its numerous bike and pedestrian paths. Or venture onto the water with by renting a kayak or paddleboard.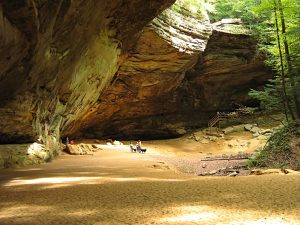 Families love coming to the Hocking Hills year-round, but during the spring, the hikes are extra special. Did you know that the best waterfall viewing happens in the spring? Whether seeking a romantic destination or a family getaway, the Hocking Hills is a great place to reconnect. From intimate cabins featuring a fireplace or hot tub to lodges big enough for the whole family–they have it all in Hocking Hills Country! There are local wineries and breweries to visit, plenty of trails for refreshing walks while taking in the scenery, and delicious meals to enjoy. There are even shorter, easier trails to enjoy with your younger members of the family. An exciting packet of activities to do while in the parks or hiking on the trails, "Mother Nature's Classroom," is offered by the Hocking County Soil and Water Conservation. These fantastic fun projects are a great place to start your outdoor journey as a family. This packet consists of seven different projects and is perfect for preschool-Jr. High with suggested modifications. It is available at the Regional Welcome Center in Logan, a good starting place for a Hocking Hills extended weekend getaway. More ideas are at >hockinghills/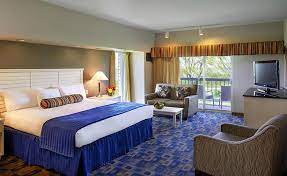 While Maumee Bay State Park Lodge in Oregon is a great family getaway, it's also a hidden gem for couples who want to get away from the busy work schedule and spend an extended weekend getaway just for themselves. Each room has a private balcony and the lodge features three large fireplaces, perfect for cozying up next to your sweetheart on a cool evening. If you're looking for even more privacy, there are 24 furnished cottages available, four of which feature large hot tubs. Maumee Bay State Park Lodge features a 2-mile boardwalk and several hiking trails. View other Ohio State Parks Here.