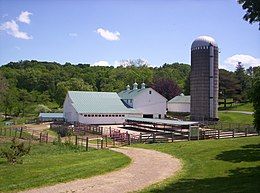 Malabar Farm is the dream of native Mansfield resident and Pulitzer Prize-winning author, Louis Bromfield, while he was living in France during the 1930s. His passion for horticulture developed while in France, and he took two trips to India, which were the inspiration for one of his most critically acclaimed bestsellers, The Rains Came (1937). He used the proceeds from the book to finance Malabar Farm, saying that "nothing could be more appropriate than giving the farm an Indian name because India made it possible."
He returned to the hills of Pleasant Valley of his childhood and purchased a farm in 1938. He added adjacent farms in 1940 and 1941 until he owned 595 acres of land. A 19-room Greek revival style home was reconstructed into a 32-room Western Reserve-style homestead. It was his home until his death in 1956.
Bromfield wrote many of his books here, attracted film stars, artists, politicians, writers, and conservationists annually. As many as 20,000 people visited the farm every year.] Sunday tours alone attracted 100 to 200 people. On May 21, 1945, Bromfield hosted Humphrey Bogart and Lauren Bacall's wedding and honeymoon at Malabar Farm. Malabar was often visited by celebrities, including Kay Francis, Joan Fontaine, Ina Claire, Mayo Methot and James Cagney.
The farm became a state park in 1976.
"The problem of soil and water conservation is our gravest and most fundamental national problem."
"It is the duty of every citizen, for his own welfare, if for no other patriotic reason, to support and fight for and possibly initiate measures having to do with conservation of soil, water and forests."
-Louis Bromfield
Big House Tours – $5 per adult / $3 ages 6-17
Memorial – Labor Day – 7 Days A Week / 12 PM, 2 PM, 4 PM
September & October – Tuesday thru Sunday / 12 PM, 2 PM, 4 PM
November – Saturdays & Sundays / 12PM, 2 PM, 4 PM
December – Saturdays & Sundays / 12PM, 2 PM, 4 PM
January thru April – Saturdays & Sundays / 12PM, 2 PM, 4 PM
May 1st – Memorial Day – Tuesday thru Sunday / 12 PM, 2 PM, 4 PM
Guided Farm Wagon Tour
Enjoy a tractor drawn guided tour of Malabar Farm State Park. An Ohio State Park Naturalist will lead your journey and discuss landmark and conservation highlights in relation to Louis Bromfield and his book "Pleasant Valley". Tours generally last 45 minutes and will not overlap your house tour. $3 per person (free for 5 and under)
Hiking Trails
Four different trails of various lengths with side trails and connections are all rated "moderate" with some hills. All have beautiful scenery.  They are open dawn to dusk. Parking is free.
Lodging and Camping
A cozy hostel, with it's B&B atmosphere, is located on a working farm in Malabar Farm State Park in rural Ohio. Explore all that this state park has to offer – rolling hills and valleys – by foot or bicycle; and cross-country skis or snow-shoes in the winter time! Thinking about a family reunion, a retreat, or a country wedding? Rent the whole hostel (up to 20 people) for only $350 per night! Call 419-892-2055.
Malabar farm offers a 15-site primitive campground suitable for horse and pet camping seasonal. Facilities include: fire rings, picnic tables, hitching posts, gravel parking pads, pressurized water, and handicapped-accessible, self composting restroom. Bridle trail access from campground. No reservations. First come, first served.
15 non-electric sites
Fire rings, picnic tables, drinking water and latrines are offered
Pets are permitted on all sites
Equestrian camping is available
For more activities and events, check out the website by clicking here!