By Robin O'Neal Smith
Freelance Travel Writer
https://instagram.com/atouchofluxurytravel
"If birds can glide for long periods of time, then… why can't I?"
~Orville Wright
Have you ever wanted to soar through the air like a bird? Since I was a child, I have always wanted to fly through the air. I finally got the chance to experience hang-gliding and check it off my bucket list in May when I visited the Outer Banks of North Carolina.
Three other travel writers and I visited the Outer Banks in May. We had many items on our itinerary, but hang-gliding was the one I was most looking forward to. While some of my travel partners were a bit anxious, I was excited.
Hang Gliding With Kitty Hawk Kites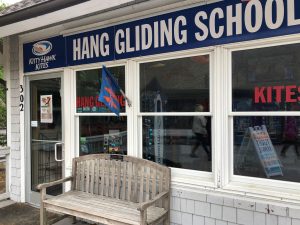 Let me fill you in on the details in case you desire to experience hang-gliding for yourself.
The best place in the Outer Banks to learn how to hang glide is with Kitty Hawk Kites. They are the largest hang-gliding school in the world and have over 45 years of experience teaching others. Over half a million people have tried hang gliding with Kitty Hawk Kites.
The school is located within Jockey's Ridge State Park, which houses one of the largest active sand dunes in the eastern U.S. The 427-acre park has ideal hang-gliding conditions and provides soft sand for landings.
Kitty Hawk Kites offers beginner, intermediate and advanced lessons. Needless to say, we were all beginners.
The Hang Gliding Experience
Our experience began with signing liability waivers and getting our helmets and harnesses. Then we went to a practice kite station for some ground school instructions. You learn about standard flying body position, keeping your elbows relaxed and lowered, how to grip the bar, launching and landing instructions.
We learned that instructors would be running alongside us, holding tethers, so we don't go too high or lose control. They would be instructing us as we fly and telling us when to "flare" so we move from horizontal flying to vertical and land gracefully.
After ground school, we walked across a wooden boardwalk, and then when we reached the sand, it was time to ditch the shoes and walk barefoot on the sand to the dunes. It is a bit of walking, and much of it is uphill.
We took turns flying. When it is your turn, you hook yourself to the hang glider with the carabiner on your harness and lay on the ground, hands on the bar. The instructor checks to ensure you are safely attached to the hang glider. Then you are on your feet and ready to fly.
When the instructors say go, you run till the wind lifts you, and then you soar above the sand. It is exhilarating, to say the least. Then before you know it, your instructors are saying "flare," and it is time to land. If I did anything correctly, I think I mastered the landing. (My traveling companions said I landed like Mary Poppins!)
We each had five turns to fly. We were each trying to improve our distance each time. We had a great time, and everyone in our group did well. The experience lasted approximately three hours.
It's Exhilarating
We all felt very blessed to have had the opportunity to try hang gliding. It is hard to describe how you feel when you hang glide. There is nothing like being airborne, flying above the sand, and feeling the wind rush by.
I have to admit, it was every bit as exhilarating as I anticipated. Although we didn't fly as high as I imagined due to being tethered, it was still a fantastic experience.
Anyone Can Do It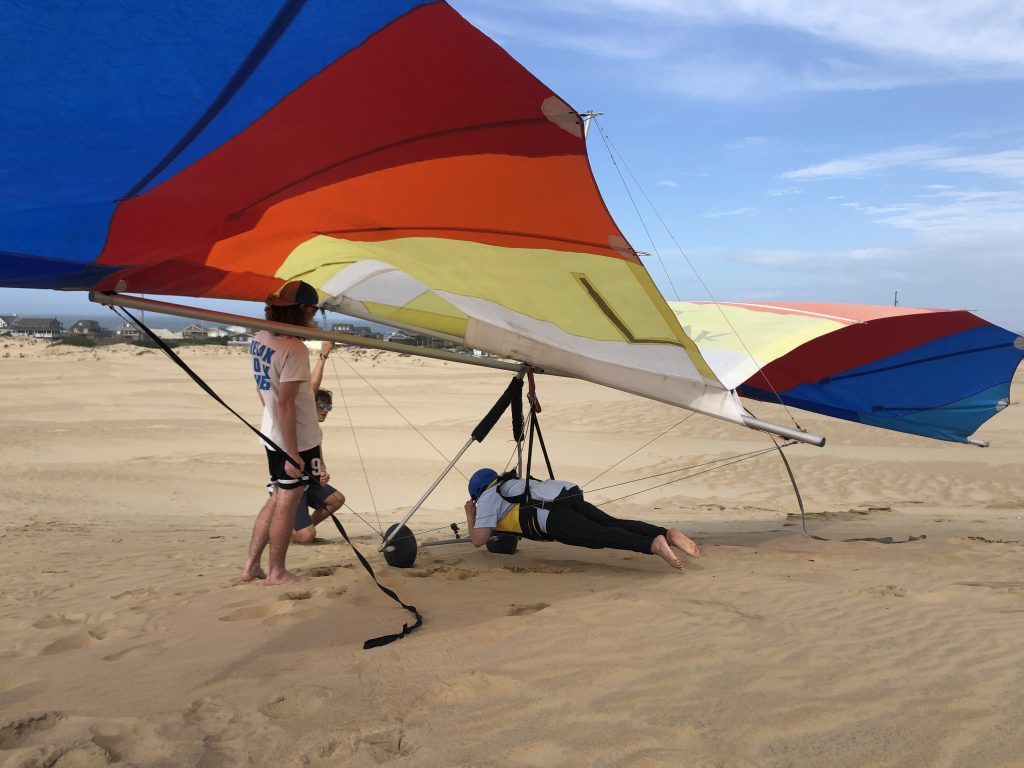 Anyone with the desire to hang glide can try it. Kitty Hawk Kites has worked with grandmothers in their 80s and younger children. "Kids Lessons" are designed specifically to safely teach children 12 and under or anyone weighing less than 100 lbs.
Teens that weigh more than 100 lbs should register for the Adult Beginner Lessons.
They have Adaptive Hang Gliding lessons for those with mobility issues that allow them to fly in a seated position. There is no excuse not to give it a try.
Hang gliding is a sport like no other and one that is exhilarating. So get ready for adventure and try Hang gliding.
Five Pro Tips:
1. Pick a time of day when the sun won't be too hot. Remember, you have to climb back up the dune after every flight.
2. Wear comfortable clothes. Don't wear short shorts. They do not work well with the harness, etc.
3. Be sure to apply sunscreen. The sun is stronger than you think.
4. Take water with you. You will be there for approximately three hours, and you will need to hydrate.
5. If it is windy at all, the sand will be blowing around. Be sure to wear sunglasses to protect your eyes from the sun and sand.