By Kathy Barnett Managing Editor 
Yes, Mount Airy is the home of Andy Griffith and most visitors are attracted to this friendly little city for that reason alone.  However, after visiting all the landmarks and soaking in the fond memories of his television show, then you can enjoy mixing in some of the current attractions.

During the summer, a "Cool Cars and Rods" cruise-in is held downtown on the third Saturday of each month. During the day of the car show, you will also find musicians gathered in several locations to perform. Stroll along the downtown streets and see hand-painted guitar sculptures by local artists representing a connection to the great mountain music from the area.
On Saturday morning, a bluegrass radio show is broadcast from the historic Earle Theatre. WPAQ  shares the best in bluegrass, old-time string music, and bluegrass gospel with its listeners. At 11 a.m., the house lights dim, a bright red "on the air" electric sign lights up, the emcee welcomes the audience, and another weekly edition of the Merry-Go-Round begins.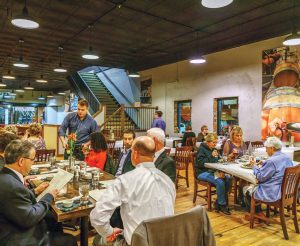 All this activity is bound to make a person hungry. So a perfect ending to a perfect day is dining at the chef's table at the Old North State Winery. Founded in 2002 by Ben Webb, Old North State Winery is unlike any other winery in North Carolina.
Today, Old North State Winery serves as one of the leading tourism destinations in the Yadkin Valley. It is housed in a former Hardware store built in 1890 on Main Street. Ben and his wife Ellie have successfully created a fun, hip, upbeat atmosphere combining wine tasting tours, a cool ambiance, outstanding food, live entertainment, and events to create a true entertainment and dining destination. The winery still has the original pressed tin ceilings and solid oak floors from when it was originally built.
Dining is available for lunch and dinner featuring locally grown and freshly prepared specials by world-renowned chef Chris Wishart.
The friendly and efficient service was a welcome bonus as we were immediately ushered to our table and presented with our drinks from our waitress, Bethany.
While the menu presented several tempting options, we opted for the chef's special. Our appetizer serving of fried green tomatoes was quite enough for both as we wanted to save room for the main course. These were not your average southern dishes, however. They were fried to perfection and the flavor was the best I've experienced. If this was an introduction to what was to come next, I knew we were in for a treat.
And we were! Everything tasted so good, I didn't want to quit. But make sure you save room for dessert! The winery is open 7 days a week with tasting tours available throughout the day.  https://oldnorthstatewinery.com/
By Lisa Pickett / People to See Editor
"The Andy Griffith Show!"  Those words and the whistling sound of the familiar favorite television show will ring through your head, as you stroll through the exciting town of Mt. Airy, North Carolina. It is better known as the original home town of Mayberry.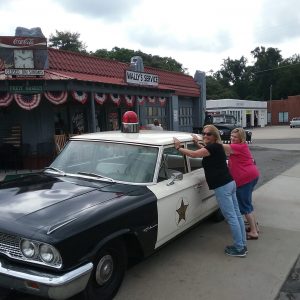 Start your tour by driving up and seeing The Darlin's cabin, and the replica Courthouse that will fill your heart with all of the episodes of the cast of the Andy Griffith Show.  Here sits Sheriff Taylor's desk, typewriter and even the jail cell that Otis spent many of nights in.
Make sure to take a ride in Sheriff Taylor's police car where you can tour all the sites in "Mayberry". The tour starts at Wally's Service Station as you pull out to begin the adventure with the sound of the siren.  Memories of all your favorite episodes will take you back in time, as your tour guide will travel the streets of Mount Airy, pointing out different spots that Andy frequented. It is here where you learn all about Andy Griffith's life and the history of the town.
Enter Floyd's Barbershop, where you can get your hair cut or just go and catch up on the town news.
At Snappy lunch, you will learn that it is the same diner that Andy Griffith, ate as a boy growing up in Mount Airy.  See the home where Andy lived with his parents, which is now a nightly rental B and B. It is within walking distance of downtown and the church he attended with his family.
The Bronze Statue of Andy and Opie Taylor will steal your heart. The Statue is located at the Andy Griffith Museum which is full of memorabilia of Andy Griffith.  The first item inside the door is his mother's rocking chair she cradled him in as a baby.
I don't know that words can ever describe the love that everyone we came in contact with had in this town.  I do however recall one episode of The Andy Griffith Show how he spoke about Mayberry being a friendly town. To the people who live in Mt. Airy, North Carolina you sure let us know Andy was right! Thank you for your hospitality and we look forward to coming back!