Wilmington is known for being North Carolina¹s most accessible coastal destination. And with three island beaches located within a 20- to 30-minute drive, choosing one of these beaches can mean minimizing your travel woes and maximizing your time in the sun. Don¹t stress about which beach to choose ­ Wilmington¹s Island Beaches are as unique as the beach-goers they attract:
Outdoor Adventure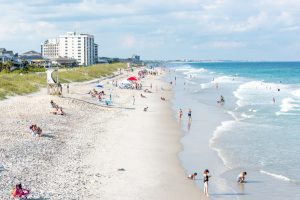 Wrightsville Beach is all about the outdoorsy, active island lifestyle. It was named one of the best surf towns in the world by National Geographic and hosts watersport events that attract international athletes. This beach town caters to anyone looking to try a new outdoor pursuit for the first time ­ it¹s known for being super welcoming to newbies ­ but also has a unique combo of natural conditions perfect for more experienced adventure seekers ­ think kiteboarding, windsurfing, scuba diving, surfing and standup paddleboarding. And with lots of dining and nightlife options, there are plenty of ways to relax at the end of the day.
Throwback Fun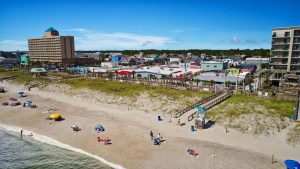 Thanks in part to a vintage boardwalk that dates back to 1887, Carolina Beach has a vibe reminiscent of days gone by. The boardwalk frequently finds its way onto lists of the best boardwalks in the country, thanks to famous donuts, music and fireworks shows, and old-school amusement park rides in the summer. When you¹re done exploring the boardwalk, activities like a state park, world-class fishing and one-of-a-kind events await. Take a surf lesson from an Olympic gold medalist, or grab a drink from a spot voted as one of the diviest dive bars in America. And don¹t forget about the music: the area is often billed as the birthplace of beach music and shag dancing!
 
Off the Beaten Path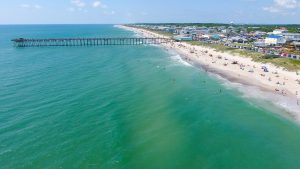 If rest and relaxation is the name of your vacation game, Kure Beach is the beach for you. This small town¹s vibe is perhaps best encapsulated by its motto, ³One stoplight, one pier, no worries.² The peacefulness of the main drag is punctuated only by the iconic colorful beach homes that line the street. But don¹t be fooled: there are plenty of things to see and do nearby. Fort Fisher, a Confederate fort during the Civil War located at the southern tip of Kure Beach, is home to two of the most visited attractions in the state: the North Carolina Aquarium at Fort Fisher and Fort Fisher State Historic Site.
Visitors can opt to stay in Wilmington and venture to the beach for a day trip, or stay at the beach and make the short drive to enjoy Wilmington¹s rich history, thriving food and craft beer scene, shopping, arts and culture. And thanks to the South¹s mild temperatures year-round, ³beach season² continues well past the summer months here.