Make your reservations now to stay at one of these brand new hotels:
Ambiente
Be immersed in Sedona's breathtaking nature when staying at Ambiente's cubed-shaped, glass-encased Atriums designed to harmonize with Sedona's geography and offer guests their own distinct panoramic view. With their luxurious interior and private rooftop desks, guests will have the perfect star-gazing spot to end their adventure-filled days. As a hotel where guests must be over 21 years old, guests can reconnect with nature and find tranquility.
The Eddy Hotel
Nestled in the Catalina Foothills of Tucson, this new boutique hotel offers comfort and plenty of space for meetings or events. Soak in views of the iconic Santa Catalina Mountains and dip into the outdoor heated pool after hiking the nearby Chuck Huckleberry Loop. Venture around the Catalina Foothills to discover art galleries and endless shopping opportunities. At  The Eddy Hotel guests can use their Hilton rewards to stay minutes away from midtown. They are accepting reservations – opening in February.
Mii amo at Enchantment Resort
Re-opening on February 2, 2023, those in need of a digital detox need to visit this destination spa located in Sedona's famed Boynton Canyon. Recently renovated to amplify guests' journey to wellness, the new additions include a fitness studio, a consultation wing for private sessions and extended spa treatment sessions. After meditating in Mii amo's Crystal Grotto, nourish your body at the new restaurant, Hummingbird, with its ingredients sourced from nearby farms and Mii amo's own Chef Garden.
Mattel Adventure Park
GLENDALE – The Mattel toys and board games you love come to life at Mattel Adventure Park, the first-ever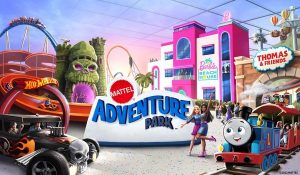 Mattel branded theme park, opening in Glendale. Join Barbie at her Beach House attraction to curate the ultimate wardrobe. Drive your own Hot Wheel through the Hot Wheels Go-kart track before embarking on the Hot Wheels Twin Mill Racer roller coaster. Talk to Thomas on the Thomas Adventure Train: Treasure Hunt™.
Angel Delgadillo StoryFile
Learn about Route 66  from the man who fought to preserve its history at the Kingman Visitor Center where visitors can interact with an Artificial Intelligence (AI) version of Angel Delgadillo to discover what living on Route 66 was like. Opening very soon, every guest will now have the chance to ask Angel questions about Route 66 with AI technology that combs through hours of interviews and formulates a response to guests' burning questions.
Barrio Viejo
TUCSON – Stroll through Barrio Viejo, which was recently nominated for a Natl. Historic Landmark Designation, to explore the largest barrio in the US which will soon be a national historic landmark. Earning that designation this year, discover the 100-year-old history of this mile-long barrio and its influential role in establishing Tucson's culture. Those passionate about architecture will appreciate the architectural significance of the barrio with its largest collection of Sonoran Row houses in the US.
Organ Pipe Cactus National Monument Alamo Canyon Campground
Reservations are now being accepted for year-round visits.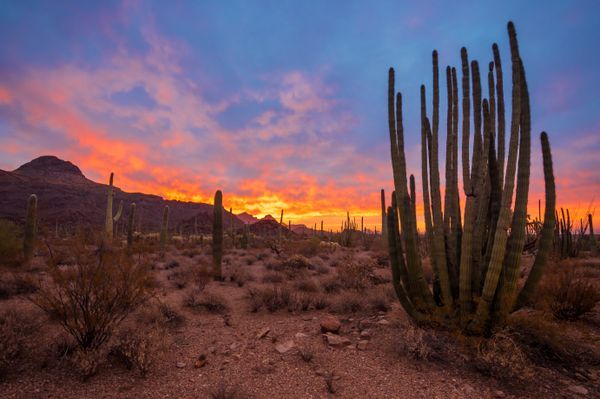 With only four sites available, birders, photographers, and dark sky enthusiasts who desire to camp at the mouth of Alamo Canyon in the Ajo Mountains will want to make reservations in advance. Visitors can make reservations on the same day they plan to arrive, as long as sites are available. To book a reservation visit Recreation.gov or call 1-877-444-6777.
Does all this adventure make you hungry? Here are some of the best new restaurants to take in while in Arizona.
Tia Carmen
PHOENIX – Modern Southwestern cuisine, informed by classic dishes of Latin America, is the focus at this elegantly minimalist resort restaurant, named for celebrity chef Angelo Sosa's Dominican aunt. Sosa buys from local farmers, ranchers, and food artisans, but adds global touches such as Thai basil and Sichuan peppercorns to create an exciting menu that eclipses the usual hotel restaurant fare. Don't miss the clever tostadas (especially the "Taco Night," enriched with bone marrow); the earthy lamb ragu, set over springy mesquite noodles; the mushroom menudo, meaty with cordyceps; or the fantastic ember-roasted purple yam, embellished with queso sauce and tepary bean mole negro. For dessert, there's vanilla flan, generously dusted with Manchego cheese and nested in a puddle of tequila-spiked caramel.
Espiritu Mesa
The talented crew behind Bacanora also gets the credit for lively Espiritu, a seafood-centric Mexican restaurant in Mesa. Recently named one of the best new restaurants of the year by Eater. At first blush, the emphasis seems to be on drinking, given the lengthy (and humorously written) cocktail menu devoted to beverages both "stirredeth" and "shakeneth," as well as a selection of Mexican spirits such as sotol and raicilla. But to concentrate on the booze and skip the food would be a serious mistake. Chef Robert Centeno's short but provocative menu features a hiramasa tostada, spicy aguachile, and a sharp, bright ceviche brimming with shrimp, fish, and octopus. If the market special happens to be whole deep-fried snapper, don't hesitate to order it. Crunchy with sesame seeds and sparked with chiles, it's probably the best fried fish in town. There's also a brunch menu featuring chilaquiles, pozole, and lemon curd pancakes.
Feringhee Modern Indian Cuisine
Feringhee, which means "foreigner" in Hindi, doesn't look like a run-of-the-mill Indian restaurant and, indeed, it isn't.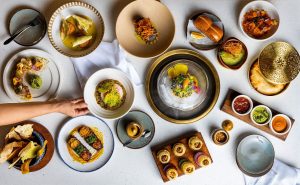 Not only are the environs prettier and more upscale (check out the blinged out bar), but the food, which celebrates India's many regions and culinary traditions, is infinitely more beautiful and sophisticated. This is Indian fine dining, replete with tuiles, foams, flowers, and other haute-cuisine touches. It's the delicious handiwork of chef Karan Mittal (named a rising star by Food & Wine in 2018), who makes the ordinary extraordinary. For proof, try the chaat — India's favorite snack food — elevated by glistening yogurt mousse foam, dried raspberry powder, and crisp-fried shiso leaves.