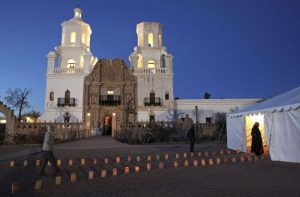 The winter forecast is full of sunshine and average high temperatures of 67 degrees here for the perfect extended weekend getaway. Tucson still has all the holiday merriment that the Hallmark movie-loving crowd leans into each December, sans the 26 pounds of scarves, jackets, beanies, and gloves needed to step outside your front door. So, throw your favorite swimsuit AND buffalo checkered pajamas into a suitcase, and make your way to the Sonoran Desert paradise. Here are the top reasons why you should spend the holiday season in Tucson:
The Lights
For the first time ever, experience LightsUp! A Festival of Illumination at Tucson Botanical Garden. Designed by nationally known public garden landscape architect Tres Fromme, the gardens come alive with more than a million lights, custom-built installations, and pieces created by local artisans. Other can't-miss holiday light spectacles include Holiday Nights at Tohono Chul, Winterhaven Festival of Lights, and Zoo Lights at Reid Park Zoo.
The Food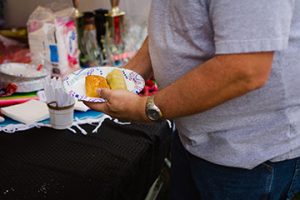 Have you ever heard of a tamal? The drool-worthy masa and shredded meat combo is a Mexican Christmas tradition that's also popular in Tucson. Nosh on tamales all month long with orders by the dozen at the oldest Mexican restaurant in the U.S., El Charro Café, or the equally appealing Tucson Tamale Company.
Grab a glass during a complimentary happy hour for guests at The Citizen Hotel or from nearby tasting room Sand-Reckoner. Or head an hour outside of Tucson for a day of wine tasting in Sonoita/Elgin, where you can hop from winery to winery in a setting that's as stunning as it is delicious.
History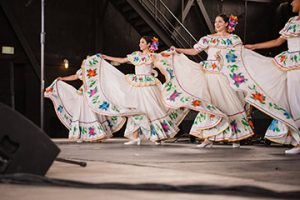 Tucson is home to 1890s-themed town Old Tucson, which recently reopened after a two-year hiatus? This family-fun attraction will debut its Yuletide celebration on select nights throughout December, and you can expect to be dazzled by the period characters, décor and shows.
History and tradition return to Mission San Xavier del Bac with the Patronato's Christmas at San Xavier beloved concert series. Four concerts will take place Dec. 6-7, bringing to life the holiday season in the more than 200-year-old Spanish Colonial Mission, a National Historic Landmark, that exudes a magic all its own.
Outdoors
The great outdoors is calling your name. Spend your day hiking in Tucson's Saguaro National Park West or East before showing off your Olympic worthiness at Tucson Holiday Ice, an outdoor ice rink in the heart of downtown.
Want to see white powdery snow without having to shovel it? You can with a trip to Mt. Lemmon, the southernmost ski destination in the U.S., just over an hour from downtown Tucson. Ski, sled or eat a cookie as big as your face at the Mt. Lemmon Cookie Cabin.
Romance
Forget kissing under the mistletoe. Instead, kiss under a creosote bushel from Tucson's own Arizona Poppy. Sniff one and you'll capture the scent of the Sonoran Desert after a rainstorm. Plus, stock up on other hyper local gifts, including an exclusive line of funky resin earrings by Tucson-based Sigfus Designs and Arizona Poppy's own Sonoran Rosie.
Transport yourself to North Pole's sister city during Enchanted Snowfall at the upscale shopping destination La Encantada. Taking place on Thursdays, Fridays and Saturdays through Dec. 23, you'll be dusted with faux snow while sipping hot chocolate and gazing upon a massive Christmas tree. Plus, catch Ballet Tucson performances on select nights, and visits from Santa in the days leading up to Christmas.