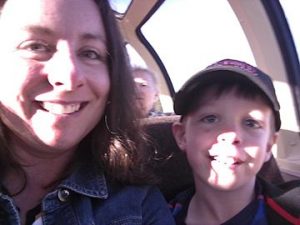 By Sarah Miller; Freelance Travel Writer
One of the grandest ways to get there? The Grand Canyon Railway. Departing from Williams, Arizona (about a 2.5 hour drive from Phoenix), you'll find a slice of history–and a slice of homemade pie. Williams is part of the iconic route 66, where places like The Pine Country Restaurant still serve homemade, heaping portions with a cup of coffee. Many, like us, take advantage of The Grand Canyon Railway Hotel which offers a clean, comfy spot to rest and is within walking distance to the station. The stay here sets the stage for the next adventure.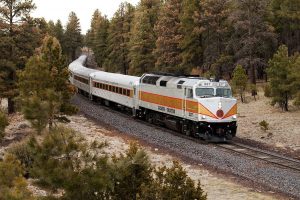 Cowboys and Comedy
Well rested, we headed to the pre-boarding show–a good 'ol western shoot-out. More of a comedy than a drama, this outside western romp is short and perfect for cowpokes of all ages. Then it's all aboard–The Grand Canyon Railway departs at 9:30 a.m. Arizona-standard mountain time.
Boarding this beauty, you can feel an energy among the passengers. The Grand Canyon Railway is a 64-mile heritage railway and was completed in 1901. We are all about to depart Williams, Arizona, on a journey to the South Rim of the Grand Canyon. With six different class choices, we opted to pay a bit more for the observation dome car. That means, a glass dome is over us. And if you've ever seen a blue Arizona sky, it's worth the extra money.
Now on our way, we settle in with our fellow passengers. Charles from California is on our right, he's been to the Grand Canyon multiple times. His teeth are bright white against his tan skin. His wife leans over and tells us about the tour they've planned. In contrast, our Ohio faces are longing to catch some much-needed sun.
Our train buzzes through diverse scenery–prairies, barren desert, and tall Ponderosa pines. Their slender trunks look wispy compared to our woodland pines back home. Sun-kissed faced smiling children run out to wave as we pass by. I wave back and return a big smile, feeling quite like a child myself. The conductor is an older gentleman with a dry wit who knows how to tell a story. He pauses, "If you look to your left, you'll see an animal native to this area–a bobcat!"
We all whip our heads left, and there's a BobCat construction vehicle on a ranch. Everyone laughs and moans good naturedly. "If you look really hard, you can sometimes spy a prairie dog," he continues.
"I see one! I just saw a prairie dog!" I shout excitedly. My outburst pierces the silence, and my fellow passengers start laughing out loud. My husband smiles at me, he's used to my enthusiasm. Our son looks a bit embarrassed. Being swept away in the excitement of it all is what makes it special. My mother-in-law is enjoying a complimentary snack with her grandson. This ride can make you feel like a kid again.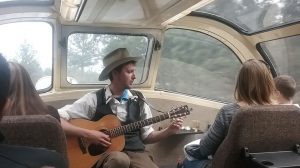 Then, a crooning cowboy joins our adventure. He's got the classic ten-gallon hat and mellow voice that keeps rhythm with his strumming guitar. Only this cowboy sings silly songs about a pug with opposable thumbs and a hobo in a rowboat.
Meet the Grand Canyon
All of this is leading up to "the moment." After our two-hour train ride, we arrived. For some reason, I thought we'd see the canyon from the station. That's not the way it happens. Rather, the train pulls into the South Rim Grand Canyon Depot and lets us off at the adjacent Historic Village. I look around, "Where is the Grand Canyon? It looks more like summer camp with just a few outbuildings and a sprinkling of pines." A short walk, and voila–there it is–The Grand Canyon.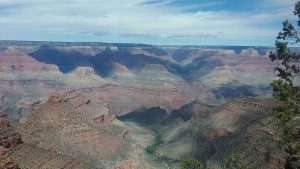 My first thought was "this can't be real." The conductor had said some people weep the first time they set eyes on the canyon. I can now understand why. My reaction was a visceral one, the canyon is so vast and deep. The canyon's colors seem to change by the minute, turning different shades of burnt oranges and shadowy purples with the shifting sunlight.
What's wonderful about the South Rim is that it's highly accessible to all. People can push strollers and many bodies can maneuver over the wide walkways with unobstructed views. Yes, the views are unobstructed which means there is a short stone wall between you and the drop off of the canyon. The wall itself is shorter than your center of gravity, so if you have a fear of heights be forewarned. Luckily, there is a wide berth for plenty of distance from the wall. While we were there, a teenage boy jumped on the wall and pretended to fall backward while his mom was snapping his photo. His mom was understandably angry, and he was lucky his stupidity didn't kill him. Our son was just the right age, but I probably wouldn't take an adventurous toddler (unless strapped in a stroller).
Last Snapshot
Going over spring break, the park can be busy. That being said, we still had plenty of quiet spaces to relax. Our three-hour train stop at the Grand Canyon was just the right amount of time for our multi-generational group. We had no intention of taking a long hike into the canyon. Instead, we strolled the wide berms that meander through the village. Dining at the El Tovar Hotel, a historic national park lodge and restaurant, is a must. Here you can savor authentic Native American and Southwest cuisine all while overlooking views of The Grand Canyon.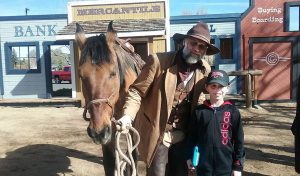 The train departs the canyon at 3:30 pm for the return trip back to Williams. Don't be late. And, I won't spoil the ending for you. Just a word of advice: keep your eyes peeled for vigilante cowboys on horseback.