Hotels are fine, the fluffy pillows and on-site restaurants have their perks. Yet, what if you could have all the luxuries and room to roam? Glamping affords the luxuries of a hotel with the perks of camping. To put it in dog speak, "Glamping" is the Labradoodle of vacations–a hybrid breed taking the most favored attributes of two vacation options.
What's more, you don't need any special equipment, no pup tent, or RV. Glamping with your dog is a treat for both of you. No longer do you have to take your pup on leash to a little grass strip by the parking lot for exercise and relief. You'll not be fenced in either with the typical bed/tv/bathroom set up yourself. There's something liberating about exiting your yurt, cabin or other glamping accommodation and stepping out into fresh air.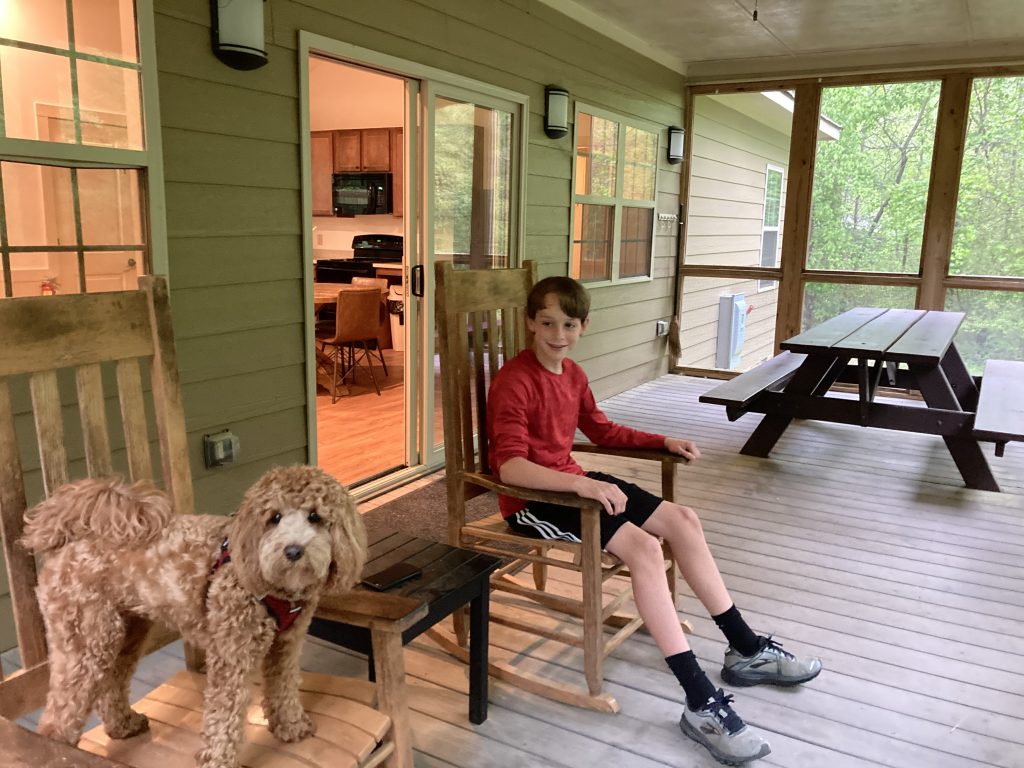 When it's time for the next trip, look at the state's park accommodations–and you won't have to leave your furry friend behind. If tent camping and primitive cabins aren't your style, today's state parks offer naturally comfortable accommodations. While not all state park systems are created equal, some states stand out when it comes to pet-friendly glamping accommodations. Georgia State Parks for example, have some of the finest lodges and cabins. Just outside the college town of Athens, Georgia, Fort Yargo's deluxe cabins offer all the comforts of home with a screened-in porch with rocking chairs, cozy beds, two bathrooms, full kitchen, and an open dining/living room area with a large-screen television.
Georgia's McAllister State Park provides a tropical cottage getaway under Spanish moss and oak trees, under an hour's drive from Savannah. Again, the set-up here provides ample room for hot showers, relaxing, and preparing foods to be enjoyed on an elevated screened-in porch. Smithgall Woods State Park near Helen, Georgia, has deluxe cabins (some with hot tubs) in the mountains. Outside of these luxurious cabins and cottages, six of Georgia's state parks offer yurts, while Unicoi State Park even has wine barrel cabins.
Tennessee State Parks are another fine example of glamping options. Stay just outside Nashville, Tennessee, at one of Montgomery Bell State Park's villas within walking distance to the newly-remodeled lodge and lake. Floor-to-ceiling windows and vaulted ceilings give the perfect snapshot for spying birds in the trees. Wake up, pull the shades back, and it's like sleeping in a forest–only on a comfortable mattress and air conditioning. After a busy day of sightseeing or hiking, you make a snack in the kitchen then build a fire in the outdoor fireplace. A few hours east in Tennessee, another beauty awaits– Falls Creek Falls State Park, with stunning waterfalls and a brand-new luxury lodge, plus sprawling cabins with all the comforts of home.
Other states also have shining state park systems with luxurious lodging options. What's more, you can find one to fit your needs whether big-city sightseeing is on your agenda, a beach break, or a mountain retreat. These affordable options make glamping with your dog a treat.
National Parks Luxury
Dreaming of camping under a starry sky at one of the national parks in style, Under Canvas has you covered–in a cozy duvet, fluffy pillows, and organic bath products. These safari-like glamping tents are located just a short drive from some of the most popular national parks. From sleeping under the Ponderosa Pines near Mount Rushmore in South Dakota to dreaming seaside near Acadia National park in Maine–Under Canvas has ten different glamping locations near your favorite national parks. Some tents are pet friendly, and there are even smaller teepee tents for the kids.
AutoCamp is another dog-friendly glamping outfit to check out–Airstreams and luxury tents with endless options for touring and learning. Their pet fee is heftier than Under Canvas' pet fee, but it's an excellent option if you're looking for more amenities. AutoCamp Zion in Utah and Joshua Tree in California, are a few of the locations–they also span to the East Coast as well.
Quick Glamping Guide
New glamping sites are popping up faster than a pop-up camper–you'll find them at private campgrounds, KOA's and everywhere in between. Vintage Airstreams, treehouses, hobbit houses, safari tents, etc.–a quick google search can reveal your next glamping adventure. To book the sites we've mentioned or for more info, check these natural treasures out.
Georgia State Parks
https://gastateparks.org/Cottages
Reservations 1-800-864-7275
Tennessee State Parks
https://tnstateparks.com/cabins
Reservations 1-888-867-2757
Under Canvas
https://www.undercanvas.com/
AutoCamp