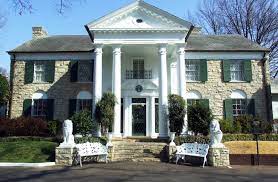 MEMPHIS  – Graceland is the 2nd most visited private residence in the USA. Even if you are not a fan of Elvis, this property shows you what life was like during this period of pop culture in the USA. Pro tip: Bring a sharpie! You can write your name on a National Monument and not get arrested here. Fans and people have always left well wishes and their names on this iconic wall surrounding the property since Elvis was alive. Today the tradition continues and while you may get a friendly honk you will have left your mark! See more about Memphis
NASHVILLE – Try an acoustic or electric guitar, shop for new accessories, take a lesson, learn about Gibson Guitar's history, or see a live show at Gibson Garage in historic Cummins Station. When you get hungry, Cross-Eyed Critters at The Graduate Nashville is the first-ever animatronic karaoke bar with a backup band of robotic musicians. Bar offerings include nostalgic cocktails. Sean Keeney's Nature POP! Made with Lego Bricks features 38 vibrant sculptures made from more than 800,000 LEGO Bricks, on display through Sept. 5 at Cheekwood Botanical Garden. Known most for the country music artists, check out more essential experiences at Nashville Country Artists.
KNOXVILLE– Bernadette's Crystal Gardens is three levels of Crystal Barrooms downtown. Guests will be surrounded by the good energy of friends, fabulous crystals, semi-precious stones and flowering plants.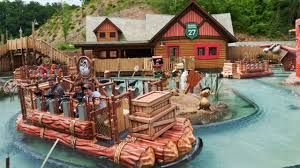 PIGEON FORGE – Nearby, Pigeon Forge highlights several country music revues at dinner theaters like Dolly Parton's Dixie Stampede. It is also home of the Dollywood Theme Park. Toy Box Mini Golf, the world's first toy-themed mini-golf course, is open and features an 18-hole course brought to life by 30-foot-tall recreations of popular toys from the past and present. Camp Margaritaville RV Resort includes nearly 180 RV sites with gorgeous mountain views. A 79-room lodge with a restaurant, bar, camp store, putting green and pool will open early fall. Learn more at Camping, riding, splashing, dreaming in Pigeon Forge
BRISTOL – Bristol is known as the "birthplace" of country music. Appalachian mountain folk music has been popular for generations. Many of the fiddle tunes and song styles came over from the British Isles in the 1700sTake a self-guided Historic Downtown Walking Tour to see the Bristol Sign, Birthplace of Country Music Museum, the country music mural and Burger Bar where Hank Williams allegedly stopped the night he died, the NASCAR mural and sites that bring the history of the town to life.
Experience Tennessee Your Own Way
Tennessee offers endless adventures to check off everyone's travel bucket list.
Visitors can request the official 2023 Tennessee Vacation Guide—an interactive guide to help visitors choose their own Tennessee vacation, from the great outdoors to world-famous cuisine, or legendary live music to thrilling theme parks. Available as a free printed guide or e-guide at TNvacation.com or at any of the state's 16 Welcome Centers, it's an essential insider's guide to the best of Tennessee.
Inspiration flows through 150-plus pages, including detailed information on:
Outdoor adventures including America's most-visited national park, the Great Smoky Mountains National Park in East Tennessee; ziplining in one of the country's largest urban parks at Shelby Farms Park in Memphis; or, traveling the historic Natchez Trace in Middle Tennessee
The state's unique celebrations and festivals, featuring music, food and fun
The famed Discover Tennessee Trails & Byways — the ultimate road trip
Family friendly and "kid-reviewed" attractions, including theme parks, water parks, zoos, science museums and safaris
Made-in-Tennessee spirits — everything from whiskey to wine to craft beer
Tennessee's rich history, including 14 statewide stops on the U.S. Civil Rights Trail
The state's lasting impact on music history and all genres of music, including blues, folk, country, hip-hop and more
About the Dept. of Tourist Development 
Tennessee is the home of the blues, bluegrass, country, gospel, soul, rockabilly, and rock 'n' roll— delivering an unparalleled experience of beauty, history, and family adventure, infused with music that creates a vacation that is the "Soundtrack of America. Made in Tennessee." Explore more at TNvacation.com and join other Tennessee travelers by following "TNVacation" on Facebook, Twitter, Pinterest, Instagram and YouTube, and "Tennessee" on Snapchat.