For first timers, there's so much to do that it can be difficult to know where to start and what should feature on an itinerary. Below are some restaurants, key attractions, and some lesser-known city gems that any first-time visitor to Memphis should have on their list of things to do.
Neighborhoods that locals love
Take a trip through the less touristy parts of town to really experience Memphis.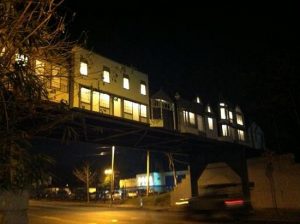 The historic neighborhood of Cooper-Young is totally on-trend but also totally relaxed, making it the perfect place for tourists who want to explore like a local. Great food and drinks, plus a happening arts and music scene mean that you can easily spend a day (and night) exploring this hidden gem. For even more of an arts fix, head over to the up-and-coming district of Crosstown. You can also enjoy some hula-hooping, comedy, or nightly punk music shows.
Big River Crossing
Reaching almost a mile in length, the Big River Crossing is the longest public pedestrian bridge in the US. The scenic way stretches across the famous Mississippi River, creating ties to attractions throughout the Memphis, West Memphis and the delta region. As the connecting point of Main Street to Main Street, the 10-mile corridor includes pedestrian and bicycle ways, along with a Big River Trail System.
Mighty Lights
After exploring the Big River Crossing be sure to stick around in the evening for the Mighty Lights installations which illuminate the two bridges over the Mississippi River with a light show on the hour, every hour. Choose a bar along the water and watch the lights as the sun sets.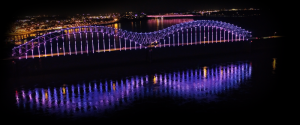 Memphis Music Hall of Fame
Located in the heart of Memphis, the Memphis Music Hall of Fame honors Memphis musicians for their lifetime achievements in music and those who changed the world of music as we know it. The museum and exhibition introduce guests to some of the greatest musicians of all time – each of whom are responsible for shaping modern music.
Graceland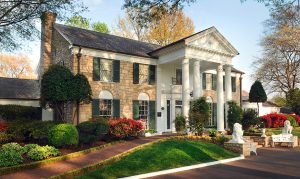 You can't travel to Memphis without visiting the home of The King, Elvis Presley. Spanning 200,000 square feet, the estate features interactive exhibits, an entertainment complex featuring new museums, restaurants, gift shops and more.
Eat your way through the city
From legendary BBQ to discerning distilleries to vegan fare, Memphis' food scene is as diverse as the city itself. Ask anyone in Memphis and they'll tell you that their local BBQ joint is the best, and with more than 100 barbecue restaurants in the city, you can find almost any kind of BBQ iteration that takes your fancy. Plus, this is food with a good dose of history behind it – so take the time to find out the story behind the people serving up your ribs, shoulder, or sandwiches. Despite its reputation for being a BBQ heaven, Memphis' vegan scene has recently exploded, along with a spate of cocktail and wine bars, ensuring even the fussiest of eaters and drinkers will be sated in this delicious city.
Here are some delicious new options:
Cameo – This craft cocktail bar is locally owned by some of Memphis' best bartenders. Based on the concept that the food caters to the cocktails instead of the other way around, Cameo excels at a classy but casual food menu. Located in The Citizen building in Midtown, the chic bar offers classic cocktails, fun tiki-inspired drinks, and a full mocktail menu. The dark and moody interior design elevate the vibe and has created a hot new spot to see and be seen.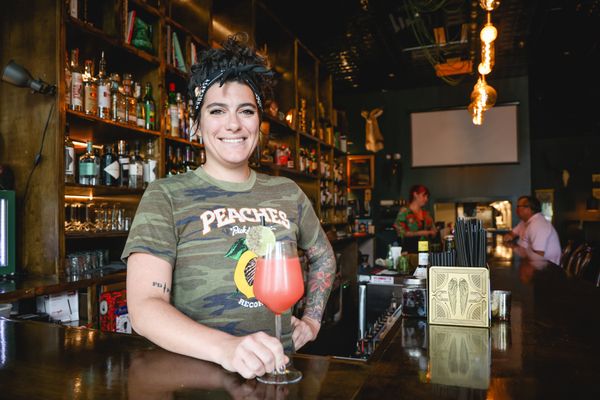 Inkwell. Founded by entrepreneur and designer Ben Colar, Inkwell's mission is to serve excellent drinks in a truly inclusive atmosphere for all Memphians (including short termers!). This newly opened cocktail bar is located in the Edge District next to the historic Sam Phillips Recording Studio (founder of Sun Studio) and offers a curated list of signature drinks, classic cocktails, mocktails, and wines, plus a small menu of food.
Tonica. A new Spanish-inspired tapas bar, Tonica's unique take on the concept is self-described as "Spanish inspired – Italian touch". The result is a menu full of food authentic to Spain, with a few surprises that may not be as traditionally Spanish.
The Genre Memphis. Chef/owner Lernard Chambers describes The Genre as "a small urban bistro" which translates to a small eatery with a hookah, gourmet food, and good customer service. The Genre's look is distinctive and inspired by Lernard and his twin brother's love of music – both are veteran deejays.  Album covers and vinyl's are used as wall art and live music is a regular feature.
Coming in 2023!
A new location is coming to Felicia Suzanne's Restaurant for classic southern food made with locally sourced ingredients. After closing their doors in December of 2021, we look forward to rejoining her at 383 South Main Street very soon.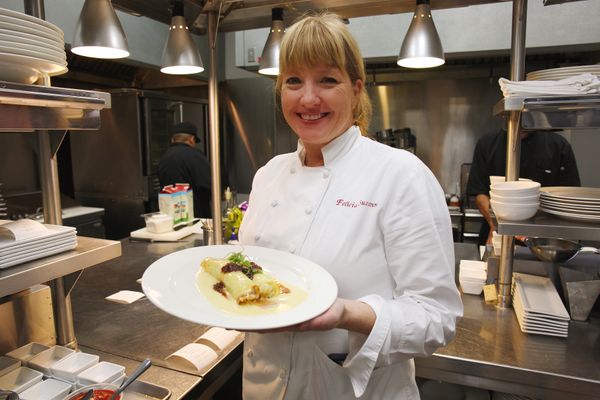 Here are some old favorites you just can't miss
With culinary offerings that the likes of Elvis and Martin Luther King used to beeline for, it's no wonder that some Memphis F&B offerings have withstood the test of time and remain firm favorites for locals and visitors alike. Must visit locations include:
Four Way Restaurant. Dishing up soul food to locals and visitors since 1946, this establishment is most famous for being one of Dr. Martin Luther King's favorite spots to grab a bite to eat, and has also served notable guests that include Rosa Parks, Jesse Jackson, Don King and Aretha Franklin. A typical Southern diner, many Australians will love the fact that fried green tomatoes feature on the menu, as well as classic desserts including lemon pound cake, sweet potato pie and peach cobbler.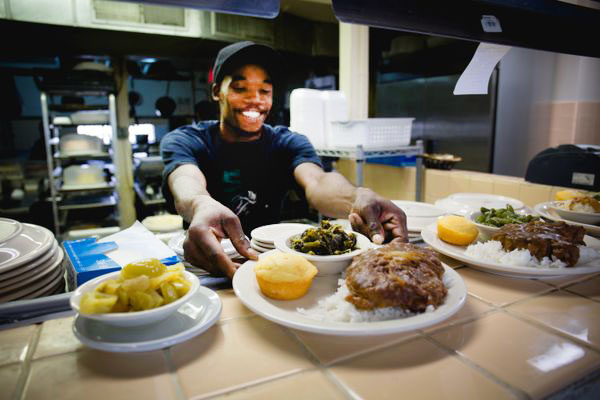 The Pocket. Unlike anywhere else in Memphis, The Pocket pays tribute to the spirit of speakeasies from its faux storefront to its members-only section. The owners  wanted to create a hidden watering hole that produced excitement and mystique, which commences immediately when a host guide you through a heavy sliding door and around the corner and into The Pocket. Offering unique signature drinks and classic cocktails, The Pocket also serves a snack style menu designed to supplement the drinks.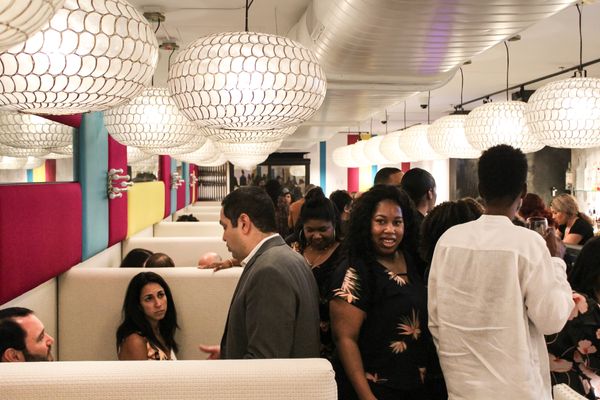 Phillip Ashley – Phillip Ashley Rix is one of the world's preeminent chefs and designers of luxury chocolate. Named the "Real Life Willy Wonka" by FORBES Magazine, he has created tens of thousands of chocolates for Hollywood's elite at the EMMYS®, GRAMMYS® and OSCARS®. His eponymous business (Phillip Ashley Chocolates) in Memphis, is where he designs and develops the finest, most unique chocolate experience – something any sweet tooth should have on their must-see (must-eat) list.
Stroll down Beale Street & take in some live music
Beale Street is one of the USA's most iconic streets, declared the Home of Blues by an act of Congress.With a rich history of legendary performers, the street is a National Historic Landmark, making it a must-see for music and history buffs alike. Boasting three blocks of nightclubs, restaurants, and shops, right in the heart of downtown Memphis, Beale Street is the epitome of cool. A melting pot of rock n roll, jazz, delta blues, gospel, and R&B, the Beale Street Entertainment District is the perfect place to stop for a cold beer and some hot music. Start at the bars, pubs, and clubs of tourist hotspot of historic Beale Street, and then wander wherever your ears take you – and it won't be far. Memphis is home to an abundance of live music venues, festivals, and listening rooms that means whatever live music experience you're looking for – you'll find it.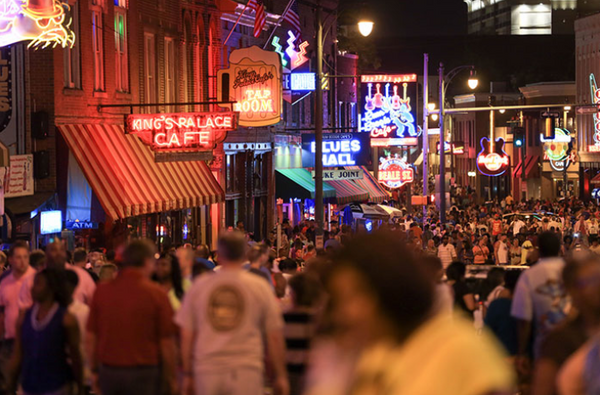 Pack your festival feet
No matter what time of year you visit, there is likely to be a festival happening that is worthy of inclusion on your itinerary. From opera to food, and from music to international celebrations, Memphis is a city that knows how to put together a list of exciting and ever-changing festival events. Of course the likes of Elvis Week, and Memphis in May are annual crowd pleasers that see masses descend upon the city to soak up the unique atmosphere.
National Civil Rights Museum
Historically and internationally significant, the National Civil Rights Museum is a must-do for anyone visiting Memphis. The site of Dr. Martin Luther King Jr's death, the Lorraine Motel, is now a famed and respected educational and cultural institution. A museum that chronicles the American Civil Rights Movement, five centuries of history can be explored through exhibitions that are often multi-touch, and always emotional. Prepare to be moved.
Be a kid again
Not just a place for hitting the cool bars and clubs, Memphis is a family-friendly destination that will leave you wanting to embrace your inner child and just have fun. The Memphis Zoo, Shelby Farms Park, and the Children's Museum of Memphis are just a few of the top attractions that make Memphis just as much of a drawcard for small people as those looking to let loose and party. With plenty of cultural and learning opportunities at every turn, it won't only be your kids whose horizons are expanded by taking in the kid-friendly sites of this amazing city.
Visit a historic recording studio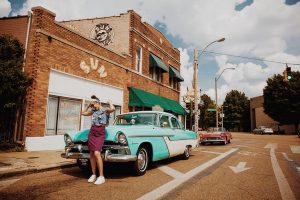 Memphis' music legacy is iconic, so it makes sense that the city has more recording studios than almost any other. The world famous Stax Records and Sun Studio are both crucial fixtures in the formation and history of American music, and both are open to the public. Visitors to Sun Studio can take part in a guided tour every hour, and for those who prefer to peruse alone, Stax Museum of American Soul Music offers a comprehensive self-guided tour.
Where to stay
Rapidly becoming known for its great hotels, a swath of new hotels in Memphis are as cool as you'd expect from the city of blues, soul, and rock n roll, and the volume of choice means there is something for every type of traveler. Hyatt Centric's rooms overlook the city skyline or the Mississippi River, and the hotel also has a Latin-American inspired on-site restaurant and a rooftop lounge, both with amazing views.  In the heart of Memphis' arts and culture scene, The Memphian pays homage to the culture of its neighborhood, as well as offering two restaurants and a rooftop bar mean. The boutique and pet friendly Arrive Memphis in the South Main Arts District is a food destination as much as a fabulous city stay, and the Central Station hotel, part of a converted 1914 rail hub in downtown Memphis' Central Station, offers a listening room with daily curated playlists and podcasts as well as a record wall with 3,500 vinyl's, an in-house DJ, and room speakers to transmit the hotel's mixes.