By Robin O'Neal Smith
Freelance Travel Writer
Let's explore the unique attractions that will make you want to return again and again.
VisitFranklin.com hosted my visit, and the Harpeth Hotel provided complimentary lodging. All opinions are my own.
Historic Downtown Franklin
The downtown district of Franklin is known as one of the most picturesque places in the country. The National Trust for Historic Preservation named Franklin as one of five "Great American Main Street" honorees for its outstanding downtown and main street revitalization. Franklin is also included in the National Register of Historic Places.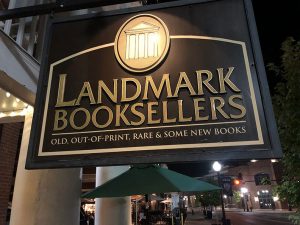 The Main Street of Franklin showcases stunning architecture and history in the buildings and churches. The Old Factory Store that now houses the Landmark Booksellers is one of the oldest buildings and an early example of Greek Revival architecture. After the Battle of Franklin in the Civil War, it was used as a field hospital.
This bookstore was the inspiration for the bestselling novel by Karen Kingsbury, The Bridge. A movie from the book appeared on Hallmark.
The iconic 1937 Franklin Theatre is on Main Street. The Heritage Foundation of Williamson County restored the theatre to its former glory and reproduced the original Marquee. It is open with films and live shows to entertain right on Main Street.
Franklin is very walkable. You can park your car and enjoy the 16-block historic downtown area on foot.
There are some things to see outside of town, but you can leave your car parked and take the new "Hop on/Hop off" trolley tour offered by Gray Line Tennessee. The Franklin Hop has five stops and is an entertaining 90-minute loop with guides pointing out points of interest.
Guests can get off and explore at any stops along the route, including the visitor center, the Factory at Franklin, Carnton, the Carter & Lotz Houses, and the village of Leiper's Fork. Tickets are available at the downtown visitor center or online through
​
History & Culture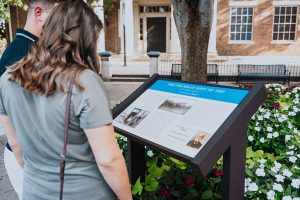 The history of Franklin is fascinating – from the Civil War to the present day, there's so much to learn about this city.
Franklin is rich in history and has several historical sites to visit. If you're interested in the Civil War, there are several battlefields, and Carnton is worth checking out.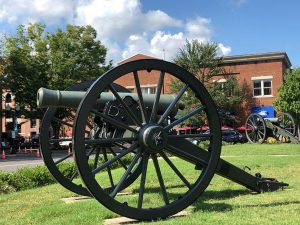 The town square is in the middle of town, on the main street. It is an area that includes a memorial for the soldiers from Franklin of the Civil War.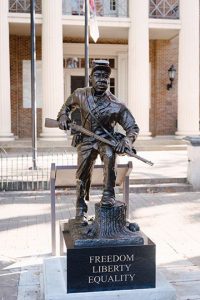 It was erected on the 35th anniversary of the Battle of Franklin.
In the fall of 2021, a new March to Freedom statue
was officially unveiled. In a Civil War uniform, it depicts an African American soldier standing with one foot on a stump and a rifle across his knee. It honors the U.S. Colored Troop soldiers who marched in the fight against Confederate soldiers and their continued march for freedom after the war ended. It is one of only a few in the U.S. portraying an African American Civil War soldier.
Shopping & Dining
The shops and restaurants in Franklin offer locally made goods and delicious southern cuisine. From antique stores filled with treasures from days gone by to modern boutiques selling trendy items – there's something here for everyone!
Most businesses in Franklin welcome dogs. You will know if they are welcome when you see a white dog bowl outside.
Remember to check out some of the local eateries, too; the food is incredible – from southern BBQ to fine dining, you'll find everything your taste buds are looking for. I was impressed with the abundant restaurants in downtown Franklin. You won't find chain restaurants on these streets. One of my favorite eateries in Franklin is Puckett's. I enjoyed the Deep Fried Brownie Sundae that was featured on the Food Network.
​
Live Music Everywhere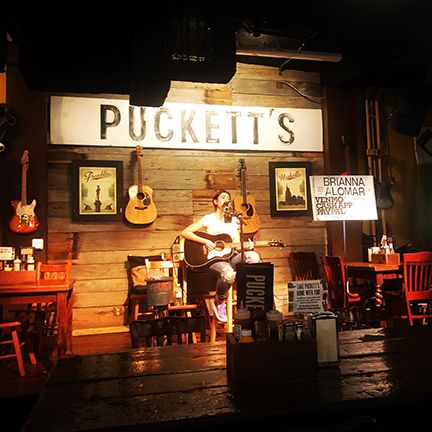 Nashville may be the Music City, but Franklin is where you'll find the best live music. From country to rock to blues and more, you can find a little bit of everything in Franklin. If you're a music lover, you'll want to check out some of the local talent.
When we dined at Puckett's, they had a local musician playing just a few feet from our table. Kimbros Pickin Parlor also has live entertainment, and free live street entertainment is often near the town square.
Hotels and Accommodations
The hotels and accommodations are top-notch. There are several lovely B&Bs and hotels. When we visited, we stayed at the Harpeth Hotel by Hilton. They also had live music throughout the afternoon to enjoy.
Digital Passports
You can learn more about Franklin by downloading one of their digital passport self-guided tours. There are several for the town and Williamson County. All are free and cover history, murals, coffee, and more. If you complete all the visits for a passport or trail, you earn a prize from the visitor's center.
The digital passport for Main Street covers 0.7 miles and is an easy walk with 33 stops.
Franklin, Tennessee, offers travelers a unique combination of history, culture, and natural beauty. Whether you're looking for a romantic escape or an exciting day trip with family and friends, it's all here waiting for you in this lovely town! One visit to Franklin, Tennessee, and you'll fall in love and find yourself wanting to come back again and again.