South Carolina is known for its shoreline of subtropical beaches and marshlike sea islands. South Carolina is ready to welcome visitors to safely experience their newest accommodations, culinary delights, and state-of-the-art attractions. Visitors will have great access to the Palmetto State's diverse cultures and thriving culinary scene thanks to exciting events and attractions while experiencing new luxurious amenities and accommodations.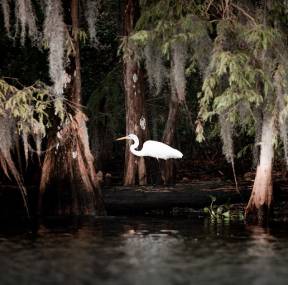 South Carolina has long been legendary for its birdwatching hot spots, making it a superb destination for both new bird nerds and seasoned wing nuts. More than ever, people are looking to connect with nature and birdwatch has definitely made a comeback. The often-secluded hobby offers travelers a fun way to explore more than 400 different species in South Carolina while remaining safe.
Coastal Charleston is a historic city, defined by pastel-colored houses, Old South plantations and Fort Sumter, where the Civil War's opening shots were fired. To the north is the Grand Strand, a roughly 60-mile stretch of beachfront known for golf courses and the vacation town Myrtle Beach. When South Carolina seceded from the Union, the palmetto tree was added to the flag. The palmetto tree was chosen because this tree had helped South Carolinians defeat the British in a battle at Sullivan's Island (during the Revolutionary War). A fort was built from palmetto wood, and when the British fired cannonballs at the fort, instead of knocking the fort down, the soft palmetto wood just absorbed the cannonballs.
Visit this mountainous region of Upstate South Carolina that's home to plenty of ways to experience and appreciate nature. It is full of natural beauty, fun adventures, and great food and drink that combine to provide an entirely different set of Carolina memories. >MORE
The January 2023 Charleston Restaurant Week will take place January 12-22, 2023. Currently, there are over 60 different restaurants participating in this annual event. For a complete list and type of menu served, visit https://restaurantweeksouthcarolina.com/city/charleston_area/