Georgetown, S.C. — South Carolina's Hammock Coast, with idyllic fall weather in the forecast and an ever-popular schedule of events, has reawakened after Hurricane Florence.
The Hammock Coast made up of five coastal communities – Garden City, Murrells Inlet, Litchfield, Pawleys Island and Georgetown – battled flooding, but the area, renowned for its casual charm and resilience, is welcoming vacationers back.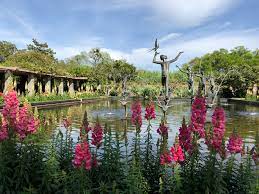 Brookgreen Gardens, one of America's premier outdoor sculpture gardens, has reopened, as has Kaminski House, Hobcaw Barony, Hopsewee Plantation and all of the area's major tourist attractions.
"Our thoughts continue to be with those most impacted by Hurricane Florence, and we consider ourselves fortunate to have avoided the worst of the storm's wrath," said Jennifer Norman, Director of the Georgetown County Tourism Management Commission. "While there was some cleanup in the aftermath, the Hammock Coast is delighted to be hosting vacationers. From the beauty of our beaches in Garden City through historic Front Street in Georgetown, guests are enjoying the best of the Hammock Coast this fall."
Fall is one of most popular times of the year to visit the Hammock Coast as vacationers enjoy ideal temperatures and one of the premier event lineups in the Southeast.
The Georgetown Wooden Boat Show, the most highly anticipated event on the Hammock Coast calendar will be held October 21-22. One of the top 20 events in Southeast, the Wooden Boat Show will feature wooden boat exhibits with more than 140 classic wooden boats displayed on land and water, a wooden boatbuilding competition, children's model boat building, knot tying, maritime art and crafts, food and music.
About the Hammock Coast
Georgetown County's casual charm and Southern hospitality earned it the nickname Hammock Coast. Adventure and relaxation blend together in perfect harmony like the flowing and ebbing of waves on the beach along the Hammock Coast. With five communities – Garden City, Murrells Inlet, Litchfield, Pawleys Island and Georgetown – comprising the pristine coastal area between Myrtle Beach and Charleston, you can experience South Carolina's the Hammock Coast like never before.
Georgetown County offers an abundance of accommodations for guests, including beachfront homes, hotels, cozy bed and breakfasts and camping. No matter where you stay along the Hammock Coast, the area's stunning natural beauty is never far away.
For more information, visit www.HammockCoastSC.com.