by Mindy Bianca/ Bianca Public Relations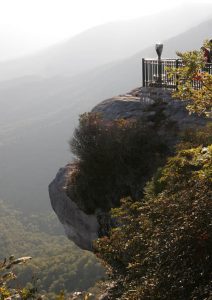 In the Upstate, the star is Mother Nature herself … and she shows off every chance she gets. There are some tremendous state parks in this area, plus beautiful lakes and plenty of wildlife. But something you most definitely can't find anywhere else in the universe is the Blue Ridge Escarpment, a geographical phenomenon of the southern Appalachian Mountains. Most of the Appalachian chain looks like layers of blue waves; but here in the Upstate, the mountains plummet more than 2,000 feet in less than a half-mile, straight into the piedmont below. That dramatic shift creates something to behold: a unique sight that the Cherokee nation dubbed "The Blue Wall" generations ago. The drastic change in elevation also creates cliffs that drop off at nearly 300-foot-deep gorges and hundreds upon hundreds of waterfalls. Those Jocassee Gorges are so incredibly deep that micro-weather patterns are created within them. It all adds up to an amazing diversity of plants and animals. The gorges also create a temperate rain forest – one of only two in the Lower 48 – so it's not a stretch to say that there are countless natural phenomena happening here.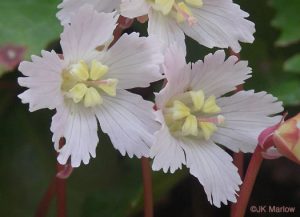 Among the flora and fauna you might see here is the Oconee Bell, an incredibly rare flower that only exists in this part of the Appalachians. You can find a few in Georgia and North Carolina, but the best place to see them is within Devils Fork State Park in the town of Salem, South Carolina. The park boasts an easy one-mile hike along the Oconee Bell Trail. However – here's the kicker – you can only see them from mid-March to early April. That's exactly when we all began to hunker down at home, so this year very few people got a glimpse of these charmers.
A water bird you can find here may not be rare, but it's odd to see it in this type of geography. Each winter about 150 loons choose to come to Lake Jocassee in these mountains rather than joining their pals along the coastal regions of the Atlantic. It's such an interesting phenomenon that Brooks and Kay Wade, who operate Jocassee Lake Tours, launched a loon research program nearly five years ago. Every winter about 20 volunteers join scientists conducting research on these birds. There are a lot of other interesting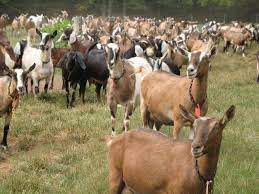 critters in this region of South Carolina, including eagles and black bears and Tigers (in the very broad sense of the word, because this is where you'll find Clemson University). But our favorite furry friends can be found at Split Creek Goat Farm in Anderson. While we were busy sheltering in place in late March, the farm welcomed dozens of new baby goats, each one cuter than the next. Here are a few of this year's kids, which in an ordinary year would have been available for the public to see soon after their arrivals.
The farm also operates a market where they sell their delicious goat cheese, yogurt and fudge. Because many of us can't get to the market in person, the market can come to you … though there's a shipping fee. If you're placing an order, we highly recommend the award-winning feta in oil. You won't be disappointed.
You know what goes great with cheese? Booze. And you know who's really great at making booze? Moonshiners! Bryan and Trey Boggs were inspired by their grandfather, who made moonshine decades ago and ran it bootleg; they created Palmetto Moonshine and became the first moonshiners to legally attain permission from the state to craft their liquid fire. In addition to their full collection of Palmetto Moonshine brands, they also produce the state's most awarded craft whiskey, Palmetto Whiskey, and musician Darius Rucker's signature brand, Backstage Southern Whiskey.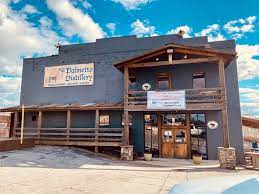 In "normal" times, the distillery offers fun tours and generous tastings, where they're always happy to share recipes. They also ship their products, so if you're lucky enough to live in one of the states that they can legally ship to (we don't condone bootlegging and rum-running), we encourage you to try this cocktail, which has enough fruits and veggies in it, we think, to count as a health food. This is the distillery's most popular signature recipe, and they thought as summer – and blackberry season – approaches – you might get excited about it, too.
Blackberry Breeze
Pour 1 part Palmetto Distillery Blackberry Moonshine.
Add 3 parts lemon-lime soda.
Mix in sliced cucumbers.
Garnish with a lime wedge.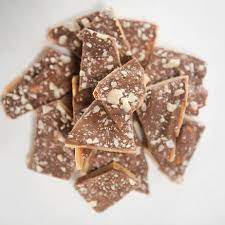 I'll confess that one of the things getting me through all my "at-home" time has been a steady supply of Dottie's Toffee from Spartanburg. I've loved this toffee since the first time I tasted it many years ago, but when I discovered that they ship all over the United States, well … let's just say I get really excited when our local delivery guy arrives on what I've come to know as "Dottie Day."
I'm partial to the dark chocolate variety, but my husband is a milk-chocolate purist. I just keep ordering one bag of each so that neither of us feels obligated to compromise … or share.
For more information, visit https://www.visitgreenvillesc.com/