There are numerous parks, several natural waterways, wildlife reserves and recreational opportunities to explore. From the vast green spaces of Tishomingo State Park to the abundant wildlife of Gulf Islands National Seashore, nature enthusiasts have a large selection of locations to visit on their next weekend getaway. Here, you can hike or bike along the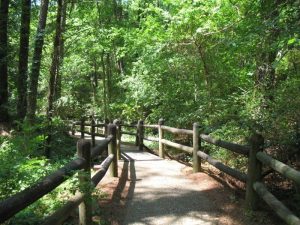 woodland trails of the Appalachian foothills and enjoy a guided boating adventure along the mighty Mississippi River. Sport and recreational fishing are available on the many lakes and rivers found throughout the state, or you can enjoy a deep-sea fishing excursion in the Gulf of Mexico.
No one will mistake the Delta for the mountains, but you may be surprised to see signs marking bear crossings across these vast flatlands just the same. And you wouldn't think crystal-clear, spring-fed waterfalls are common just a stone's throw from the muddy Mississippi River, but Clark Creek Natural Area has dozens of them. As one of the most rural states in the U.S., Mississippi is a resource-rich haven for birds of all feathers and a refuge for naturalists.
Heading south, you'll travel over the Black Prairie, which gets its name from the region's rich soil, and venture into the rolling hills and tall canopy of the Piney Woods. As you descend to the Coastal Plain, the air will begin to feel a little salty, and you'll start to see patches of sand along the roadsides. Then, beyond expanses of reedy marshes and the shade of centuries-old oaks, the refreshing breezes of the Gulf of Mexico await.
Twelve miles offshore from Biloxi, SHIP ISLAND is the most visited of Mississippi's four barrier islands. Travel by ferry or private boat to enjoy the Gulfside beach or tour FORT MASSACHUSETTS, which was used as a staging location for the Union's campaign against New Orleans during the Civil War in 1862. Erosion of the bluffs 200 feet above the Pearl River in Marion County has exposed layers of red clay, sand and other sediments at RED BLUFF. Although the site is on private property, the colorful formation is viewable from what's left of the existing roadbed. There are two sides of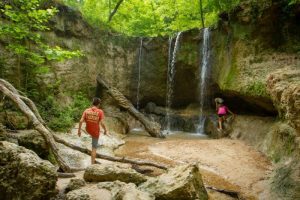 CLARK CREEK NATURAL AREA near Woodville—the wide main trail, which leads to several waterfalls, and the primitive trail, where you'll have to work a little harder for those rewards. Set aside 2.5 hours to hike both and make a loop, and keep your eyes and ears open for more than 50 waterfalls—some as high as 30 feet.
Spending a night in the great outdoors can be as primitive or as modern as your tastes. Tent and RV camping sites are plentiful, and now even more indulgent glamping experiences are available at our state parks.
Dining Out:
From Delta tamales to Gulf seafood and from centuries-old heritage foodways to innovative new restaurants, Mississippi offers something special for every palate and every meal.
In the NORTH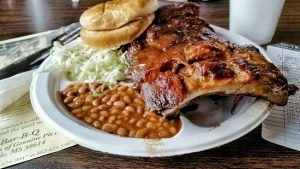 Adjacent to the famous Blues Crossroads, ABE'S BBQ in Clarksdale offers Delta tamales and genuine pit barbecue. DILWORTH'S TAMALES in Corinth serves up both hot and mild tamales and features a drive-thru—if you think you can make it home before digging in.
THE CROWN RESTAURANT in Indianola offers fresh catfish in creative ways—in crab-style cakes sweetened with peach salsa, tucked into a sandwich with Jezebel sauce—as well as the classics. CRAWDAD'S in Merigold offers all the fried, broiled or boiled seafood you could want, including the namesake crawdads in season. Formally known as crawfish, these small lobster-like crustaceans are native to the swampy areas of the South. They're either served boiled and whole to crack open and eat or the tail meat is extracted to dress up pastas, sauces or anything else that needs a seafood zing. TAYLOR GROCERY in Taylor has the striking slogan "Eat or We Both Starve"—with choices like fried oysters, blackened catfish and whole fried catfish, it's easy to oblige.
CENTRAL
DOE'S EAT PLACE in Greenville began as a honky-tonk that served meals. The food, including Delta tamales, was so good that the eating outshined the drinking and dancing. TONY'S TAMALES in Ridgeland offers hot, mild, turkey and black bean tamales; they're so good that they're also served at other restaurants throughout Mississippi.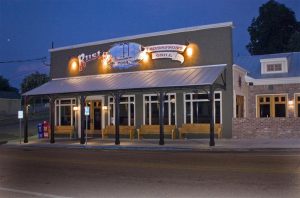 At RUSTY'S RIVER FRONT GRILL in Vicksburg, "Rusty's House Specialty," the blackened catfish in a crawfish cream sauce, joins grouper and soft-shell crab on a tempting menu. Trout, flounder and redfish crown the extensive and tempting menu at THE MAYFLOWER CAFÉ in Jackson, a local favorite since 1935. COCK OF THE WALK, with locations in Ridgeland and Pocahontas, prese
SOUTH
Natchez's FAT MAMA'S supplements its tamales with po-boys and a full Tex-Mex menu, complete with spicy "Fire and Ice" pickles and a "Knock-You-Naked" margarita. DORIS' HOT TAMALES are such a local favorite, the city of D'Iberville named the street the restaurant sits on after founder Doris Deno.
The THORNY OYSTER in Bay St. Louis offers a creative and modern take on fresh local fare. Here you'll find seafood dishes as beautiful as they are delicious and unique. MARY MAHONEY'S in Biloxi, a local favorite for decades, is located in a historic house with a grand live oak shading the courtyard. Crab imperial, stuffed flounder and many more glamorous seafood dishes anchor the menu.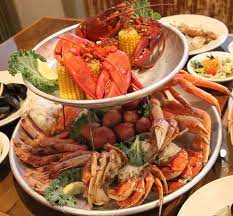 Biloxi's TARANTO'S CRAWFISH will give you heaps of juicy red crawfish when in season; weekly seafood specials keep diners coming back. Reservations are required at the JOURDAN RIVER STEAMER in Kiln—it's worth the planning to sample deluxe nautically themed platters, optionally "kadobstered" by adding crabmeat and shrimp over seafood stuffing.