The well known music venue was built as an outdoor center for entertainment, including a stage, restaurant , art gallery, outstanding gardens and a beautiful picnic areas.
It was built in the midst of over 800 acres of land and its location makes it clear why the Blossom Music Center is a favorite of Ohio's music venues. One of the novelties of the Blossom Music Center, is the lawns that cover the back rows of the seating plan, giving a fantastic outdoor music experience. The lawns also provide an excellent view of the stage. Concerts go on rain or shine, so make sure you double check the weather when buying lawn tickets!
Since 2003 when the Blossom Music Center underwent massive renovations, it can now hold over 19,000 people! 5,700 seats are available in the pavilion with another 13,500 spaces available on the lawn.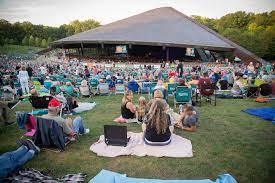 The venue is the summer home of The Cleveland Orchestra and site of the ensemble's annual Blossom Festival. Blossom Music Center is owned by the Musical Arts Association, the Orchestra's parent organization. The venue is also host to a full summer schedule of popular music acts and symphonic performances. Blossom's natural parabolic setting, the pavilion's sloping slate roof, and the countryside's wooded surroundings distinguish it from other contemporary amphitheaters.
The Blossom Music Center is named after the families of Dudley S. Blossom Sr., and Dudley S. Blossom Jr.