BROOKLIN – Bubbling up from the curious depths of its past surrounding the notorious Gowanus Canal, the tiny community is undergoing a dramatic transformation with Baltic Huis as one of the beacons leading the charge amongst an army of new art spaces, community initiatives, restaurants and bars.
Modern and functional, with design touches reflecting the building's industrial past and Brooklyn heart, each of the 32 guest rooms and one suite feature solid oak furniture and oversize factory-style windows. Seamlessly incorporated modern comforts include flat-screen TVs with cable channels, complimentary grab-n-go breakfast, and free Wi-Fi.
Inspired, Innovative Design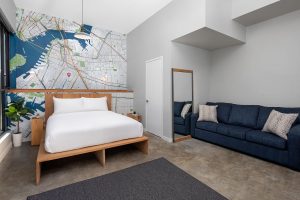 In the midst of a dramatic transformation, Gowanus is continuously adding new art spaces, music venues, restaurants and bars to its burgeoning neighborhood. To properly reflect the design mix of industrial warehouses and humble row homes, Greenwich Street Equities tapped local design firm Gradient Architecture. The task was to marry simple, industrial design with technology and comfort while cleverly re-appropriating existing materials that preserve a sense of place.
A home away from home for curiosity seekers, the hotel's entrance and reception area will delight guests with an inspiring mix of found art, local photography and industrial relics. Neon signs will point the way to the hotel's hidden spaces; a celebration of a lost history found. One of those hidden spaces is a subterranean coffee shop serving impeccably turned-out coffees, lattes and cortados, vital to the start of any New Yorker's day. With the whisper of a secret Dutch password, other treats such as rare Japanese whiskeys "might" be available – paying homage to the city's lingering speakeasy spirit.
A clean concrete aesthetic inspires much of the design throughout the hotel including the hallways, which are also illuminated entirely by solar power. Entering guests rooms is an experience in itself with in-room Alexa Smart Home devices awakening to greet guests. Each in-room Alexa is programmed to play guests' music of choice, check the weather for them before leaving the comfort of bed or even assist with ordering a sneaky treat from Ample Hills Creamery. Smartphones are provided in each room for local calls and perusing complimentary digital newspapers, neighborhood guides and more.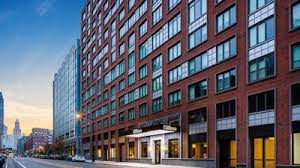 Drawing a connection to the neighborhood's once pastoral and more recently industrial past, the room's subdued palette consists of grays, greens, and whites softened by white Frette down comforters, plush Persian carpets, and pops of unexpected plant life. Form meets function with handcrafted furniture built with warm Mexican wood sourced by local interior designers Savvy Studio of Brooklyn. After washing off the day's adventures under oversized waterfall shower heads (utilizing solar powered hot water) and with Lacava vanities, guests can curl up in the comfiest of beds with a complimentary copy of Gowanus: Brooklyn's Curious Canal, a nod to the Gowanus Dredgers Canoe Club's first hotel partnership with Baltic Huis.
Work, Experience & Explore 
Celebrating the neighborhood around the canal that has for generations served as inspiration for a slew of resourceful New Yorkers from gangsters, outlaws, artists and all manner of Gowanusians, communal pursuits will lure guests from their rooms to the hotel's backyard garden and red brick patio. Nestled between longtime local residents, the hotel will be a house of serene surprise and inclusivity, an adult playground with neighborhood cookouts and pig roasts, community garden parties and more.
Honoring the neighborhood's emergence as a creative hotspot, Baltic Huis will offer co-working space in the subterranean coffee hot spot as well as enlist local purveyors of adult fun from Gotham Archery to Brooklyn Boulders to Brooklyn Paranormal Society to provide experiences inside and beyond the hotel walls. Complimentary Citi-Bike passes and custom maps of local graffiti and history tours encourage on-peddle exploration of one of the city's most bike-friendly boroughs.
About Baltic Huis
Baltic Huis is a 33-room boutique hotel located in Brooklyn's Gowanus neighborhood. The hotel's industrial-inspired design reflects the neighborhood's integrity. Owned and operated by Greenwich Street Equities, the hotel opening precedes that of the 76-room sister property, Gowanus Inn & Yard.  Baltic Huis' enduring sensible design and community-minded programming will marry form, function and fun.
Baltic Huis' name is inspired by Gowanus' Dutch origins as the first settlement in Brooklyn, later becoming the site of the largest battle in the Revolutionary War. Reflecting the neighborhood's mix of industrial warehouses and growing environmental bend, Baltic Huis' 33-rooms will marry creature comforts with a clean concrete aesthetic. Frette linens, in-room Alexa Smart Homes, repurposed art, and cleverly re-appropriated materials preserve a sense of place.
Replete with a speakeasy coffee shop, communal workspaces, and a red brick backyard patio that will play host to a slew of community initiatives, the hotel is set to be a welcoming "huis" of surprises for locals and visitors alike.
Eligible discounts for U.S. Federal and State employees, National Government employees, and active military personnel. Government ID required.