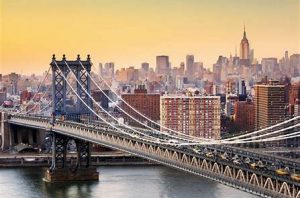 New York City is one of the global hubs of international finance, politics, communications, film, music, fashion, and culture. Alongside London it's one of only two universally acknowledged to be "World Cities" – the most important and influential cities on Earth. It's home to many world-class museums, art galleries, and theaters. Many of the world's largest corporations have their headquarters here. The headquarters of the United Nations is in New York and most countries have a consulate here. This city's influence on the globe, and all its inhabitants, is hard to overstate, as decisions made within its boundaries often have impacts and ramifications across the world. Visitors to New York City in the winter months will be comforted with experiences from picturesque snowfalls to lovely hotel fireplaces (best accompanied with hot cocoa), as well as rare moments such as shorter lines at museums, easier-to-book restaurant reservations and other conveniences unique to the cold-weather months. Winter 2017 will also be the most affordable value period ever for travelers, with deals on dining, attractions and live theater, and hotels offering their lowest room rates of the year.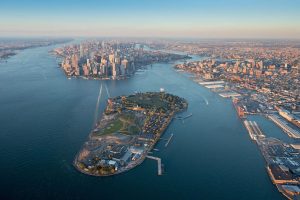 At the center and western edge of New York City is the borough of Manhattan, a long, narrow island nestled in a natural harbor. It is separated from The Bronx on the northeast by the Harlem River (actually a tidal strait); from Queens and Brooklyn to the east and south by the East River (also a tidal strait); and from the State of New Jersey to the west and north by the Hudson River. Staten Island lies to the southwest, across Upper New York Bay.
The term "the city" may refer either to New York City as a whole or to the borough of Manhattan alone, depending on the context. The other boroughs, which are Brooklyn, The Bronx, Staten Island, and Queens, are sometimes referred to as "the outer boroughs." The term "upstate" generally refers to any part of the State of New York north of the city limits of the Bronx, but not neighboring New Jersey or Connecticut.
Each of the City's five boroughs is a unique destination in itself, where free and affordable hidden gems and one-of-a-kind winter experiences await. A sampling of itineraries that feature indoor and outdoor activities by borough—all easily accessible by the City's affordable 24-hour subway system are as follows:
• Enjoy an espresso and feast on authentic Italian food along Arthur Avenue, the "real Little Italy," located in the Bronx's Belmont neighborhood. The area is easy to get to on the Metro-North Railroad from Grand Central Terminal in Manhattan. Also consider exploring the Bronx Museum of the Arts, which is one of the City's many free museums.
• Bring the family to Prospect Heights in Brooklyn, via the 2, 3, 4, 5, B, D, N, Q and R subway lines, where they can build snow forts in Prospect Park and then explore global exhibitions in the Brooklyn Museum. While in Brooklyn, walking the Brooklyn Bridge is an iconic free activity enjoyable in all weather.
• In Manhattan, after ice-skating at Central Park's Wollman Rink, the Rink at Rockefeller Center or the Winter Village at Bryant Park, head to the Museum of the City of New York to learn about the City's history and future at the New York at Its Core exhibit. When hungry, warm up at one of many popular food halls, including the Great Northern Food Hall in Grand Central Terminal or the latest Eataly in Lower Manhattan.
• Stay in Manhattan and head uptown to catch the latest jazz, dance or theatrical performance at Harlem's iconic Apollo Theater, easily reached by the A, B, D and other major subway lines. Visitors can then enjoy a great soul-warming dinner at nearby Sylvia's 'Soul Food' Restaurant.
• Take a ride on the free and enclosed Staten Island Ferry to St. George, with frequent departures from Lower Manhattan, and explore the new Staten Island Museum at Snug Harbor Cultural Center & Botanical Garden, or warm up to an evening performance at the historic St. George Theatre. Both are a short cab or bus ride from the ferry terminal.
• Hop on the 7 subway line (sometimes referred to as the "International Express") for a Queens winter adventure, where Himalayan, Indian and Latin American cuisine are part of an authentic Jackson Heights experience, or head to Flushing and see an incredible scale model of New York City at the Queens Museum. Or, admire great art and skyline views from Socrates Sculpture Park in Long Island City.  Many of the City's retail store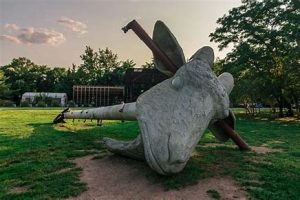 s throughout the five boroughs offer great sales during the winter months. Those looking to snag a deal can enjoy new shopping destinations including the CityPoint shops in Downtown Brooklyn and both Brookfield Place and Westfield World Trade Center in Lower Manhattan; or they can browse one of the City's many iconic department stores like Macy's, Bloomingdales, Saks Fifth Avenue, Lord & Taylor and Century 21. In addition, shoppers can enjoy boutique shops on Fifth Avenue, including Tommy Hilfiger, as well as the Shops at Columbus Circle, among others.
Providing value this winter, NYC & Company's new Nonstop NYC campaign offers savings for travelers looking to enjoy live theater, restaurants and attractions in New York City. Included are popular programs, NYC Restaurant Week® (Jan. 23–Feb. 10), NYC Off-Broadway WeekSM (Feb. 27–Mar. 12), with 2-for-1 tickets to more than 70 attractions throughout the City. Visit nycgo.com/nonstop for more information.
With more than 113,000 hotel rooms throughout the five boroughs to choose from, visitors will find a wide variety of cozy accommodations that are close to many only-in-NYC winter experiences. The lowest hotel room rates of the year are typically offered in January and February, another reason for visitors to plan their winter vacations now. For the best available rates, visit nycgo.com/hotels and reserve through NYC & Company's exclusive hotel booking partner, Booking.com. And for more ways to save when visiting New York City, our Free in NYC guide can be found at nycgo.com/free.
About NYC & Company:
NYC & Company is the official destination marketing organization for the City of New York, dedicated to maximizing travel and tourism opportunities throughout the five boroughs, building economic prosperity and spreading the positive image of New York City worldwide. For all there is to do and see in New York City, visit nycgo.com.