A Bit of History
The Weekender started as a 1-page for the lifestyle section in a local weekly newspaper. In May of 2001, staff members of five area weekly newspapers joined together to publish the first 16-page tab-style magazine to be distributed on a quarterly basis. It was inserted in the partnering newspapers, expanding readership and aiding in reaching more potential customers for its advertising sponsors. It was an all-black and white newspaper print with features covering 'Places to go, People to see, and Things to do – "only" in Ohio.
The first color magazine-style publication was issued in the Spring of 2003 and intended to be distributed on a quarterly basis. The response was overwhelming and a subscription campaign was soon underway. The publishers immediately saw the need of expanding to bi-monthly distribution and then monthly distribution before the year was up. Several format changes later, a full-color glossy format was introduced for a Festival/Fair Preview issue in August of 2007.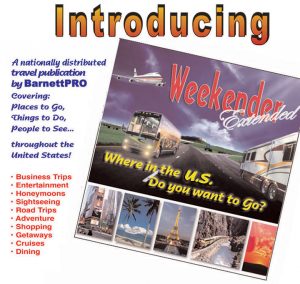 Still distributed FREE to subscribers, the worldwide web enabled The Weekender to reach other areas besides Ohio with online, 3D, page-flip versions. Surveys proved more and more readers were looking online to find the type of information The Weekender Magazine provided. After adding Indiana, Kentucky and Missouri issues, it was evident that each and every state needed coverage. With more places to go, more things to do and more people to see than what our small staff had time for, a sample Weekender Extended section was introduced to subscribers at fair booths with our regular Weekenders. Fast forward . . .
The Ohio, Indiana, Kentucky, Missouri, and

Michigan Weekenders were consolidated into one monthly magazine in 2015 with "extended" coverage for the other states. As we featured "places to go, things to do, and people to see" across the United States for the fun side of life, we realized it can't always be done on a 2-day weekend. As travel destinations continue to welcome our readers, the staff rebranded the Weekender Extended Magazine to  "Extended Weekend Getaways!" 

And now we've gone Global! That's right. We've extended once again to include destinations outside the U.S. and across the World. 
So here is YOUR opportunity to share your destination/attractions/adventure/ service/event today and we'll show you just how easy it is to reach new potential visitors who are anxious to get going again!  So, Let's Go!
---
Research shows 87% of potential visitors search online before actually going in person. Between regular monthly emailed issues, more articles are placed on the website and linked from the home page map to maintain regular interest.  Weekly – "What's New" newsletters are sent to subscribers in order to direct them to those articles, posts, and blogs. You may view our current website and issue at https://extendedweekendgetaways.com
Extended Weekend Getaways will continue to cover all of our U.S. states with feature articles, monthly columns, marketing campaigns, social media communications, and more.  When readers opt to travel and explore a bit further from home on a longer and extended weekend getaway, we will provide the sources to help decide where to go and what to do.
If you would like at least 100,000 prospects to learn more about your destination, this is a good place to start. Our subscriptions are FREE by design so that all who wish may view them regardless of a limited budget. They subscribe, however, so you – the marketing sponsor – can receive data on who and where our readers are from. We know if they subscribe, they've ASKED for the magazine to be sent to them and are more apt to take the time to read it.
So it shouldn't cost you an arm and a leg to advertise. (Our regular rates are prorated to be less than a 1/2 penny per viewer.) It should

"PAY"

you to share your destination, business, or service. If you gain interest from only 1/2 of 1% of our subscribers and they spend only $3, you have more than doubled your original investment. With the right ad campaign and working together, we can help you accomplish just that!  So what is the next step? Let's GO, SEE, DO…   current circulation by state here.
Remember it shouldn't
COST

you to advertise your business or service. It should

PAY

you to do so. Let's GO!