Step foot into Louisiana's Audubon Aquarium and Insectarium, the only facility of its kind in the world, where an aquarium and insectarium coexist under one roof.
After a $41 million extensive renovation, the Audubon Aquarium and Audubon Insectarium are back and better than ever! Nestled along the iconic New Orleans riverfront, the two beloved attractions have merged into one incredible experience, taking you on an unforgettable journey.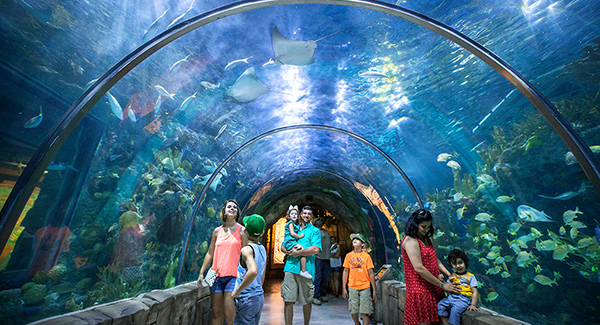 Encounters Beyond Imagination
With an array of new animals and exhibits, the Audubon Aquarium transports you to diverse habitats from tranquil Louisiana bayous to the vast Gulf of Mexico, and from the vibrant Caribbean to the enchanting realms of South and Central America.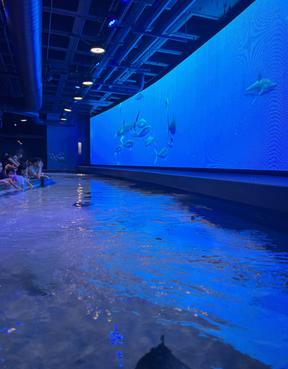 Experience the thrill of touching the smooth skin of sharks and stingrays in a mesmerizing 60-foot-long touch pool. Delight in special animal encounters with penguins or lose yourself in the breathtaking 450,000-gallon Gulf of Mexico exhibit, home to an astonishing variety of marine life.
In the Amazon gallery, observe 60 free-flying, brilliantly hued birds, representing 15 avian species. Venture into the Amazon Encounter, where fascinating animal species, including armadillos, tortoises, birds and even the newest member of the Audubon Aquarium family, the adorable Linnaeus' two-toed sloth — awaits your discovery.
Remarkable Physical Enhancements
From the moment you approach the entrance to the Audubon Aquarium, prepare to be captivated by colorful and playful artwork. As you approach the facility, a towering, bird-safe glass curtain wall welcomes you. Venturing inside, a grand stairway guides you towards a 2,500-square-foot lobby adorned with displays that narrate Audubon's conservation efforts across the globe. Separate entrances for the aquarium and insectarium ensure smooth access to the wonders that lie ahead on the second floor.

Insectarium Extravaganza
Beyond fish friends, the Audubon Insectarium, now relocated from its former location, promises an enchanting encounter with some of nature's most interesting insects. Stroll through a vibrant butterfly garden, and marvel at hundreds of butterflies flitting around lush greenery and a kaleidoscope of colors. The immersive garden houses 20 distinct species, creating an unforgettable experience for visitors of all ages.
As you make your way through the insectarium, witness the magic of an expansive motion display wall that comes to life with mesmerizing images of butterflies and lightning bugs, reacting playfully as you pass by. If you're feeling adventurous, have a bug "bite" or two at the Bug Appétit exhibit, and sample chocolate "chirp" cookies, cinnamon "bug" crunch and crispy Cajun crickets.
Plan Your Visit
Next time you're in New Orleans, explore the extraordinary union of aquatic marvels and captivating insects at the Audubon Aquarium and Insectarium. Purchase tickets and plan your trip today!
For more information visit their website https://audubonnatureinstitute.org/aquarium