FREDERICK/PRNewswire-PRWeb/ — Agriculture has always been a major industry within Maryland and the Heritage Area is particularly rich in organizations that are preserving and interpreting the agrarian society, boasting splendid complexes in all three of the counties it serves.
The Heart of the Civil War Heritage Area (HCWHA) is showcasing the farm museums from Carroll, Frederick, and Washington Counties from 10 a.m. to 4 p.m.
Representatives from Frederick County's farm museum at Rose Hill Manor Park and the Carroll County Farm Museum in Westminster will be on site throughout the day and information from the Washington County Rural Heritage Museum will be available. They will share information on how their facilities interpret early American life, transportation history, and the agricultural history of the region. Each one has unique items in their collections, including impeccably preserved buildings, a live team of oxen, and one-of-a-kind locally manufactured antique cars.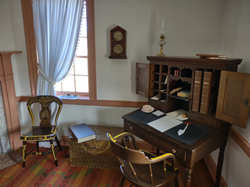 Visitors will have close-up encounters with curious artifacts as they learn about the nearby demonstration farms. The Newcomer House has a mystery item in the newly designed Southwest Parlor!
The Newcomer House will be open from 10 a.m. to 4 p.m. Volunteer docents will be available to share knowledge about the Newcomer House and assist visitors interested in learning more about the three-county Heart of the Civil War Heritage Area.
This is the seventh season of Porch Programs at the Newcomer House, HCWHA's Exhibit and Visitor Center at Antietam National Battlefield. Porch Programs feature presentations, demonstrations, pop-up exhibits, interactives and more from April through December.
The Newcomer House is located at 18422 Shepherdstown Pike in Keedysville, MD. The house is open 10am-4pm weekends in April, May, October and November and daily June through September. For more information, contact Rachel Nichols, Newcomer House Manager at rachel@heartofthecivilwar.org.