Let's Go Skiing.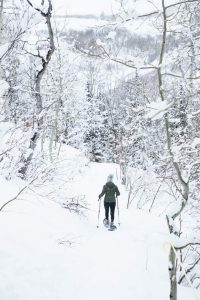 Utah's 15 ski resorts average upward of 500 inches of snow a year. Compared to other ski destinations in the United States you already have a much better chance of satisfying your snow craving by choosing Utah.  Consider planning your on-mountain ski days for weekdays rather than weekends. If weekdays are not an option, another tip is to plan for the afternoons rather than the mornings.
Utah's metropolitan areas are situated right by our snow-packed mountains, offering visitors unparalleled access. The only challenge is deciding if you want to stay in a slope-side lodge or a hotel in the city. Either choice is good, or even better, try out both.
Let's Go Snowmobiling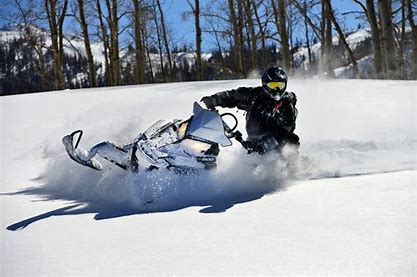 Most mountain areas of Utah are open to snowmobiling from dozens of popular trailheads. Terrain ranges from steep hill climbing to trail riding or just playing in a powdery meadow. Nine unique trail complexes are located across the state with interlinking trail systems. There are even snowmobiling trails in the red rock canyons of Southern Utah. Guided tour companies are a great resource for new snowmobilers. Try out top of the line equipment on private backcountry trails. Bring a guide along to provide the expertise needed for a stress-free trip. Backcountry Snowmobiling offers custom tailored tours, from beginner to expert, through the Uinta Mountains. For more information, visit https://backcountrysnow.com/
Let's Go Snowshoeing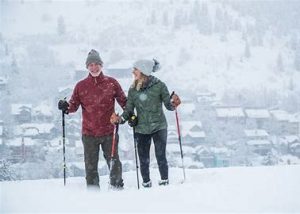 A pair of snowshoes, hiking poles and a daypack full of gear are all you need to venture where hiking boots are kept at bay. There's a sense of excitement that comes with breaking trail across an untouched stretch of Utah's famous powdery snow. Plan your trip with this guide to Utah's best snowshoeing destinations, and remember to use the trails safely and responsibly. Park City has hundreds of miles of snowshoe-friendly trails, both groomed and ungroomed. Round Valley is 700 acres of preserved open space just northeast of Old Town. There are five trailheads from which you can access the maze of trails found in this area. They include: Quinn's Junction (the most popular trailhead), Round Valley Way, The Cove, Old Ranch Road and Highland Drive. Parking is available, the trails are free and there are year-round restroom facilities.
Let's Go Stargazing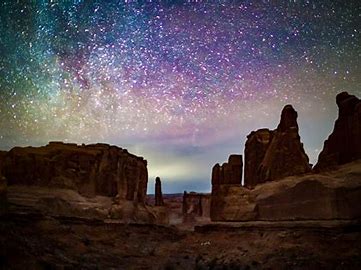 Eighty percent of Americans live in an area where they cannot see the Milky Way due to the light pollution of the cities. That is not an issue when stargazing in Utah. There's a certified International Dark Sky Park nearby to reconnect you with our ancestral knowledge and finely tuned instincts. Except this presents a welcome challenge: do we go to bed early to ensure ample energy for tomorrow's adventures, or stay up late for a chance to peer into light tens of thousands of years old, yet part of the same Universal sea of energy?  Utah has the highest concentration of International Dark-Sky Association-certified locations, including communities, parks and protected areas.