This season visitors can save time and money by securing a Moab Vacation Package in advance of arrival. They can also make the most of their visit to this red rock playground.
"The Moab Adventure Center team are experts in arranging mini-vacations for guests who want to stay and play here for a few hours or a few days. By combining desired activities into a package, we can beat inflation and save visitors valuable vacation dollars over what one would pay if activities were purchased piecemeal," said Sierra Biggs, Moab Adventure Center Manager.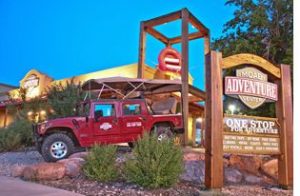 The only caveat, she explained, is that some pre-arranging such as lodging and meals not included in the itinerary may be required.
"The Moab Adventure Center offers helpful information on Moab lodging options and local dining as well as a Free Insider's Guide to Moab which can be ordered here: www.moabadventurecenter.com/free-moab-insiders-guide. To preclude do-it-yourself challenges and frustrations, our team is here to answer questions and then to take the time-consuming details of planning, logistics, backcountry transportation and interpretive guiding off your shoulders. All that our guests have to do is breath in the fresh air, hold on and enjoy the scenery," Biggs added.
Here are some of the suggested value-priced packages:
Southwest Sampler www.moabadventurecenter.com/southwest-sampler. For four days and three nights exploring the wonders of Arches National Park and experiencing one of Moab, Utah's most renowned adventures, an off-road Hummer Safari. Top it all off with two days of Colorado River rafting plus one night of all-inclusive beach camping and star gazing. Also included are two nights of Moab hotel accommodations at Springhill Suites by Marriott. Weekly departures are available Tuesdays from May through August. Rates are $795 ages 16 and up; $685 ages 5-15.
Moab Rock & River www.moabadventurecenter.com/package-hummer-raft. Commit one day to partake of two of the most popular adventures in Moab: a morning Hummer Safari to an area known as "Hell's Revenge" that is followed by rafting and barbeque lunch on an iconic stretch of the Colorado River in the afternoon. Rates (which include a discount for bundling) are: $195 ages 13 and up; $157 ages 5-12. This package is available from March through October.
Moab Signature Package www.moabadventurecenter.com/package-hummer-raft-hike. Guests can save 10 percent by combining rafting, a Hummer safari and a national park tour over two active days in Moab (lodging not included). The package includes: a Slickrock Safari Hummer Adventure, a two-hour off-road excursion powered by the world's most serious all-terrain vehicle; a mid-day Rafting Adventure with Exclusive BBQ Lunch on 7 miles of the scenic Colorado River from below Rocky Rapid to takeout beach; and on the following day an Arches National Park Sunset Discovery, a four-hour guided drive tour and walking tour. Rates are $275 ages 13 and up; $223 ages 5-12. This package is offered from March through October.
Not sure what outings and activities offered best fit your desires, age group and budget? You can combine any three or more guided adventures for a discount of 10% on the entire reservation.
Follow Moab Adventure Center:   http://www.moabadventurecenter.com/