By Jeanine Consoli
Travel Travel Writer 
Studies show that regular hiking (averaging five miles) reduces the risk of mental health issues by 50 percent. Hiking for twenty minutes lowers cortisol levels alleviating feelings of anxiety and depression. The activity also improves bone density and reduces body fat, among other benefits. Armed with this information, we drove an RV to hike around three of Utah's beautiful National Parks in early May.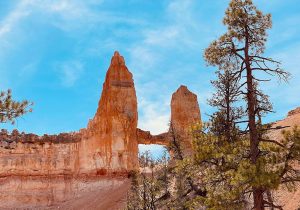 Zion National Park
Zion National Park, our first stop, is home to one of the top challenging hiking trails in the United States– Angel's Landing. While we didn't attempt it (reservations required), we discovered other treks by stopping by the Visitor's Center to learn about trails in our group's comfort zone (easy to moderate).
We loved hiking the easy-rated Lower Emerald Trail, a 1.2. mile hike that took an hour to complete. We continued, adding two moderate-rated paths –Middle Emerald Trail, which led into the Upper Emerald Trail. After that, we strolled along the Riverside Walk, a paved trail along the Virgin River. We hiked for around four hours for about five miles and enjoyed the gorgeous views of the pools and waterfalls.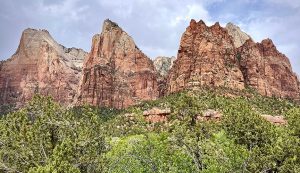 On our second day, we wanted to attempt the strenuous Narrows Trail, an out-and-back walk less than ten miles through the Virgin River. It requires hikers to wear waders as the water level rises seasonally. Unfortunately, the Narrows were closed during our visit due to the record snowfall and snowmelt.
Non-Hiking Options
Another fantastic way to explore Zion is to take the Zion Canyon Shuttle. It runs seasonally starting at 6:00 am and frequently from the Visitor's Center. It takes you along the Zion Canyon Scenic Drive. Cars are not permitted along this road, and this option allows you to see the park without hiking any trails.
Bryce Canyon
Our next park, Bryce Canyon, has sixty miles of trails offering unique views of the famous Hoodoos (irregularly eroded rock spires). It's home to the most extensive collection in the world. We wanted to discover more about these natural sculptures, so we stopped by the Visitor Center to obtain maps and discuss trails with the park rangers.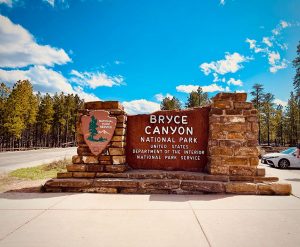 We drove in, but a free shuttle was departing from stations around the park. Our first stop was Bryce Point. We walked the Rim Trail, which connects one way from Bryce Point to Fairyland Point. Most of it is paved and flat. We walked about a 1.2-mile walk along the Rim Trail past Sunset Point to Sunrise Point. This is an easy walk and a must-do to admire the Bryce Amphitheater from above.
The next day, we walked to Sunrise Point and descended into the canyon for the Queen's Garden Trail. The Queen's Garden has a Hoodoo resembling a Queen Victoria statue sitting on her throne. This is a moderate, 1.8-mile trek. We combined that hike with other trails, including the Tower Bridge Trail. Navajo Loop was closed for trail maintenance. We totaled 5-6 miles that day, and it took us at least four hours with stops for photos and snacks. This was an incredible experience, but the terrain was rugged and steep at some points.
Arches National Park
Lastly, Arches has the world's largest concentration of sandstone arches–2,000 at last count. A 36-mile round trip paved scenic drive allows visitors to see many significant viewpoints from the road, with pull-offs for parking. Short, easy walks allow visitors closer views.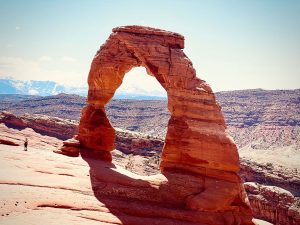 Arches offers a variety of trails, but the Delicate Arch Trail is the favorite here. The walk is about 3 miles with an elevation gain of 480 feet. It's a challenging walk up a steep, smooth rock with no shade, so attempt it early in the day. We loved Delicate Arch and stopped for lunch at the base. We enjoyed the Windows Arch, a 1-mile hike to view the North and South Window formations, and the Double Arch, a half-mile trail to view spectacular arches.
We truly enjoyed our experience hiking around these incredible natural rock formations. It's worth the effort. Make sure to keep the following tips in mind if you choose to visit National Parks in Utah.