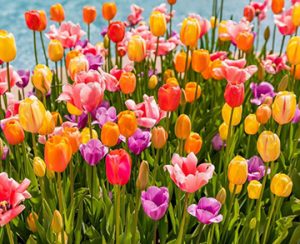 #518TulipTracker is a collaboration between The City of Albany's Office of Cultural Affairs, Discover Albany, KeyBank and The City of Albany Department of General Services. Follow along on social media to celebrate tulip season in Albany. Embark on a self-guided driving tour to admire tulips, spring flowers, gardens and other signs of Spring in Albany County and beyond. Share your photos of the cheerful blooms and tulip tracking adventures on social media with #518TulipTracker. Special thanks to The City of Albany Office of Cultural Affairs and The City of Albany Department of General Services for helping us put this self-guided driving tour together! For the Self-Guided tour map and a complete list of destinations, go to https://www.albany.org/blog/post/self-guided-tulip-garden-driving-tour/
instructions on how to play for a chance to win an Albany-themed prize.
1. Screenshot the bingo card below.
2. Drive to a location featured on the bingo card. Find directions to the locations on the Self-Guided Tulip & Garden Driving Tour.
3. Snap a photo of the flowers or tulips at each spot on the bingo card and mark off the spots as you go. Share your progress on social media by tagging @discoveralbany and using #518TulipTracker.
4. When you fill out a row, you have a BINGO!
5. Shop or Snack at a City of Albany business and save your receipt.
6. Email your bingo card, photos of flowers and receipt to info@albany.org. All completed cards will be entered into a drawing to win a fun Albany-themed prize! (Please note that the photos will be used as proof of participation – Discover Albany does not have permission to use these photos for marketing purposes unless you express permission.)
7. Don't forget to share your bingo cards on social media! Tag @discoveralbany and use #518TulipTracker to show your progress!
– – – – – – – – – – – –
This summer catch a Hollywood classic or a blockbuster hit (for free!) at outdoor venues such as the Empire State Plaza or SUNY System Administration Building! Or, if you prefer to chill in the air conditioning while watching a flick, head to downtown Albany's historic Palace Theater for free, family-friendly movies. Keep reading for the scoop on free movie showings this summer in Albany.

Tune into an outdoor concert that will hit just the right note for everyone. From Alive at Five, to the Capital Concert Series, to Concerts in the Barn at the Pruyn House, catch musical performances from every genre at a variety of locations. Grab your lawn chair, get ready for a good time and summer like a local at an outdoor concert in Albany!
Spend a Saturday morning on a New York State Capitol Building tour to learn about the history of the building and to marvel at its architectural splendor. Haven't visited the New York State Museum in a while? Wander the halls of the oldest and largest state museum in the country, while maybe learning something new about New York. View scenic Hudson River School paintings at the Albany Institute of History & Art or hop on a tour of the New York State Education Building.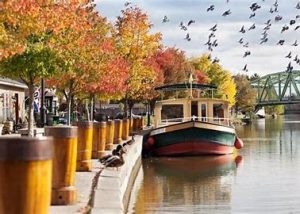 Albany joins the rest of New York State in celebrating an accomplishment of epic proportions — the construction of the Erie Canal! This 363-mile waterway once officially began in Albany, turned west at Cohoes and snaked alongside the Mohawk River. Today, the channelized Mohawk River is the Erie "Barge" Canal. The region's location along the Hudson and Mohawk rivers and the canal turned it into America's industrial powerhouse in the 1800s. Visit the Irish American Heritage Museum and the Waterford Historical Museum and Cultural Center, or the Stephen and Harriet Myers Residence to understand the impact that this waterway had on different populations. Each museum offers a thought-provoking exhibit on the people who lived, worked, and found freedom on this historic waterway.
The original Erie Canal, constructed between 1817 and 1825, connected Albany on the Hudson River, with Buffalo, a small emerging village at the eastern end of Lake Erie. Over 360 miles in length, "Clinton's Ditch," as it was known, provided the first continuous connection by water between the eastern and western ends of New York State, and prior to the advent of the railroad, the canal was the primary means of transporting goods across the state. Today, the Erie Canal and a network of connecting waterways are still in service as America's most iconic and enduring man-made waterway.
Cool off by visiting a few of Albany's most popular craft beverage spots! C H Evans Brewing Company, Albany's first brew pub, and Albany Distilling Co., Inc., Albany's first licensed distillery since Prohibition, offer tours every Saturday afternoon for a behind-the-scenes look at their facilities. If you prefer to sip on your own, enjoy a pint of hard cider at Nine Pin's Tasting Room or make a meal out of it at Druthers Brewing Co. Whether you visit one spot, or hit all four, the Capital Craft Beverage Trail is great way to spend an afternoon.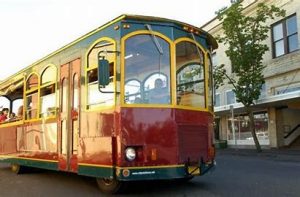 CDTA is proud to announce the launch of the Capital City Trolley. FREE SERVICE is available EVERY 20 MINUTES, Thursday, Friday, and Saturday, from 5 p.m. – 12:30 a.m. With stops offered along Lark Street, Madison Avenue, and throughout downtown, it's easy to get to restaurants, attractions, and hotels. Download the CityFinder App today to learn more about stops, and get reviews.
Accommodations
After a day of sightseeing, choose to relax in a parkside inn, a full-service hotel, or a convenient motel – all of Albany County's options offer the best in comfort and hospitality. For more information about places to stay, please visit www.albany.org/hotels