By Sarah Miller
If you thought your days of playing in a sandbox were over, you're wrong. Oceana County is the place where you can feel like a kid again. No formalities here, just a cluster of small Michigan towns with natural beauty and family-friendly fun. Watch the orange sun dip behind the dunes, then lick drippy soft-serve ice cream cones under a neon sign after a day of putt-putt and bicycling.  End the day staring up at the stars, and fall asleep, blissfully exhausted from sunshine and fresh air.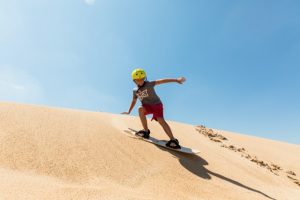 Oceana County in Western Michigan has been entertaining summer visitors for generations. The county comprises several small towns (Hart, Shelby, Mears, Pentwater) and all are in close proximity to each other. Sand dunes separate Silver Lake from Lake Michigan, so summer fun seekers have easy access to both. Sandboard rentals on Silver Lake offer the chance to hang ten on a dune as you speed down (or sink thanks to gravity). Either way, sand surfing is something kids and adults can try. The falls don't hurt and the learning curve is quick. Rentals are reasonable–around $10 for an hour or $30 for the day.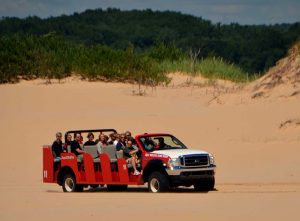 Silver Lake Sand Dunes is one of the few places where vehicles are allowed on the dunes. Rent ORV's (off-road vehicles) or take the Mac Wood's Dune Rides, an open-aired red dune buggy. These laugh-out-loud tours sometimes feel like a gentle rollercoaster as you cruise and dip over dunes–put your arms up for the complete experience. These tours started back in 1930, and the first one was designed from a Model A Ford, holding four passengers. The current Dune Scooter has multiple rows and takes groups on 40-minute tours with a stop at the highest dune with sparkling lake views.
Delicious Detours
Two piles of vanilla ice cream, two piles of chocolate ice cream, one pile of twist ice cream with an Oreo bottom–all topped with strawberries, hot fudge, hot caramel, cherries, and whipped cream.
Another must-eat food here is asparagus.  You cannot truly appreciate the tender crisp stalk of asparagus, until you've tasted a freshly plucked spear from the sandy soil of Oceana County in West Michigan. This area holds the title for "The Asparagus Capital of the Nation," and you can buy them fresh from farmer's markets or try them fried with dipping sauce. Either way is incredible, and a perfect way to taste summer at its best.
Cool off at one of several area Silver Lake Sand Dunes/Hart Beaches like Silver Lake State Park or Mears State Park in Pentwater along Lake Michigan. Silver Lake State Park is home to a historic working lighthouse built in the late 1870's. The red-brick lighthouse provides the perfect backdrop to watch the sunrise or set. Then, retire to one of several resorts or campgrounds on the lake.
Oceana County is home to the annual International Asparagus Festival.  To say asparagus is a big deal in Oceana County is an understatement. Just ask Michele Amstutz, the National Asparagus Festival President and 2008 Mrs. Asparagus. "Asparagus has been an integral part of our county for years," she says.  "Oceana County is one of the leading producers nationally for asparagus." As the popularity of asparagus continues to soar, so has the festival's popularity. "Nothing tastes better than fresh West Michigan asparagus!  So why not continue to celebrate it!"
The festival occurs every summer in June.