What if you want to do the unexpected? Well if you're craving to come home with a great story to tell about your winter Michigan trip, then here are a couple of ideas to consider. Have you ever considered taking a dog sledding tour? Nature's Kennel Sled Dog & Racing Adventures in McMillan offers tours and day trips for guests of all ages and abilities. Guests can learn to drive their own dog sled team and can select from 10- and 20-mile dog sled trips. They can also choose between day rides or an overnight adventure.
Another great exploit is learning to ice climb. Michigan's miles of sandstone cliffs are lined with hundreds of frozen waterfalls, creating some of the best ice climbing spots in the nation ranging from 20 to 210 feet in height. There's even the Michigan Ice Fest in Munising. Filled with classes for all skill levels, attendees can have fun while getting great experience from some of the best climbers in Michigan.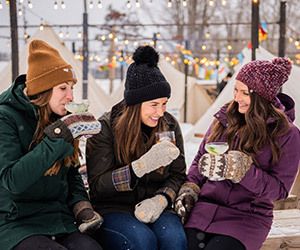 Step into holiday cheer and merriment in Traverse City where small-town charm shines under a galaxy of twinkling lights. This is where a festive spirit is in the air, and where winter is just beginning to show its magic. From tree lighting events to artisan craft markets and from sleigh rides to après-ski adventures, there's no better place to experience the joy and warmth of the season with family and friends.  It's place where the season comes alive on the ski hills or on the trails. And where you find a cozy place indoors to enjoy local culinary talents and award-winning libations. In northern Michigan, you don't have to hide from winter, welcome every moment.
Experience the charm of the Christkindl Markt at the Grand Rapids Downtown Market. Inspired by European Christmas markets, this festive village offers unique gifts and delectable food. Explore 35+ artisan stalls under a glass enclosure, showcasing holiday decorations, toys, clothing and more. Savor European cuisines, special holiday drinks, live entertainment, curling lessons and Santa visits to ensure fun for all ages. Open Wednesdays-Sundays until December 23. Grand Rapids is a great place to experience the many cold weather activities while there.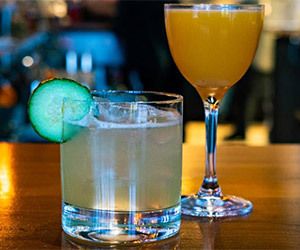 Michigan is well known for craft beer, hard cider, distilled spirits and stunning wine trails, but the state is also earning a reputation as an industry leader for non-alcoholic beverages. Known as mocktails, these flavorful, refreshing, non-alcoholic beverages make the perfect addition for holiday parties. So, for those looking for a tasty option that doesn't include alcohol, we invite you to check out Michigan's unique mocktails. The mingling of flavor, fragrance and balance of these appetizing drinks is amazing.
Shopping Spree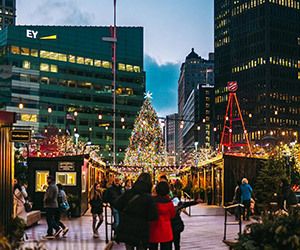 Looking for that perfect gift?  Michigan downtowns are filled with boutiques, bookstores, specialty shops, butcher shops and markets. Shop local for Michigan beer, wine and spirits. Pick up decadent confections, bakery goods, coffee, cheeses and farm-fresh products.  Decorate your home with custom furniture and beautiful hand-crafted pieces. Our local proprietors have wellness packages, gift certificates and more.
Fishing in Winter
Grab a bucket and pole because the Great Lakes State has some of the best ice fishing in the nation. Almost any fish available in the summer can be caught during the winter months through the ice. And the ice fishing tradition is so strong in Michigan, that many lake communities host festivals to celebrate the sport. One of the most popular ice fishing events is Tip Up Town USA, held every January in Houghton Lake. Attracting thousands from the Midwest, the annual winter festival is great fun for the entire family with children's activities, a parade and chili cook-off, as well as an ice fishing contest weigh-in and fireworks.