World of Winter in downtown Grand Rapids invites you to enjoy the season in a whole new way. Snap selfies at 20+ outdoor art installations, from giant inflatable gnomes to colorful abstract animals. Play games in an ice park, see a circus, attend concerts, dance at a silent disco and more. It all happens outdoors from now through March 5, and it's all FREE!  You can easily walk from one place to the other, but you just might want to plan an extended weekend getaway of sightseeing just to take it all in.
Snowmobile Trails
With as many as 200,000 registered snowmobiles in the state, some of the top-ranked trails in the nation are found here, according to the International Snowmobile Manufacturers Assoc.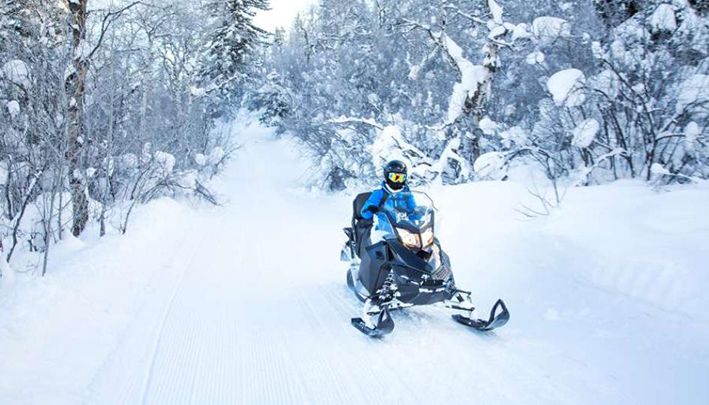 With an abundance of fluffy lake-effect snowfall, a day on the sled is a perfect way to explore incredible winter scenery. Glide past frozen waterfalls, ice-capped lighthouses and plush forests adorned with a blanket of glistening snow. Take a snow day, rev up those engines—the fun is about to begin. You have more than 6,500 miles of groomed trails to enjoy from the upper peninsula down to the lower. When it comes to good company, snowmobiling is a sport the whole family can enjoy. Or join one of the 110 snowmobiling clubs throughout the state and your family becomes a whole lot larger.
Ice Fishing
In Michigan, fishing doesn't stop when the snow starts to fly. In fact, many anglers consider winter to be the best time to get that perfect catch. For some, ice fishing may be a solitary endeavor. For others, it might be a chance to win bragging rights.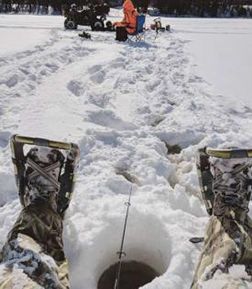 Either way, this popular winter sport allows anglers to reach the far corners of our frozen lakes and streams. Ice fishing is a time-honored sport. It can be a solitary endeavor or a chance to win bragging rights among family and friends. An ice fishing excursion can be as simple as drilling a hole in the ice and dropping in a line while perched on an overturned bucket. Or it can be an all-day outing complete with an elaborate ice shanty boasting all the comforts of home. Either way, traversing frozen waters allows anglers to reach the far corners of lakes that would be inaccessible during the open water season. Free fishing will be offered Feb. 18-19. Stay tuned as there is more to come in our February issue.
The adventure awaits when winter arrives and covers Michigan's central Upper Peninsula with fresh, lake-effect snow.  Whether you're planning an unforgettable ice fishing trip, a skiing, snowmobiling, or winter hiking adventure, the region has a lot of great things to experience. Discover amazing ice caves, intriguing mining history and colorful Native American