Midland City Forest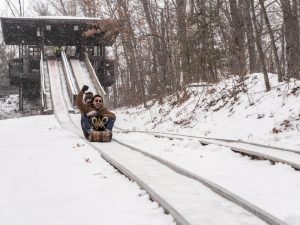 Prepare for an unforgettable day of winter play at Midland City Forest, where the park is transformed into a magical Winter Sports Park! Race down four snow-packed, iced, and elevated toboggan runs, skate the large outdoor ice rink, and sled your way down the well-lit hill. Take a hike in snowshoes, then enjoy hot cocoa and warmth by the bonfire, or inside the on-site City Forest Chalet.
At 520 acres, City Forest is Midland's largest park and is perfect for year-round outdoor activities. There is no charge to enter the park at any time. You can bring your own sleds, skates and skis or rent ours when the Chalet is open! Due to weather dependency on some attractions, visit https://rainoutline.com/search/dnis/9893990506 before you go.
Chippewa Nature Center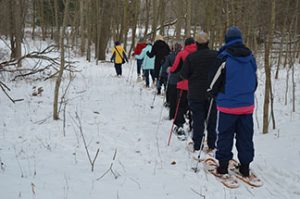 At Chippewa Nature Center, Join a scenic, guided Family Snowshoe Hike at the 1,200-acre winter wonderland, Chippewa Nature Center! Enjoy the Ecosystem Gallery and indoor Wildlife Viewing Area for up-close animal sightings. Climb the two-story observation tower, see the Log Schoolhouse and a wigwam, and visit the 1870s Homestead Farm for "Stories by the Fire". Chippewa Nature Center is a 1,200 acre haven of woodlands, wetlands, rivers and upland fields, with over 19 miles of trails for hiking, snowshoeing and cross-country skiing, including the 3.7 mile paved Chippewa Trail for running, walking, biking and inline skating. Interpretive stops along the route tell the exciting story of this unique landscape. The Visitor Center houses hands-on exhibits in the Ecosystem Gallery. Children will enjoy the Nature Discovery Area, and visitors of all ages should be sure to watch one of the many videos available in the Bur Oak Theater. Relax with a cup of coffee or tea and watch the Pine river idle by in the River Overlook. The Wildlife Viewing Area is a unique way to observe wildlife, and a naturalist is on staff to assist visitors and callers with nature-related questions and concerns. https://www.chippewanaturecenter.org/
Dow Gardens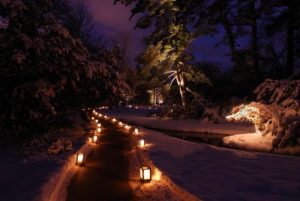 With 110 acres of snow-covered splendor, kids and adults are sure to enjoy exploring Dow Gardens in the winter — especially the Canopy Walk in Whiting Forest where you'll venture together four stories above the forest floor! Take the Spruce Arm to tumble into tree-supported cargo nets, 25 feet above the ground, and dare to experience the Orchard Arm to view the snowy landscape through a glass-floored overlook! Since being established in 1899, as a home for Herbert H. and Grace A. Dow and family, the gardens now welcomes more than 300,000 guests per year. Visitors are invited to leave the pathway and explore the uniquely-designed landscape, take a tour of the historic Pines Home, participate in one of many hands-on educational programs, and discover beautiful art and music in a relaxed setting.
Ice Skating
Bring skates or lace up rental pairs for the Frankenmuth Ice Rink at Zehnder Park! With room for 200 skaters per hour, the whole fam will have fun while gliding along fresh ice, cooled by its own refrigeration system and smoothed with its own Zamboni! Forgot some gear? No worries — hats and mittens are available for purchase!
Wenonah Park: Twirl under the colorful lights, skate alongside the scenic Saginaw River, and enjoy whimsical winter fun beneath the Nickless Family Community Pavilion at Wenonah Park. Bring your own ice skates or lace up rentals, be sure to dress warmly for this waterfront experience, and prepare for family fun on the ice!
Hoyt Park: Get outdoors for fresh air and wintertime family fun at Hoyt Park in Saginaw! Ride snowboarding hills, discover sledding thrills, and glide along the well-lit outdoor ice rink. Skate rentals are available, pick-up hockey games happen, and hot chocolate is served in the warming house!