With many historic scenic towns, Central MA is an ideal destination for a holiday getaway or road trip. From quaint downtown strolls and tree lightings to illumination festivals and hot toddies by the firepit at the base of Wachusett Mountain, these seasonal celebrations, and traditions beckon this holiday season. Many holiday events start in late November and last through the end of the year with some running through the winter season.
Please take a look at these top 10 holiday wonders, perfect for couples, families, and holiday revelers of all ages. Check websites for ticket information, schedules, and event details.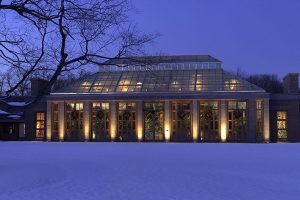 The New England Botanic Garden puts on a Starry Skies light display unlike any other. The event includes s'mores, seasonal drinks, a model train, shopping for holiday gifts, and fun photo opportunities. November 24 – December 31
All ages will be amazed by Winter Wonderland at Southwick's Zoo, a festive and beloved tradition. Southwick's Zoo offers dining, shopping, and charming performances by the Queen of Arrendelle and the Spirit Queen. Guests can meet St. Nicholas in Santa's Barn. November 18 – December 31
Visitors can relish old traditions and create new ones at Old Sturbridge Village. Highlights include costumed historians, baking demonstrations, strolling the decorated village and Christmas Tree Trail, as well as listening to stories and live music of popular seasonal songs. November 24-26 and December 1-3, 8-10, 15-17, 22-23, 27-30
4. Horse Drawn Sleigh Rides (Multiple towns)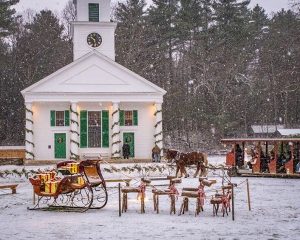 Families and romance-seekers can cozy up and take a delightful sleigh ride. The magnificent horses entertain visitors with how they work together as they trot along.
5. Downtown Holiday Strolls & Lightings (Multiple towns)
The City of Worcester, along with the following picturesque towns, will be festively decorated for holiday strolls with shopping, entertainment, and holiday treats.
The celebration kicks off with an evening of fun for all ages including special lighting displays, food vendors, community booths and performances and ice skating on the 12,000 sq. ft. oval in the heart of downtown under festival lights. December – February (dates TBA)
A beautifully curated showcase of over 170 independent fine artists and makers. Paradise City offers a treasure-trove of gifts such as one-of-a-kind home furnishings, fashion, jewelry, and fine art, along with a lively ambiance, two cafes, and a special exhibit in the Sculpture Cafe. November 17, 18 & 19
Red Apple Farm displays more than 200,000 lights creating a unique and interactive experience at this charming New England orchard. Includes beer and wine from the Brew Yard and fresh wood-fired pizza from Timber Fire Pizza to be enjoyed around the bonfires. November 24 – December 31
The oldest continuously operating Inn in the United States has been serving travelers for almost 300 years. Visitors can tour the historic buildings and grounds using an interactive map. Decorated for the holidays, The Wayside Inn serves classic New England fare in historic dining rooms. The Sudbury Savoyards will perform their rendition of A Christmas Carol. A Christmas Carol – December 9, 10 & 17, 2023
9. Holiday Performances & Events (Multiple Towns)
From grand theaters to impressive concert halls, these shows capture the magic of the holiday season.
10. Outdoor Winter Recreation (Multiple towns)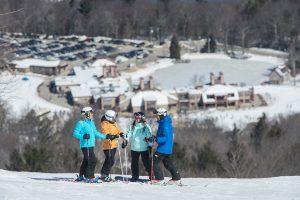 All ages will enjoy myriad outdoor recreation in the region. The state's largest ski area, Wachusett Mountain (Princeton), and one of the state's most popular community ski areas, Ski Ward (Shrewsbury), offer day or night downhill skiing and snowboarding. Ski Ward also offers snow tubing, and there are numerous trails for cross-country skiing, snowshoeing, or winter hiking. Additionally, the area has multiple public parks and farms offering wide open spaces for winter fun.
Ice fishing at Chauncy Lake, Westborough