By Laurie Wilson
Freelance Travel Writer
They come  to watch baseball players
from around the country play for one of the ten teams on the Cape. Officially formed in 1923 (although it got its start in 1885), the Cape Cod Baseball League has nurtured, groomed and paved the way for thousands of young college kids realize their potential as Major League Baseball players, including the top selection in four of the past five MLB Drafts and 377 players during the 2022 MLB season. Yes, Aaron Judge. Yes, Jason Varitek. Yes, Thurman Munson. The list goes on and on.
Every summer is big for baseball on the Cape, but this summer the league is celebrating 100 years of baseball, of life-changing experiences and not just for the players who go on from here to the Big Show, but for all the little kids and adults who will forever remember watching a game of summer baseball on Cape Cod.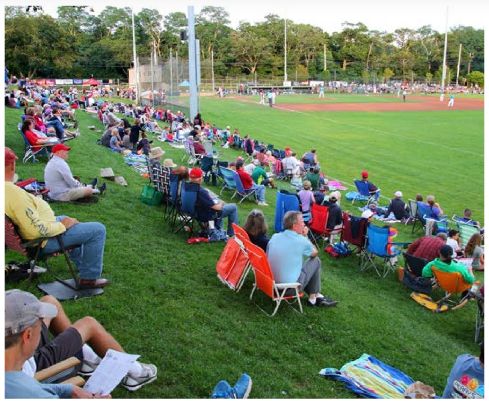 Baseball Clinics
And it's not just about the free games. There are so many endearing qualities to the Cape's summer baseball league—the cheap hot dogs, the sound of the ball hitting off the wooden bats and watching it sail through the salt-kissed air for a home run and the fog that often curls under the bleachers, sometimes suspending play. And what truly puts Cape baseball in a league of its own—the weekly baseball clinics.
Each team hosts morning summer clinics/camps, led by the players and held at the same stadiums and fields where the games are played. When my son was young, Evan Longoria was his baseball clinic counselor one summer; Longoria played for Chatham.
Clinic attendees have opportunities to work on hitting, base running, infield/outfield play, as well as pitching and catching. Coaches and players also hold chats to bat around conversations about sportsmanship, academics and teamwork.
All-Star Game
Every mid-summer, the league puts on an all-star game. It's attended by scouts from all MLB teams, as well as many fans. This year's All-Star Game takes place July 22 at Whitehouse Field, home to the Harwich Mariners. It will be a special star-studded game this summer as the league celebrates its 100th.
For more info, visit https://www.capecodbaseball.org
Home Base
There are a roster of hotels throughout the Cape that are ideal spots to stay all summer. Here are some at the top of the lineup.
The Old Harbor Inn, Chatham
This gorgeous 12-room dates to 1932, and has one of the best locations for baseball lovers in Chatham. It sits pretty, across the street from Veterans Field, home of the Chatham Anglers; this ballpark has been the home for Chatham teams since the inception of the Cape Cod Baseball League 100 years ago.  In fact, you can hear the games from the inn's front yard. The inn is also a bat swing away from Chatham's lovely Main Street and within hitting distance of beaches, too. 
"Our guests love going to the games and are always excited to learn about the history of the Cape Cod Baseball League," says Tanya Heinrich, general manager. The best part, she says, is that it's within walking distance of the ballfield so guests can enjoy a beer or two. And, on game days, there's always game-inspired complimentary desserts for inn guests—Cracker Jacks, cupcakes and baseball-shaped cookies.
The inn's latest Cape Cod Baseball-inspired package includes a gift certificate to Red Nun Bar and Grill, and voucher for free ice cream that comes from one of Chatham's best ice cream shops where many of the baseball players go after the game, after they've licked their opponent. And a full breakfast is included in all stays. https://www.chathamoldharborinn.com
The Wayside Inn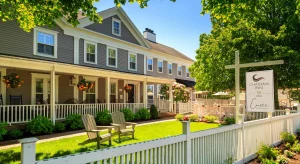 This lovely historic Chatham Inn in the heart of Chatham is within walking distance of Veteran's Field, home to the Chatham Angler's. The longtime popular inn dates to 1860 and recently changed owners and is in good hands. Its 56 rooms are refreshed and modernized (including suites and mini suites)—many with outdoor patios or balconies and fireplaces, too.. It's also home to the popular Wild Goose Tavern, with its lively patio seating that spills out onto the sidewalk to watch passersby. There's also that clutch hit—an outdoor heated pool.<https://www.waysideinn.com/>
Sister property Greyfinch Chatham Inn, down the street, is a rookie—the property just debuted in June. Formerly known as the Chatham Highlander Village Inn, the motel-like property is also located within walking distance of the Chatham Angler's Field, and is offering a Grand Slam Getaway package this summer. It includes accommodations, a baseball- themed welcome amenity, Chatham A's souvenir, two welcome drinks and breakfast for two at Wild Goose Tavern  at its sister property, Wayside Inn.. <https://www.greyfinchchatham.com/
Wequassett Resort and Golf Club
This classy luxury resort that opened in 1925 in Harwich is a a five-tools player—it has it all. A five star-restaurant, beautiful cottages with enviable outdoor fireplaces, a gorgeous outdoor swimming pool, an amazing kids program and a long storied relationship with the Cape Cod Baseball League with special programming lined up this summer to celebrate the league's 100th.
Wequassett will host a team dinner this summer inviting current and former players to celebrate the milestone event. Also, the Harwich Mariners will offer a weekly baseball clinic on Wequassett's beach for younger guests. And, Wequassett's breakfast buffet in a Pirate Ship is a hit for little sluggers—Harwich Mariners players come to greet the kiddos; the next breakfast is on Sunday, July 9th. On November 19th, Wequassett will host a Hall of Fame event and awards ceremony to celebrate the 100th anniversary. https://wequassett.com
Red Jacket Resorts
This long-established, popular, family-friendly five-resort collection in Yarmouth is hosting on-property events with the Cape league players throughout the season, and also offering baseball-themed hotel packages.
Exclusive to guests staying at Blue Water Resort, Riviera Beach Resor and Red Jacket Beach Resort is the Take Me Out to the Ball Game starter pack which can be added to any room reservation and includes a baseball and permanent marker for snagging players' autographs, a box of Cracker Jacks and two hot dogs. Package bonus: A raffle chance to win an autographed bat from the All Star team at the end of the season.
Extra innings: Players will travel to  the hotels for a game of whiffle ball, meets and greets and ice cream socials.
Also,  Red Jackets Resorts will offer a special friends and family rate to all Cape Cod Baseball League players, coaches, employees, host families and volunteers keeping the fun going all summer long.
0cean Edge Resort and Golf Club
The gorgeous front lawn of this eye-candy mansion hosts the Brewster Whitecaps through early August on select afternoons to run drills with guests, play some baseball trivia (fun prizes) and meet and greets. Later, guests can cheer on the players at Stonybrook Field, a short drive from the resort and also accessible from the Cape Cod Rail Trail.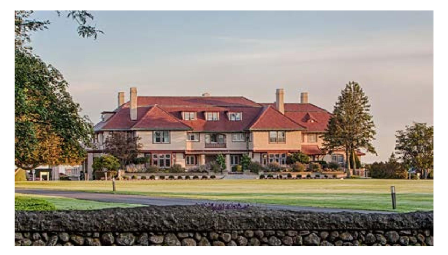 Ocean Edge is also popular for its pools, children's programs, tennis and pickle ball courts, lovely bayside beach and golf course.  The Beach Bar that sits in the dunes is the cleanup hitter—sunsets you'll never forget www.oceanedge.com
Dining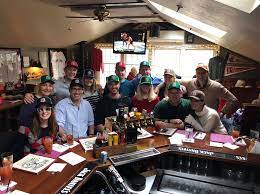 In Harwich Port, Hot Stove Saloon lives and breathes baseball, and is the dugout for many of the Harwich Mariners players, coaches and groupies in the summer. Lots of flat screen TV's and baseball memorabilia, too. www.hotstovesaloon.com
Also in Harwich Port, George's Pizza is a big hit with the Harwich Mariners players. It's been serving pizza and grinders to players and groupies for 53 years. www.georgespizzahouse.com
During game nights they have baseball-inspired dishes like hot dogs, nachos and cheese, and of course, a large popcorn machine for free popcorn. www.rednun.com
In Falmouth, Seafood Sams is where you'll catch a good fish sandwich and clam chowder—the restaurant is a sponsor of the Falmouth Commodores team. http://seafoodsams.com